1. Lady Gaga is probably the only woman in the world a gay man would be excited to marry.
2. Tear down the mysterious wall in the haunted murder hotel? Sounds like a swell idea to me!
3. "Smells like shit in there." "No, smells like death." Sounds like it smells like my bathroom after my brother had In-N-Out the night before…
4. Bloodsucking zombie vampires in the hallways? Should have stayed at the Best Western!
5. Oh great, the credits. Time to be terrified!
6. Why does the cop look so handsome when he's emotionally traumatized?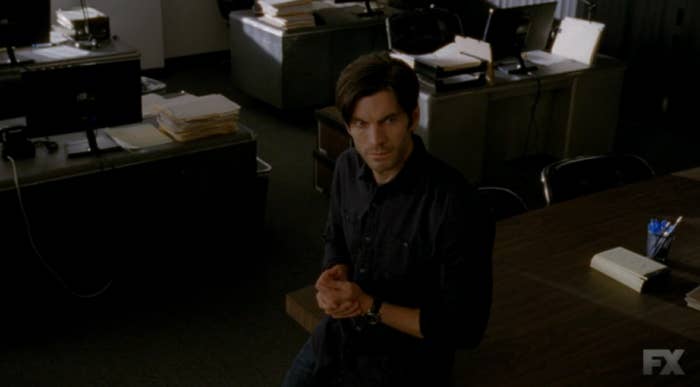 7. Oh great, eyebrows cop is in the mental hospital so he can hunt down a serial killer. Sounds like he's doing amazing.
8. "I couldn't pick my butthole out of the lineup." I wish I could say the same, Kathy Bates. I wish I could say the same.
9. What could Lady Gaga possibly be terrified of? Is Perez Hilton staying in the hotel now?
10. AHHHH, RIP poor bitchy real estate lady.
11. OMG, hot crazy male model is BACK! As a hot crazy Old Hollywood star. WIN!!!
12. Oh sure, visit the mysterious handsome Hollywood star's home alone in the middle of the night. Although TBH I would probably do the same.
13. Lady Gaga's 1920s eyebrows are TRAGIC!!!
14. OK, Valentino brings Lady Gaga over when Natasha is still around? Classic fuckboy move.
15. Really, this show could also be titled American Horror Story: Lots Of Sex.
16. FUCK LADY GAGA IS MEETING MURDEROUS EVAN PETERS FUCK FUCK FUCK.
17. Is Lady Gaga about to jump out of a window because Valentino just died, or because her eyebrows look so unfortunate?
18. Murderous Evan Peters is the one person who it's probably better that they don't save you from jumping out of a window.
19. The three rando girls running away from grieving Lady Gaga are probably the first three people on this entire damn show who decided to make a smart decision.
20. Of COURSE Valentino is alive. Even when people die on this show they STILL won't go away!
21. Lady Gaga is the only character on this show who could get away with marrying Murderous Evan Peters and NOT dying. YAAASS GAGA YAAASS.
22. Nothing says "quality bonding time with your spouse" like murdering people together.
23. Wait, I want a mysterious German director to turn me into an immortal vampire…
24. Lady Gaga was so sweet and innocent before turning into a vampire. I guess turning into a bloodsucking monster kind of ruins your attitude about life.
25. OF COURSE THEY ONLY HAVE ONE GUARD AT THE DOOR FOR THE 10 COMMANDMENTS KILLER BECAUSE NO ONE ON THIS SHOW CAN EVER MAKE A GOSH DARN DECENT DECISION ON THE SHOW.
26. Instead of tracking down a biblical serial killer in his hospital, eyebrows cop just needs to go to Disney. Get some ice cream. Hit the beach. This guy has no chill!!!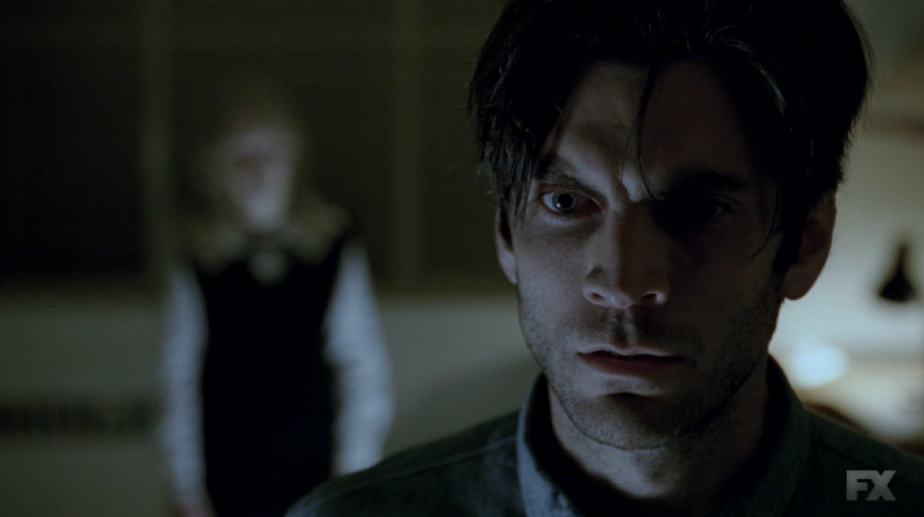 27. OF COURSE IT'S ONE OF THE CREEPY BLONDE VAMPIRE CHILDREN. All the children on this show are so messed up!!!
28. Ren: The child murderer who also has pigtails. Thanks, American Horror Story.
29. Lady Gaga: Vampire, murderer, fashionista, foster parent. Get this girl an Emmy ASAP!!!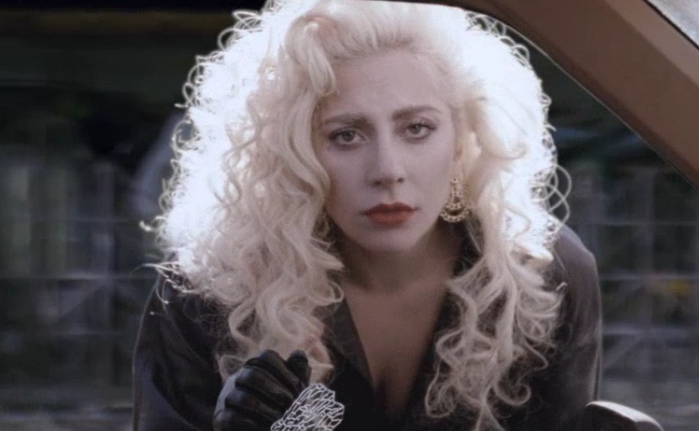 30. Bloody zombie vampire Valentino and Natasha arguing are couple goals 2k15.
31. Wait, what happened to the school of murderous vampire children??? Are they roaming the streets of Los Feliz eating hipsters yet?
32. Look at those Beef Wellingtons! Miss Evers is like a demented Barefoot Contessa and I love it.
33. Murderous Evan Peters and Lady Gaga having dinner…I can't decide who would win in this fight?!? It might last until the end of time.
34. OMG she is having dinner with the GHOST of Murderous Evan Peters what is going on!!!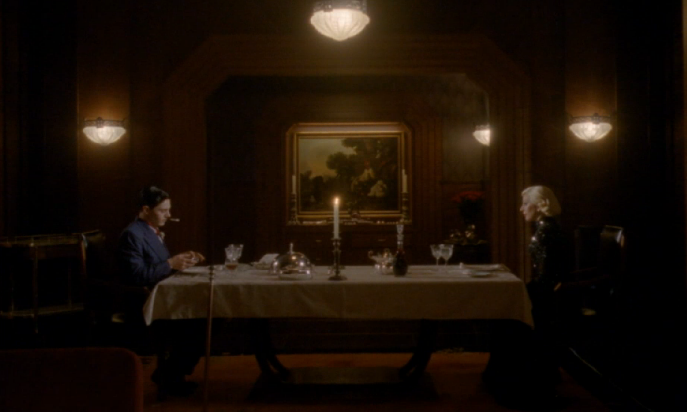 35. "Light in the loafers fellow," is probably the best possible way to say Will Drake is gay LOL.
36. "I'm dead dear, not stupid." Same, Murderous Evan Peters. Same.
37. Seriously, Lady Gaga has the best outfits on this show. Her closet must take up half the hotel!
38. Imagine waking up in a hotel room and realizing you're trapped behind a steel door. Then imagine the TripAdvisor review you would give the hotel after that.
39. Murderous Evan Peters is a capital-A ASSHOLE!
40. Oh good, vampire Valentino and Natasha are finally unleashed on Los Angeles. I'm sure Kris Jenner is going to have a field day.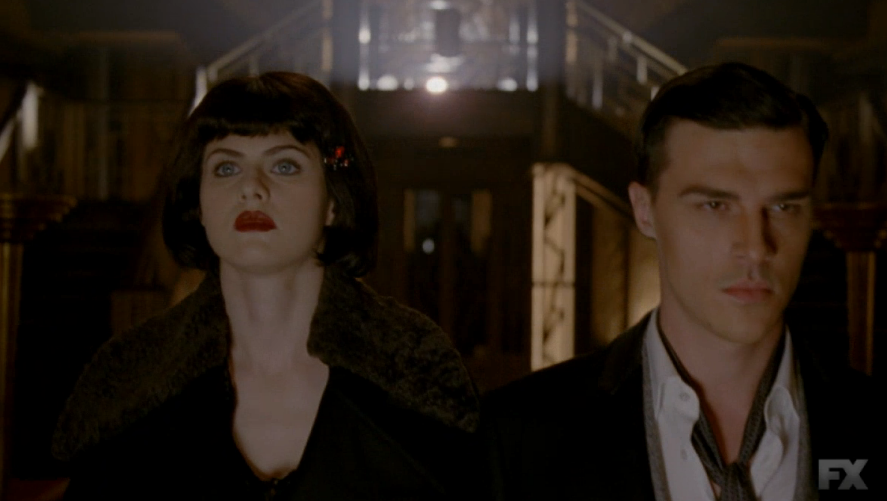 41. OH MY GOD REN JUST GOT HIT BY A TRUCK THIS IS JUST LIKE MEAN GIRLS EXCEPT WITHOUT KALTEEN BARS.
42. This show just keeps getting crazier and crazier every week. And I love it.