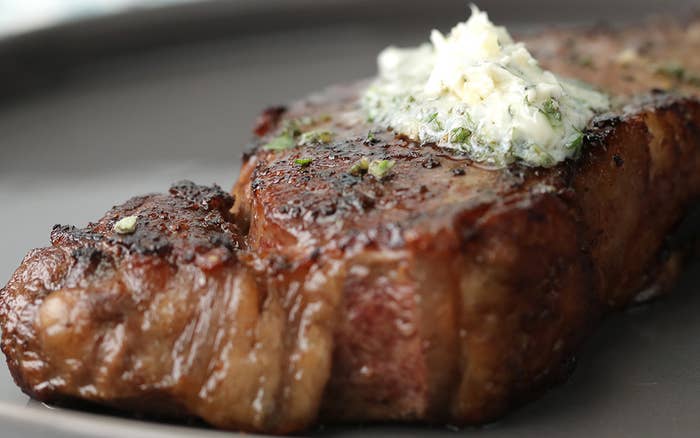 Servings: 2
Ingredients:
2 Prime New York Strip Steaks 4 teaspoons vegetable oil
2 teaspoons kosher salt
1 teaspoon ground black pepper
Herb Butter
1⁄2 cup unsalted butter, softened
2 cloves garlic, minced
2 teaspoons fresh rosemary, chopped, plus extra for garnish 1 teaspoon fresh thyme, chopped, plus extra for garnish
1 teaspoon fresh sage, chopped, plus extra for garnish
1 teaspoon kosher salt
Preparation:
Preheat the oven to 375°F.

Place steaks on a sheet pan and coat with vegetable oil. Season with salt and pepper. Roast until internal temperature reaches 120-125°F, about 10 minutes.

Herb Butter: In a medium bowl, combine butter, garlic, chopped herbs, and salt and set aside.

Heat a cast iron skillet on high until it smokes. Reduce the heat to medium-high and add a tablespoon of the herb butter.

Sear each side of the steaks until golden brown. Remove from pan.

Allow steaks to rest for 5-10 minutes, then cut into slices against the grain.

Top with a dollop of garlic herb butter and garnish with a sprinkle of fresh herbs.