1.
A pet hair remover you simply swipe over surfaces covered in hair from your furry bestie. 
Promising review: "Where has this been all my cat-loving life? Sticky rollers work fine for clothes, but this is the only product that has ever COMPLETELY removed all the cat hair from my bed. I have a long-haired, 20-pound tabby, and if you run your hands up his back a few times and fling the hair everywhere, it looks like it's snowing — he never stops shedding no matter what I do. After using the ChomChom, I can put on a black dress and roll around on my bed and not get a single hair on me. It's absolutely amazing. Everyone is getting one for Christmas, even if they don't have a pet. I don't care; it's THAT good." —Stephanie
Get it from Amazon for $24.99 (clip the $5 off coupon for this price!).
2.
A tattoo aftercare cream formulated with fatty-acid and antioxidant-rich ingredients to help moisturize and soothe newly inked skin. 

Mad Rabbit is a small biz that sells clean and natural tattoo skincare products and was featured on season 12 of Shark Tank!

Promising review: "Product was awesome. It rejuvenated a 5-year-old tattoo and made it look like new again. Mad Rabbit absorbed into the skin very easily without being greasy." —Janson Ward
Get it from Amazon for $18.99 (available in two scents). 
3.
A producer container doubling as a colander for rinsing your favorite fruits and veggies and a keeper so they stay fresh in your fridge longer than they would in their original packaging.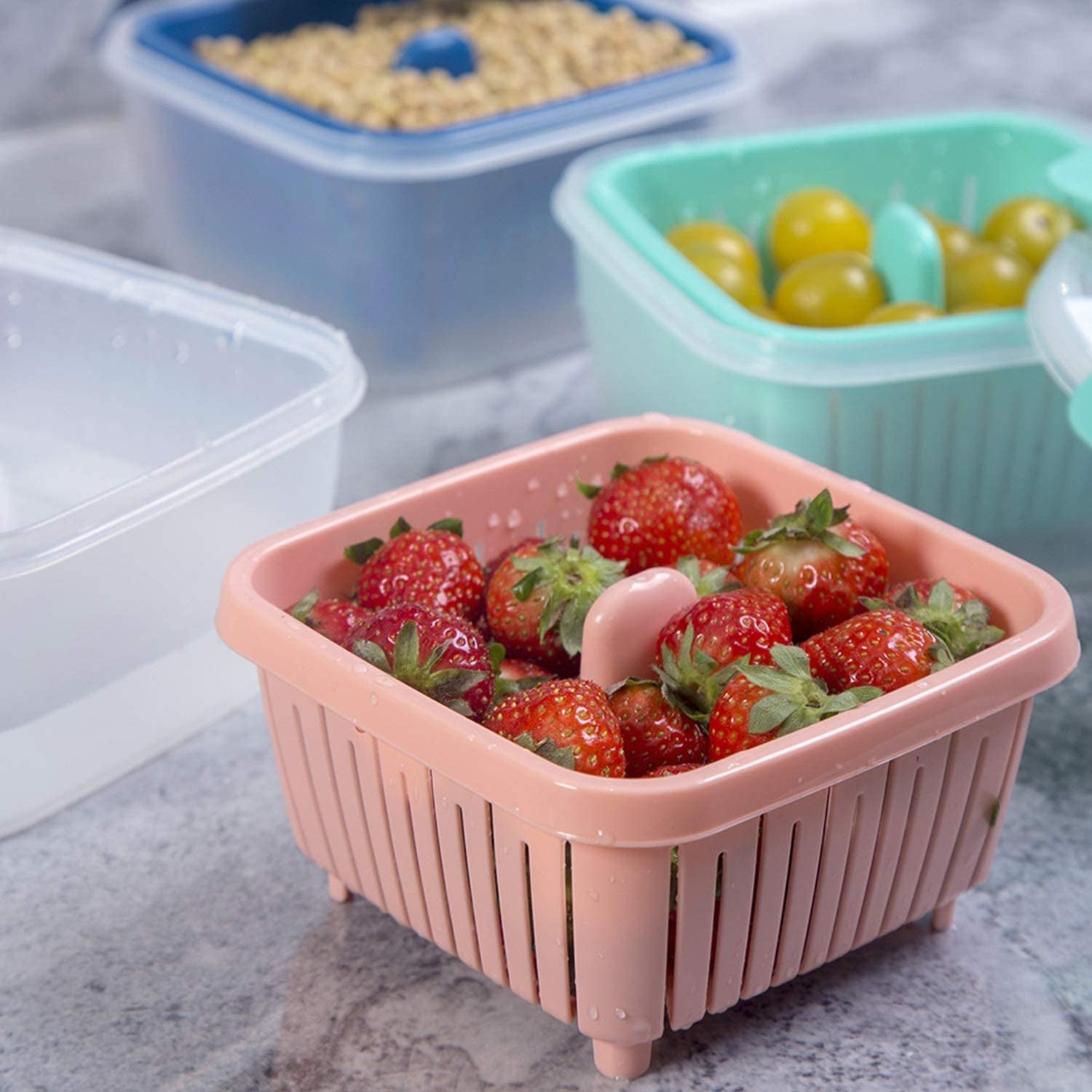 These containers are dishwasher-, microwave-, and freezer-safe!
Promising review: "I really wanted to see if this worked so I purchased two packages of strawberries. I washed all the berries and let them dry throughly. I put half in my berry keeper box and the other in the plastic container from the store. My daughter had to ask for help with the new berry keeper; she had difficulty opening it and closing it sometimes. The berry keeper kept strawberries for 15 days, the grocery store container only kept them 6 days. Groceries aren't cheap and I can use anything to prolong the life of my produce. Washed well in the dishwasher on the top rack. I'll be purchasing more of these attractive quality boxes. I need one for blueberries and grapes." —Toogreen

Get it from Amazon for $8.99+ (available in three colors and various sets). 
4.
Peach Slices acne spot dots — simply put one of these little hydrocolloid stickers over a zit, let it sit for a few hours (or overnight!), and then bask in the amazement of the pore-clogging gunk it absorbed when you take it off. 

Peach Slices is a small biz that sells skincare products!

Promising review: "This brand is so affordable and works just the same as the more expensive brands. I go through them so quickly so this is a plus! I'm generally a picker at my zits, but if I can get to one of these dots in time I save my face a lot of irritation and pain. I wear them at night and sometimes during the day, only takes about two to get rid of those pesky whiteheads, sometimes more for a big zit. They really suck everything out." —Savannah Wilson

Get a pack of 30 from Amazon for $4.99. 
5.
A set of Shoe Slotz space saving units that'll take your collection of shoes from an overwhelming messy pile of who knows what to basically resembling the aisles of a DSW because you'll *gasp* actually be able to see your shoes.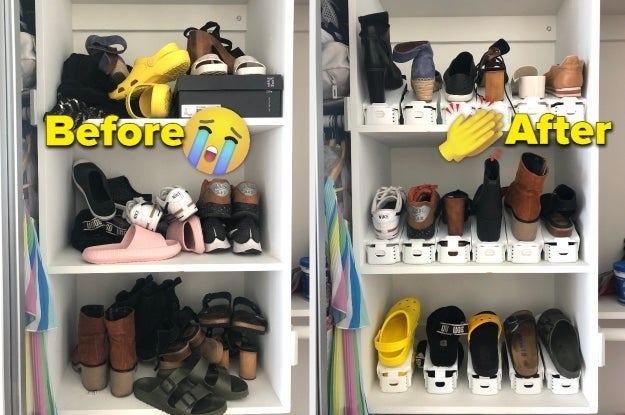 Sally Elshorafa / BuzzFeed
My colleague Sally Elshorafa swears by this for organizing shoes. Here's what she has to say:

"This product SAVED MY SHOES! I have an awkward set of built-in shelves in my closet, and it was the only place I wanted to put my shoes. As you can see from the before pic (above), it was a big mess; my shoes were piled on top of each other and getting really dirty. Traditional shoe caddies or boxes didn't really work because there's not much horizontal space, so I tried the Shoe Slotz. It fixed the problem perfectly! Because the design smartly stacks one shoe on top of the other, you save 50% of the space you'd normally use to store your shoes." 

Get a pack of 10 from Amazon for $32.95.
6.
A Gold Bond Friction Defense stick for swiping over areas prone to chafing and hopefully help stop it in its tracks. There's nothing worse than a day of exploring a city, walking around a Disney park, or vibing at a music festival ruined by that dreadful pain.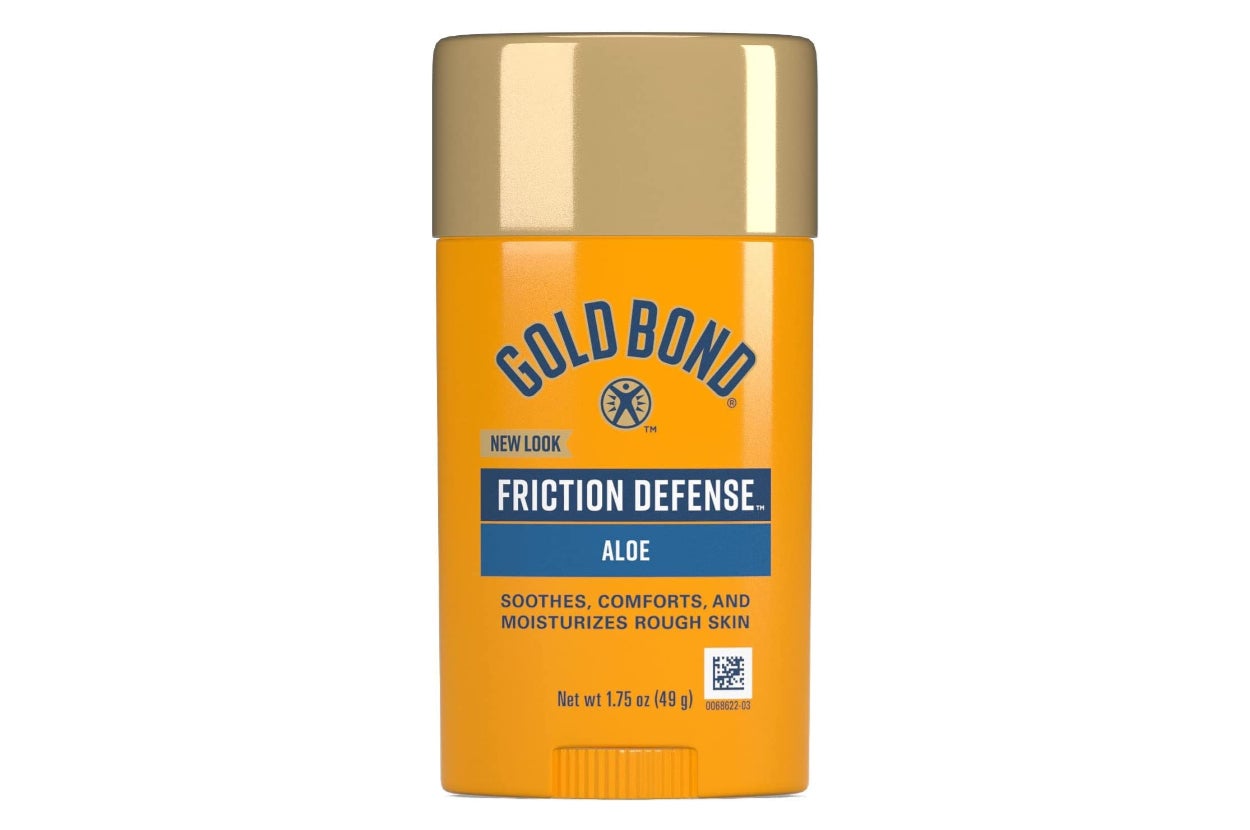 Promising review: "I just used it for five days in 90-degree-plus weather at Bonnaroo music festival in the middle of Tennessee on a farm in June with 100,000 people walking several miles, dancing, and sweating every day. I am happy to report that this product is a lifesaver. My thighs didn't chafe once, and I have big ones! I had to reapply once during the day. I strongly recommend buying this if you have large thighs and need relief from chafing. I couldn't wear dresses or skirts in the heat if I was walking anywhere, and now I live in them because of this stuff! Buy it! It works!" —Issac

Get it from Amazon for $5.96.
7.
A portable carpet and upholstery cleaner that boasts strong spray and suction so cleaning stubborn stains will feel effortless. Messes left behind by pets or small children shouldn't mean permanently ruined carpets, furniture, or car interiors.

Promising review: "This vacuum is amazing. I first heard of it on TikTok where people were using it to clean their stairs, mattresses, car seats, etc. and from the videos, it already looked amazing. But considering how dirty my dining chair cushions were, I was a little bit apprehensive and skeptical. I purchased the item and used it on my chairs for the first time and the results were SO AMAZING. Best vacuum I've ever used. I even bought a second one!" —Davina
Get it from Amazon for $123.
8.
A fruit and veggie divider to make quick work of cutting up berries, carrot and celery sticks, or any other produce you wanna snack on. Just here to help you save time! 

Promising review: "If you have toddlers, get it — especially if you're on the fence. I needed something for grapes, blueberries, blackberries, and other small fruit and veggies we go through so much. My breakfast was getting cold long before I was done cutting fruit for two toddlers. Most cutters only do one grape or berry, but this one can do several grapes and a small handful of blueberries. We will definitely be getting a lot of use out of it in this house." —Kindle Customer

Get it from Amazon for $9.68. 
9.
A body scrub for buffing away red bumps. Use it one to two times a week for smoother skin — it's like a microdermabrasion treatment at a fraction of the cost and without having to leave the house. 

My colleague Ciera Velarde loves this stuff, here's what she has to say about it:

"I've had keratosis pilaris since I was a teenager (it's especially bad on my thighs), and after trying dozens of products to treat it with no luck, this magical product is the only thing that's truly worked for me. I usually use this once a week for maintenance, but in the winter if I notice a flare-ups and I get have drier, rougher, bumpier skin, I use this twice a week, and any flare-ups disappear within the week. I scrub it over my thighs and then actually let it sit for a few minutes before rinsing it off. I have notorious sensitive skin, and I've never had an issue with this before. It's truly the best product out there for any fellow KP sufferers out there!"
Get it from Amazon for $12+ (available in three sizes). 

10.
A lightweight running belt that'll make it easy to bring important items like your phone, keys, headphones, and wallet with you out on your morning workout without having to actually hold them or wear a clunky fanny pack. 

Promising review: "I'm a runner and a big problem in the past has been where to put the phone and other items! I do have another item similar that I can have for my longer runs as it comes with two bottles, but for all my normal runs, this item is the best! After a few seconds, I forget it's even on! Haha I highly recommend for runners, it's a must have! It will change your runs forever. :) There are many pockets and a lot of different ways you can store it. I even tried to grab my bottle from my other one and see if it fits and works with this item, and it worked great! It's very high quality and it looks like it will last a really long time!" —Anjali
Get it from Amazon for $31.89+ (available in sizes XXS–XXL and in 13 colors).
11.
A genius sandwich bread dispenser reviewers say helps keep loaves of sandwich bread fresher longer (think: weeks) because it's time we finally put an end to that annoying moment of discovering green spots a few days after grocery shopping and having to throw away half the loaf. 
Buddeez is a family-owned small biz based in Missouri that sells home goods!

Promising review: "The Buddeez Sandwich Bread Dispenser is great! It does exactly what it was intended for. I live alone and I don't quite go through bread often enough before the last quarter section of the loaf starts to go stale. I was originally looking for something to put a loaf of bread in as a shell for my vacuum sealer, that would keep the bread from getting crushed from the pressure. This dispenser solved all of my problems. Thank you!" —DRMcQuaig

Get it from Amazon for $12.49 (available in two colors).
12.
A reusable oil-absorbing face roller that'll be a lifesaver for anyone who tends to get extra oily. Just glide it over your face, it's THAT easy. 

Promising review: "First off, if you have extremely oily skin, this. is. it. I was so tired of getting blotting powder/wipes. It felt wasteful and always left residue on my face. I saw this on TikTok and NEEDED it. It was backordered but then I got an email saying it was in stock and I was SO excited. Not only is it affordable, but it's washable, which helps you save money and be less wasteful." —Kelsey B.
Get it from Amazon for $13.40. 
13.
A set of shower door towel hooks because imagine how nice it's gonna be the next time you get out of the shower and your towel is RIGHT there within easy reach. It's the little things! 

Promising review: "A very sturdy shower hook! I've had these on my wishlist a while and I'm glad I got them. The rubber sticks well to the shower glass and they're very heavy duty!" —April Bennett

Get a set of two from Amazon for $9.59+ (available in three colors).