We hope you love the products we recommend! Just so you know, BuzzFeed may collect a share of sales or other compensation from the links on this page. Oh, and FYI — prices are accurate and items in stock as of time of publication.
Have you ever taken a deep, long sigh in your kitchen one night after work and wished for a kitchen gadget that could quickly cook your meals for you? Have you already heard of such a gadget by the name of ~Instant Pot~ that CAN do that, but couldn't bring yourself to pay for the triple digit price tag?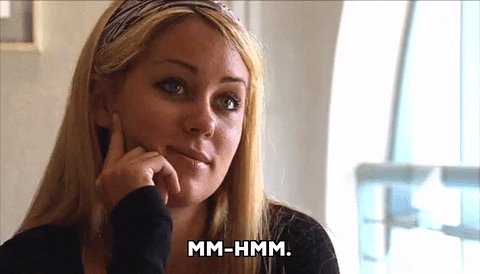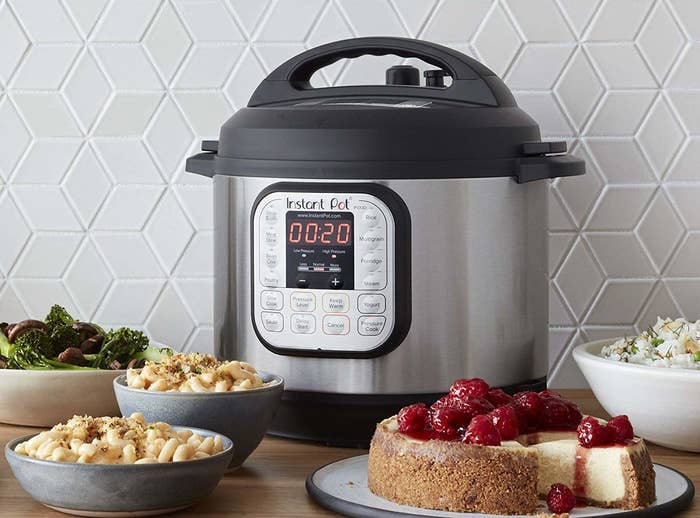 That's right. This baby that usually costs $139.95 is now $64.99. A $74.96 saving. THAT MEANS YOU SAVE MORE THAN YOU ACTUALLY SPEND!
"What's the 7-in-1 thing you mentioned above?" The Instant Pot is LITERALLY seven appliances all in ONE — it's a pressure cooker, a slow cooker, a rice cooker, a steamer, a sauté pan, a yogurt maker, and a warmer. I guess you can just go ahead and throw out all of your kitchen gadgets now.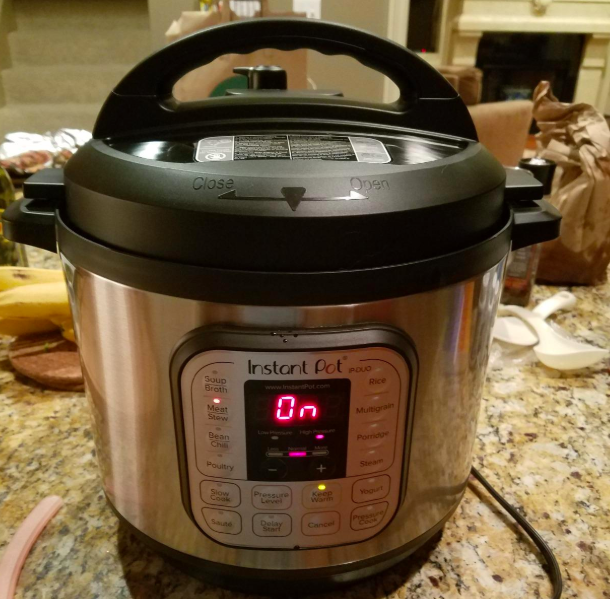 It features 14 one-touch smart programs so you can cook your favorite foods with just the press of a single button, including (but certainly not limited to): ribs, soup, beans, rice, poultry, yogurt, desserts, and more!
It comes complete with accessories to help you cook up ALL the deliciousness — a stainless steel steam rack with handles, a rice paddle, a soup spoon, a measuring cup, and a condensation collector! You'll also get access to hundreds of mouthwatering recipes thanks to the free Instant Pot Recipe app!
Plus, it has more than 10 built-in safety features like overheat protection and safety lock, and it's SO easy to clean thanks to its fingerprint-resistant stainless steel lid, accessories, and eight-quart stainless steel inner pot being dishwasher-safe!
This reviewer loves how the Instant Pot dramatically cuts down cooking time, especially when prepping for large crowds:
"We bought this larger capacity Instant Pot for our family's vacation home. We feed such large crowds at our vacation home, that we needed a bigger Instant Pot than the one we have at our main home. Our favorite recipe is pork carnitas. Yummy!!! This Instant Pot makes tender, spicy carnitas every time. This also works great for homemade soups and broth. Bone broth and homemade chicken soup are so nourishing, and have made a come-back. Turns out, grandma really new what she was doing back in the day. The Instant Pot helps you to make bone broth, soups, and more quickly — cutting lots of hours out of the cooking process." —Deep Forest
While this reviewer who bought the Instant Pot for seasonal use, became pleasantly surprised that it's now their favorite gadget year-round:
"When I bought this Instant Pot during the frigid Montana winter, I thought it would come in handy for making comforting soups and stews on busy work nights, but it's become my favorite kitchen tool even during the warmer weather. This is a quality-made product and I am very happy with it." —Terry
And in honor of cuffing season, this one reviewer said the Instant Pot helped them convince a love interest to move in and marry them, so, there's another function this Instant Pot is capable of:
"It has so many amazing features and does such a good job with anything you decide to make. Stews, steamed veggies, slow cooking — all of it. The best feature is that it's such a good appliance, it helped me to convince THE hottest woman in the entire midwest to move-in with me, and now I can marry and spend my life with her thanks to the convenience and ease of this glorious cooker! Thanks Instant Pot!" —Joey O
So if you're looking for a cult-favorite gadget that combines seven appliances in one, greatly reduces cooking time, is super durable, and may even help you find a significant other, then be sure to buy the Instant Pot TODAY while it's 54% off during Amazon's Black Friday sale — ONE DAY ONLY, what are you waiting for?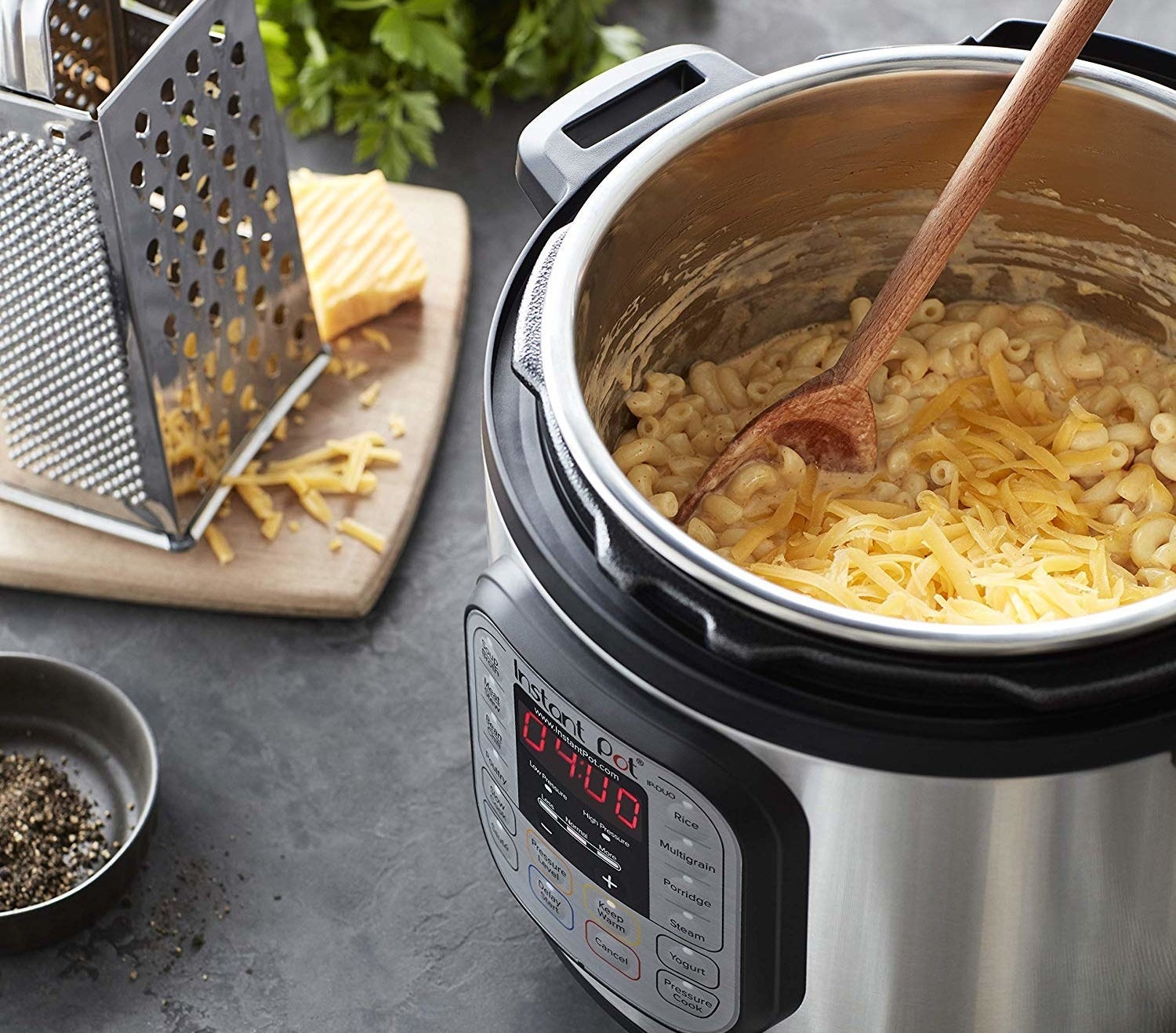 Looking for the perfect gift for any occasion? Check out all of BuzzFeed's gift guides!