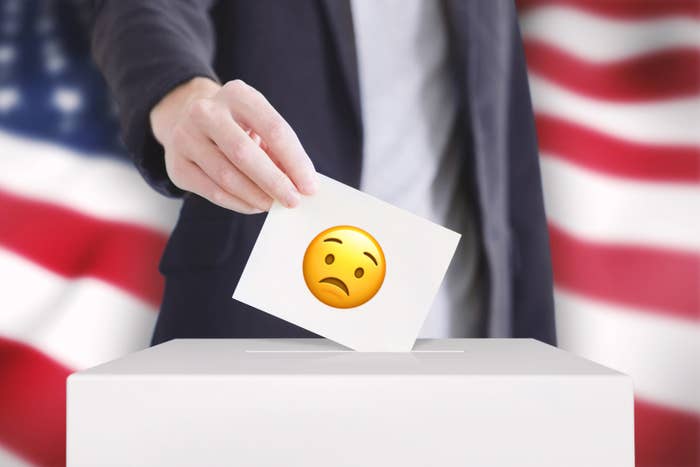 1. Looked at the newest polls and audibly gasped?

2. Looked at the newest polls and lightly wept?

3. Resolved to stop checking polls so often right before checking them again?

4. Yelled at the TV while watching the debates?

5. Thrown something at the TV while watching the debates?

6. Prayed the rosary while watching the debates?

7. Avoided watching the debates because you can't even deal?

8. Taken breaks from reading or watching the news because election coverage was making you anxious?

9. Obsessively consumed election-related coverage because being informed makes you feel less powerless?

10. Thought about the election as you fell asleep at night?

11. Woken up from a dead sleep panicking about the election?

12. Found yourself scouring news stories for any bit of info that might make you feel better about the election?

13. Created a self-care ritual specifically to deal with election-related stress?

14. Talked about the election in therapy?

15. Cried about the election in therapy?

16. Started going to therapy?

17. Casually Googled information about daily life in another country?

18. Seriously researched the logistics of moving to another country?

19. Sent a text that said something along the lines of "Are we gonna be OK?"

20. Sent a text that said something along the lines of "Dude, we're not gonna be OK."

21. Taken up a hobby just to take your mind off the election?

22. Actually lost some interest in a hobby because you're too anxious to focus?

23. Started exercising to relieve stress or prepare yourself for surviving armageddon?

24. Been told by friends/co-workers/loved ones that your election stress is stressing them out?

25. Found yourself getting upset about stuff that doesn't usually bother you, but damnit you swear this election is to blame?

26. Noticed that your chronic health stuff has gotten worse (migraines, GI issues, headaches, ulcer, back/neck/wherever pain, etc.)?

27. Muted/unfollowed/blocked people on social media due to their tendency to share unspeakable opinions?

28. Muted/unfollowed someone because all they freaking do is post updates about the election (even if you agree with them generally)?

29. Unfriended anyone IRL because their opinions almost made your head explode?

30. Taken a break from social media altogether — at least till after the election?

31. Rage deleted one or more of your social media accounts?

32. Asked people in your life to stop talking about election-related stuff when you're around?

33. Had election-related dreams?

34. Had election-related daydreams?

35. Planned on calling in sick on Election Day so you can spend it freaking out in private?

36. Gotten more religiously observant? (Maybe appealing to a higher power will save us?)

37. Gotten way less religiously observant? (No higher power would put us through this.)

38. Been stress-eating more than usual?

39. Been sleeping more or less than usual?

40. Been drinking more than you usually do?

41. Been drinking WAY more than you usually do?

42. Been doing more recreational drugs than usual?

43. Been less interested in sex or masturbation?

44. Started smoking again even though you'd quit?

45. Taken up smoking for the first time because what the hell, the world's ending anyway?

46. Been spending more time with your family?

47. Been lowkey avoiding your family?

48. Made an election-watching plan that will (hopefully) help you prevent a total emotional collapse?

49. Become filled with terror wondering if whatever happens post-election will be worse than this actual dystopia?

50. Already started dreading election-related conversation at Thanksgiving?

51. Gotten totally stressed out thanks to this quiz?