We hope you love the products we recommend! Just so you know, BuzzFeed may collect a small share of sales from the links on this page.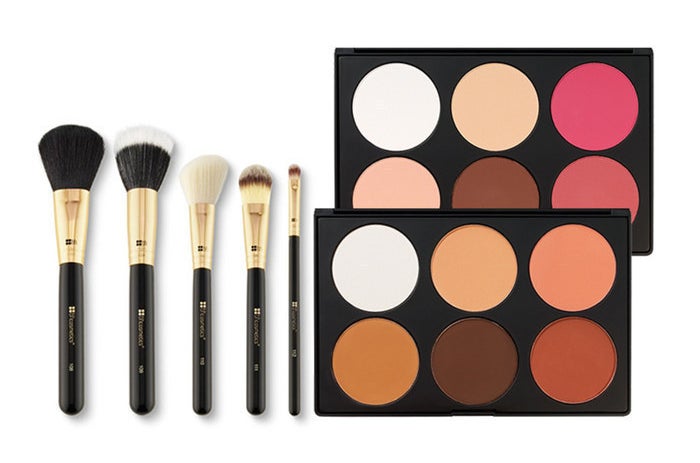 There are usually three options at a time, and promos end when they sell out which is usually within a few days. The palette and lip gloss set on the right is from the Pride + Prejudice + Zombies™ collection. You can find the promo palettes here and check back regularly for new deals.
Shipping: Free on orders over $50, $7.95 for standard shipping under $50.
2.
The Body Shop has an ongoing Buy 3 Get 2 Free or Buy 2 get 1 Free deal.
The Body Shop carries everything from facial cleansers, serums and moisturizers to body wash, makeup, soap, shower gels, etc. Almost everything they carry is included in the promotional deal.
Shipping: Free over $50, $5.95 standard rate under $50.
3.
BirchBox has a section called Beauty Deals that includes overstock products discounted 30% at checkout.
The selection rotates frequently, and you can often find super *luxe* items at discounted prices. They even have a small selection of jewelry and decor. The best part is that this isn't just a limited time promotion, so you can always shop discounted products from BirchBox's Beauty Deals section.
Shipping: Free over $50, $5 standard rate under $50.
There are some really incredible deals for Korean skincare products right now like this pack of 11 sheet masks for $9.37. At Sephora these masks cost $7.50 for a pack of two, and at Urban this cool eye stick costs $12 but is less than $8 on Amazon. This will link you to their entire selection of Korean skincare products.
Shipping: FREE with Prime! Otherwise it depends on the product.
5.
Sephora has a whole section dedicated to value sets that will save you a ton.
Sephora's value sets will save you an incredible amount of money. They have sets of everything from makeup to skincare to perfume, and they also have brush sets that often cost as much as you'd pay for two full price brushes.
Shipping: Free on orders over $50, $5.95 standard rate under $50.
6.
Black Radiance is offering a free contour kit with any purchase of $35 or more.
7.
Barneys is running a promotion through March 12th that involves sample bags.
8.
Vanity Planet has a huge discount on their skincare and makeup products.
Vanity Planet has an Instagram promotion that anyone can benefit from. The items on promo include spin brushers, flat irons, makeup and more. The discounts are actually HUGE, like products that usually sell for $100 are now $30. Find the makeup pack here, the spin brush here, and the flat iron here.
Shipping: varies by destination.
9.
Macy's has two promos going on, one brand specific and one site-wide.
Macy's has two awesome promos going on. Spend $35 on Estee Lauder products and get a seven-piece gift for free, and spend $85 on beauty products site-wide and receive a free six-piece gift bag. They also have a ton of value sets and a whole section on "gift with purchase" options. The site-wide promo gift lets you choose six products from a selection of 12 options.
Shipping: Free over $99.00, $9.95 standard rate under $99.00.
10.
Groupon has a huge deal on CHI flat irons, makeup, and brush sets.
Groupon's Health and Beauty section always has deals on makeup and skincare as well as other beauty goods, but right now their promos on CHI brand products are crazy excellent. Groupon is also a great way to get high quality makeup brushes and contour kits at a fraction of the price.
Shipping: The website says that "most purchases of $34.99 or more qualify for free shipping in the U.S." but standard shipping rates differ depending on the product.
11.
Nordstrom has great value sets and free samples with purchase.
Nordstrom has an ongoing promo for three free samples of your choice with any beauty purchase, and they have a great beauty value set section for huge savings. Shop the beauty section here, view the samples you get to choose from here, and check out value sets here.
Shipping: FREE!
12.
Urban Decay has a rotating selection of extreme sales.
There is usually a small selection of products, but the deals are huge. Sometimes all the shades or colors of a product will be on sale and sometimes it's just a specific one that's discounted- but it's worth the extra step of searching if you find the right one! Find the bronzer balm here, the blush and bronzer palette here and the lip colors here.
Shipping: Free over $50, $8 standard shipping under $50.
13.
Ulta has a serious selection of promos and exclusive value sets.
14.
Pacifica has amazing perfume, skincare and makeup value sets.
Pacifica value sets are always available so this is not a time-specific promotion, but it is a great way to save money on vegan, cruelty free beauty products that are otherwise expensive. Find the lip tint trip here, the makeup set here and the perfume set here.
Shipping: Free shipping on orders over $50, $5.95 standard shipping under $50.