1.
String up a 48-foot strand of waterproof and shatterproof lights for illuminating your outdoor space during al fresco nights. Because they aren't delicate, no need to take them down when winter weather hits. 
Promising review: "These LED string lights are easy to install, and make any outdoor area feel special. The wire and fixtures are well made. Remember to put up your lights without the bulbs, this makes accidental damage less likely. Once you are happy with the positioning then add the bulbs." —Jo Robinson
Get it from Amazon for $44.99.
2.
Grow your own fruits and veggies with a raised garden bed. I recommend planting taller plants on the lowest level (like tomato vines). That way you don't have to bend down too far to collect your bounty. 
Promising review: "This was one of the best purchases I've made on Amazon. It was easy to assemble and the finished product looks great in my backyard. I planted two tomato plants in the top tier and one in the second tier flanked on each side with basil plants. On the lowest tier I planted lemon cucumbers." —Lewis F. Celli
Get it from Amazon for $66.99.
3.
To keep yourself occupied during those lazy beach and pool days, try a pack of waterproof playing cards. No need to worry about drink spills or pool water. Just wipe down and voila! They're like new.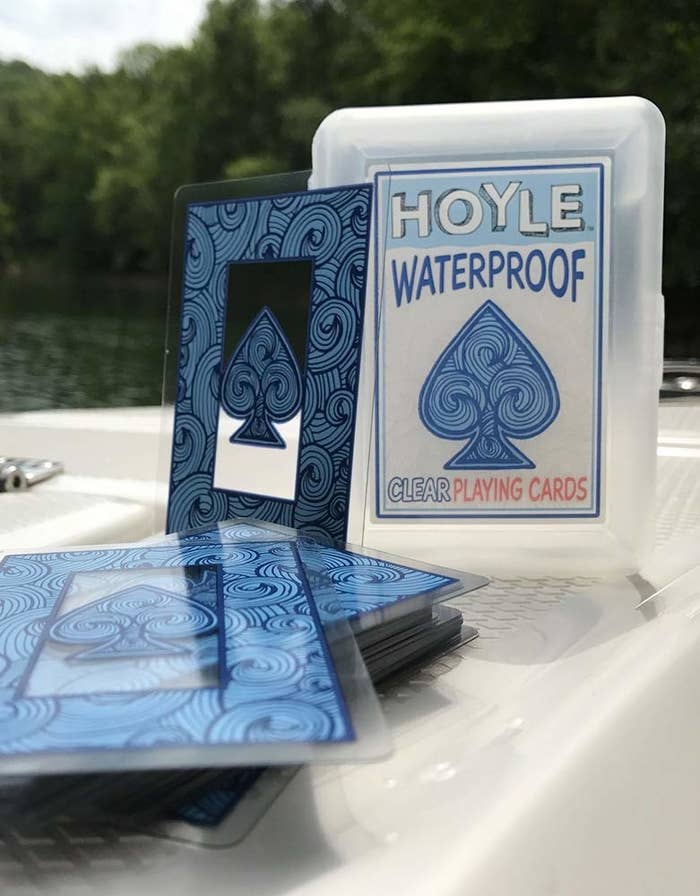 4.
To create a beautifully patterned outdoor area, install interlocking Teak tiles. No tools or glue are required, the tiles just snap together. Teak is also the preferred wood for all outdoor stuff because of its ability to survive through all types of weather. It is one of the few woods around that contains a natural oil which repels water.
Promising review: "Living in Hawaii, you have to select wise items that are weather-, salt-, and red dirt–proof, etc... In total I ordered 11 boxes to complete my yoga deck. I have a few left over to make steps on the back. Very pleased and happy. May order more for an outdoor shower project!" —Adazzle
Get 10 sq. ft from Amazon for $77.99.
5.
Impress everyone you know — especially yourself — this a geodesic dome for lounging about in style. Use it for anything, from creating a dream-like, all-encompassing trellis to housing turkeys. 
Sunrise Domes is a small business based out of South Killingly, Connecticut, that specializes in geodesic domes. Reviewers also use these structures from this Etsy shop as sculptures or even to contain their yard turkeys!
Get it from Sunrise Domes on Etsy for $1,050.
6.
Keep warm while the nights start to cool off with a gas fire pit table. It comes with a glass lid, so when the fire's not in use the whole thing can be used as a table. 
Promising review: "My favorite purchase for our deck. I LOVE this fire table. Good size, great value compared to what is out there. Packaged nicely. My husband put together alone in 30–45 mins with no frustration and easy to follow directions. Puts out a decent amount of heat. Enough rocks to adequately cover. Just add your propane tank. I love that it has a lid as well. You will find sturdier fire tables, but not at this price. Excellent value." —Bellium
Get it from Amazon for $239.99.
7.
Host an outdoor movie night with a massive inflatable screen. It comes with a fan that will inflate the whole thing in under two minutes.
What's included: Screen, inflation fan, rope, tent, and inflatable stakes. 
Promising review: "Maybe the best purchase we have EVER made. We use it with our RV for outdoor movie viewing. Packs up nicely. The 9-foot one is huge, maybe the bigger one would be too big. The screen is a smooth nylon, cannot see the wrinkles when playing a movie. This thing comes with ties to keep from swaying but truly the base is such a good design you don't really need the ties. We love how the screen snaps on and off for storage. Inflated in about a minute or less. Super easy to use and a lot of fun. Recommend this to everyone!!!!!!" —Lobsterbisque
Get it from Amazon for $126.99+ (available in two sizes).
8.
Add some color to your outdoor space with a glassworks wind chime. Nearly all wind chimes are metal or neutral tones — which is fine! — but it's refreshing to find an option that has a bit more flair. 
9.
To combat UV rays while still enjoying your outdoor space, consider a canopy swing that rocks and swings *and* provides you with shade It's zero gravity, so when you're all tucked in you'll feel weightless. 
Promising review: "We love this lounge chair!!! The price was fabulous!! (And just a note... If you take care of your things — i.e. cover up the swing with a tarp and bring the cushions in when not using it — It will stay like new. Sun and rain can age anything! Easy-peasy!!) This lounge swing is so comfortable, and made very well!! And it only took my hubby and I only 25 to 30 minutes to put together. Take my word for it... you are not going to find a nicer lounge swing at this price!!" —Marash
Get it from Amazon for $219.99+ (available in six colors).
10.
Create huge bubbles with a set of massive bubble wands. Each kit comes with everything you need: the wand and bubble concrete, plus a booklet of tips on how to make the biggest bubbles ever. 
Promising review: "The wand is awesome, but even MORE awesome is that I just used regular bubble solution (way cheaper, found anywhere) and it worked just as well. Maybe better. Some people in reviews have said that you must use the packets that come with the wand, but I gave it a shot anyway with regular bubbles and it worked just fine, with no noticeable difference." —Lauri

Get it from Amazon for $13.95+ (available in five styles).
11.
Use a collapsible beer table to make sure you and your guests have brews and snacks whenever, wherever. It even has a built-in bottle opener! 
The stand — from Faircraft, a sustainable home goods shop based in Mechanicsburg, Pennsylvania — has room for two drinks and a snack in the center bowl. 
Promising review: "I love this piece so much. It's perfect for people who love to spend time outside drinking cold ones." —Sarah Smiles
12.
As the days start to get cooler — aka more bearable — use a floating balcony table to change up your WFH routine. You can take your work outside and enjoy some fresh air. 
Atelier Espace Caribou is a Montreal-based furniture shop specializing in modern pieces. Check them out for entryway benches, decorative bike racks, and monitor stands. 
Get it from Atelier Espace Caribou on Etsy for $102.82+ (available with or without the plant shelf and in two different colors). 

13.
Use a 25-foot-long slip n' slide that comes with six inflatable bowling pins for keeping cool while so many of us are still trying to beat the heat. The slide has as an embedded sprinkler system that connects to the standard backyard hose, runs the length of the slide, and has 100% water coverage so there are no dry spots.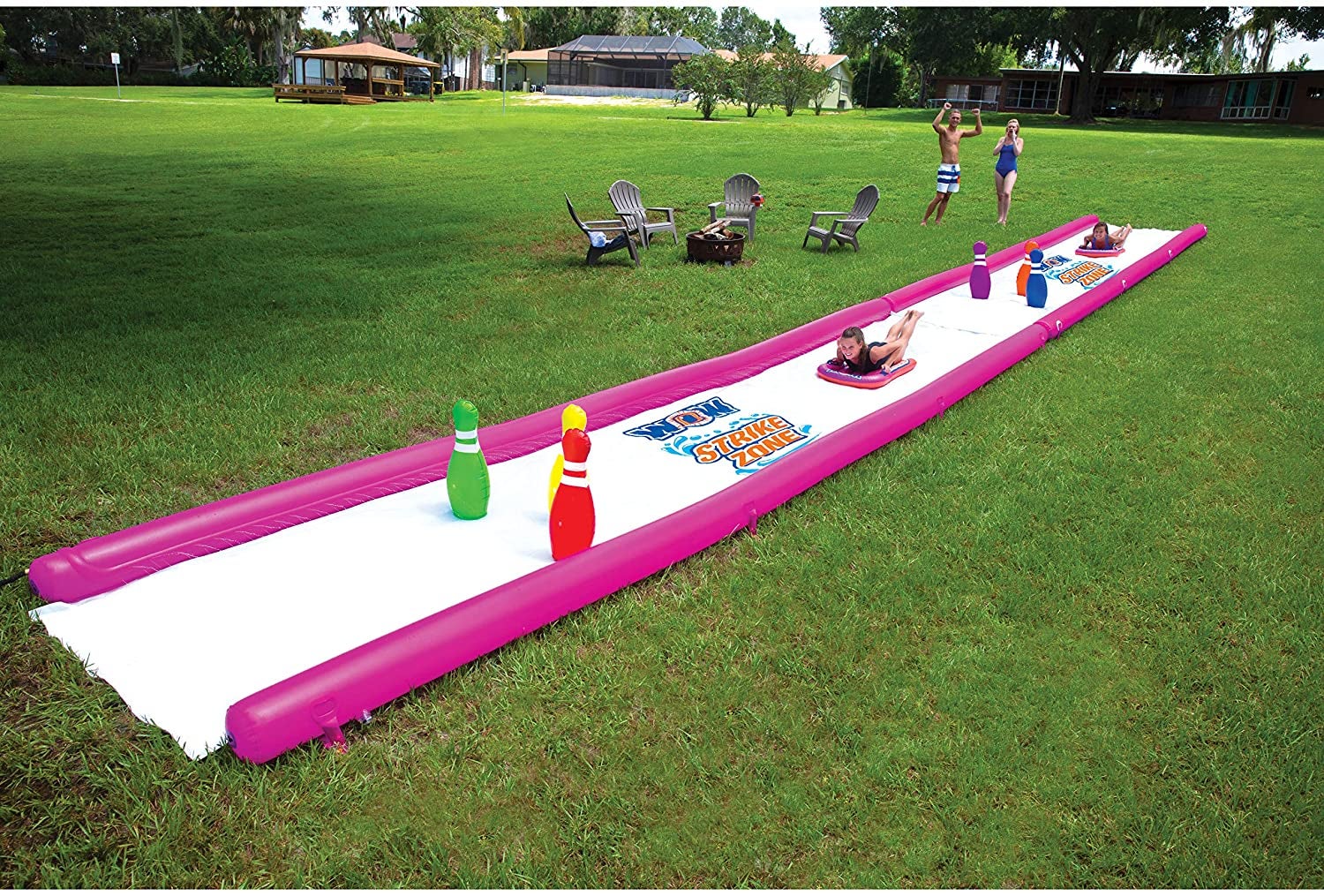 Promising review: "Huge hit! So worth every dime compared to the regular slip n' slides. You definitely get what you pay for! Definitely will buy another one in the future to have double the fun! I saw people review saying the slide had parts that were dry. Not sure how that was unless it was set up oddly. Ours stayed covered with water from morning to night without issues." —Christina Love Venhorst
Get it from Amazon for $139.99+ (available in four styles).
14.
Create some much-needed shade with a triangular sail that also block UV rays. With 10 sizes and 13 colors and patterns, there's something for every aesthetic. 
The corners of the sails have D rings so you can attach them to whatever you'd like with your choice of hardware or rope.
Promising review: "Purchased this to increase privacy and provide some shade. The color is vibrant, hasn't faded, and the loops are well stitched. The sail has also faired well in winds, thunderstorms, monsoon rain, and the brutal heat of Vegas. Shade is wonderful and one can definitely feel the temperature difference from full sun to being under this sail. The look and feel compliments our pool area and will certainly be purchasing an additional one." —VHC Media
Get it from Amazon for $24.98+ (available in six sizes and 13 colors/patterns).