1.
A jar of the The Pink Stuff — aka TikTok's favorite all-purpose cleaning paste — to combat grossness on nearly every surface in your home. From typical problems like crusty stovetops and soap scum buildup to more niche cleaning projects like grimy jewelry and rusty windows, this ~stuff~ will make cleaning it up a breeze.

Promising review: "Found this product on TikTok. I don't think I've ever seen value like I do this product! Literally use it on EVERYTHING!! Kids and teens have dirt, grime, and grease on their walls? ...This will make it look like a new paint job. Baseboards need some love? A pea-size amount of this makes them look brand new. Need a shoe cleaner? PERFECT for sneakers. I could name a million more uses, but I can ASSURE you this is worth every penny. What's more? You need such LITTLE of this product, it will last a VERY long time. Thank you, TikTok!!!" —Rachel in CLT

Get it from Amazon for $9.99.
2.
A set of scrubbing attachments for heavy duty jobs that require more than hand scrubbing. Each kit comes with three brushes and each color represents different stiffness. For instance, the white kit has the softest bristles, so it's best for projects like carpet, glass, and leather. The black kit has the stiffest bristles, and it's designed to take on really tough jobs like furnaces, grills, and loose paint. 

Promising review: "We originally purchased this to scrub our tile floors and grout in the bathrooms. We have a dog who slobbers everywhere and the only way to clean it is to use elbow grease. This thing is magical! We've used it on the walls (no paint removed), base boards, door jams and doors, windows, floors, and cabinets. Just dip it into warm soapy water and go to town! Recommending this to all our friends. Cuts cleaning time in half!" —A. Bos
Get it from Amazon for $14.95 (available in six brush stiffness colors).
3.
A set of Wad-Free pads to make sure your bedsheets don't get totally tangled up in the washing machine and dryer. Can you imagine? Can you dare to dream of opening a dryer to find fluffy, DRY bedsheets? It really can happen with this!
Wad-Free is a small biz that was launched during the pandemic. Cyndi, the founder, learned CAD (computer-aided design) to create the pads. And 5% of profits are donated to the American Brain Tumor Association.
Promising review: "In the 45+ yrs I've been washing sheets, I've tried everything to keep them from wadding up like a burrito. This works! I use them for my king sized bed and no more wet little bundle in the middle after drying them! The pillowcases now wind up on top instead of twisted and wet inside. It's super easy to attach the corners of the sheet to the silicone square. The sheets come out cleaner and there's no need to re-dry them! I bought one for both of my daughters — always happy to make life easier for them! Now I use them for my queen-size beds as well. I enjoy washing my sheets weekly now! I highly recommend." —Leslie Burch
Get it from Amazon for $18.99.
4.
An oil stain remover for ridding your countertops and grout of what you thought was permanent damage. Just smear some of the paste onto the stain and then let it suck out the deep, set-in oil stains. After three days, remove the paste with a sharp edge like a credit card, and voilà, the stain will be gone. Your fancy facial oils and olive oils will be no match for this stuff!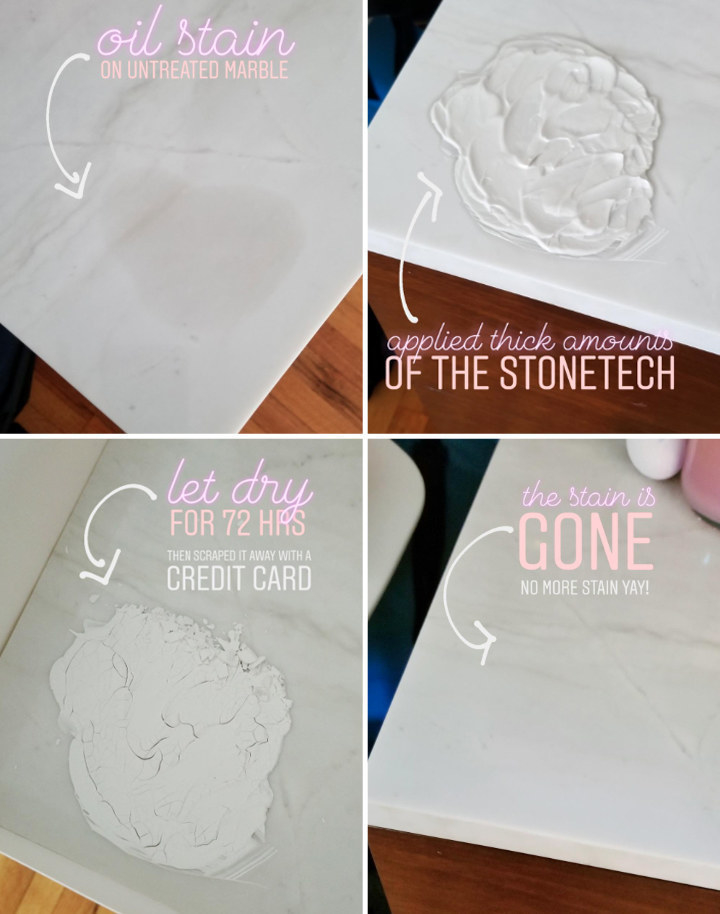 5.
Some beautifully scented and 100% natural all-purpose cleaner concentrate. These clean as good as they smell, and a little goes a long way, too! One 2oz bottle can refill a 16oz bottle twice.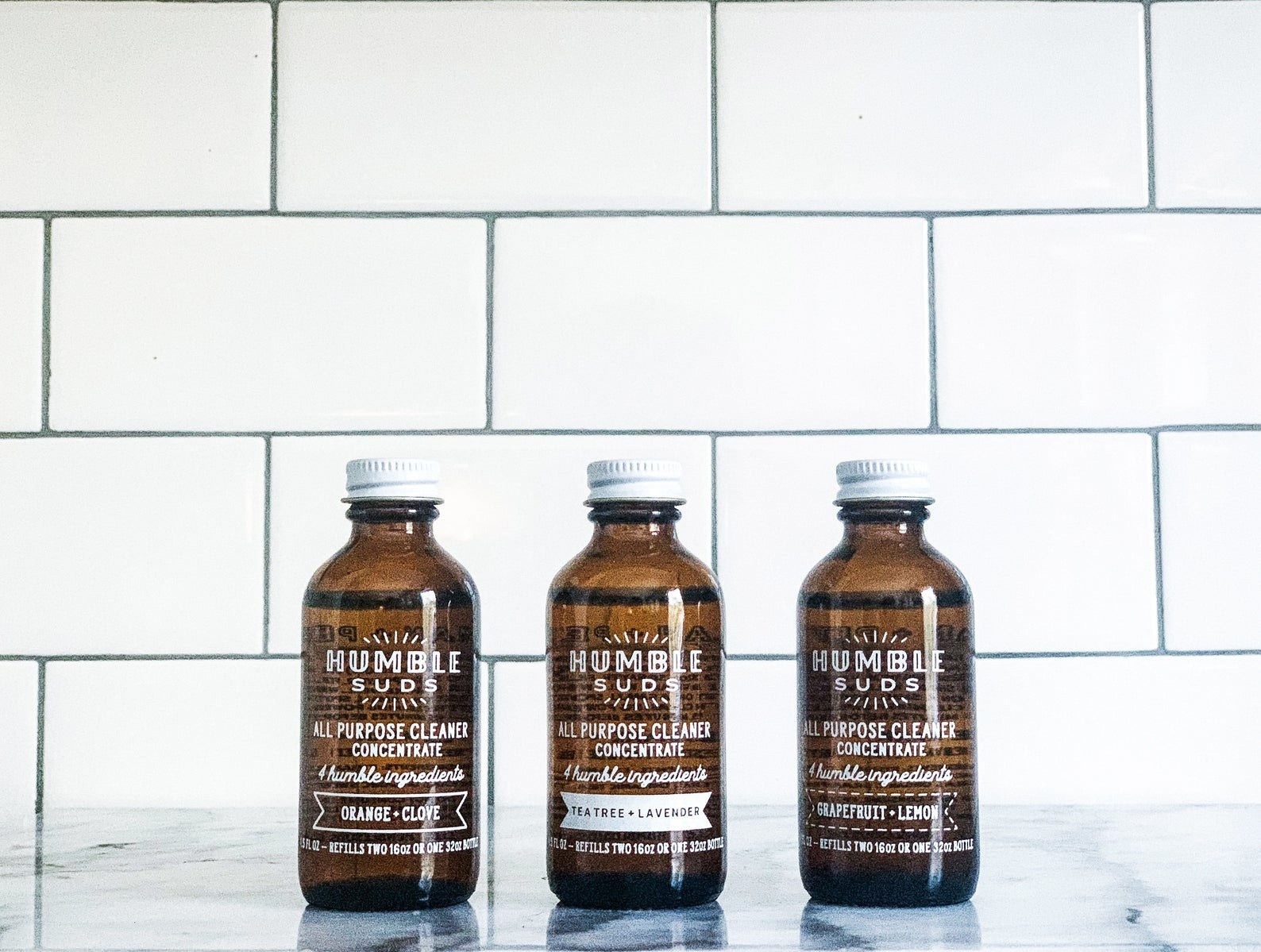 Humble Suds is a small cleaning brand run by two moms — Holli Schaub and Jennifer Parnell — in Evergreen, Colorado. All of their products are made from powerful, plant-based ingredients and packaged with recyclable materials.
Get it from Humble Suds on Etsy for $12.95 (available in three scent blends).
6.
A dryer vent cleaning kit to suck out all nastiness that's been building up in your dryer's vent. Not only will your clothes dry way faster with a cleaned out vent, but you'll save on energy use too because it'll take less time.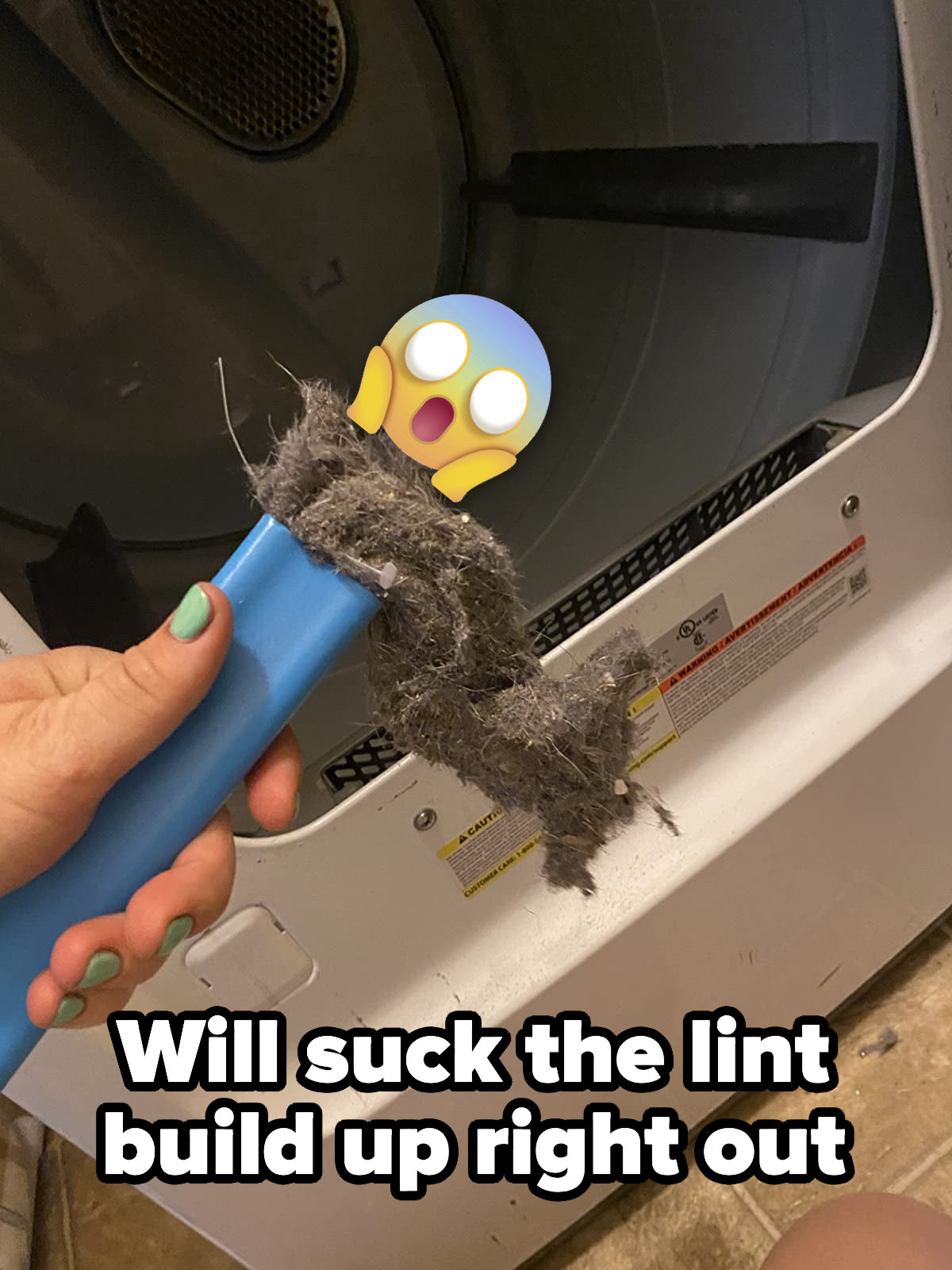 A customer review photo of the dryer vent cleaner filled with the dirt it collected
Promising review: "OK, LET'S TALK ABOUT THIS HOSE. My dryer was like one cycle away from catching fire, and my vacuum's skinny hose nozzle was too short to get into my dryer vent because the nozzle widens after 6 inches. So when I saw this product go on sale I bought it and it came the next day. It came in two or three pieces that fit into each other and go over the vacuum hose. It was SO SATISFYING to watch the big clumps come out of the dryer vent! I mean my dryer was nasty. Look at the pictures. I have a German shepherd and a pit bull, so our laundry is always full of nastiness. Well, this little hose got it all and it looks brand new in there. The big clumps were hard to get through the hose at first until I realized I could pinch the opening of the hose to make it circular, which allowed the clumps to fly through. Even the sound was satisfying. I will be vacuuming under my fridge next. No dying in a fire for me." —Bee92
Get a two-pack from Amazon for $10.99+ (available in five colors).
7.
Reusable microfiber glass-cleaning cloths for tackling dusty light fixtures and smudges on mirrors. If you've, ahem, never cleaned your ceiling lights, you definitely need to buy these cloths ASAP. You use the damp green cloth (with just water!) to remove dust and smudges, then follow up with the blue cloth to remove any residue. It's that easy and it'll not just make a huge difference aesthetically, but your seasonal allergies will thank you too. 
Promising review: "I honestly didn't believe these would work. But they are MAGIC. No glass cleaning products needed. Wet the green cloth with water, wring out so just damp. Clean the glass. Use the dry blue cloth to buff. That's it. Zero streaks. Zero. My mirrors have never been so streak free. Even with paper towel and Windex, I still always had streaks and lint. That's it. I can't believe it, truly amazing." —Your Mom
Get an eight-pack from Amazon for $16.13.
8.
A microfiber spin mop that will make sure your mop isn't soaking wet before you use it, which will dramatically cut down on the time it'll take to not only clean your floors but let them dry. Gone will be the days where you waste water and cleaner by using a too-wet mop to clean your floors. Plus, this mop is machine washable, has an automatic wringer, and is designed in a shape that will reach into small spaces and corners, no problem. 
Promising review: "Ashamed to say, but I barely ever mop the floors. I purchased this O-Cedar Mop and Bucket based upon the great reviews. I am here to add a 5 star review of my own. This mop and bucket not only cleaned my floors, but it made the entire process easy (and dare I say fun?). I did the entire first floor of my house both tile and wood. Then wanted more fun, so i scooped up the handy handle and carried it upstairs where I continued on to the bedrooms and bathrooms. I don't want to go on and on, but this mop picked up lots of dirt and grime, then popped easily into the washing machine. It came out great. The swirly thing makes all the difference. It wrings out all of the excess water, so it's easy to mop without using too much muscle, which I do not have. And the mop heads are short, rather than long mop heads, which only make for heavier mops. If you're on the fence, go for it, you'll agree." —LauraP320
Get it from Amazon for $35.92.

9.
A touchless stationary vacuum to suck up all the debris you sweep near it. Simply place this bb on any smooth surface and let it do its thing. No more bending over with a flimsy dustpan.
An indicator light will turn on to let you know that the canister is full, and then you can remove the canister and dump the debris in the trash.
Promising review: "I absolutely love this magic floor sucker. I live in the Rocky Mountains with four large dogs and two cats. It makes sweeping not so bad and much more manageable. You just sweep it to the vac and it sucks it up. LOVE IT." —MaryKat
Get it from Amazon for $129 (available in six colors).
10.
A genius SockDock so that you can make sure every pair stays together. You will save so much time sorting socks (and inevitably losing some) because of this thing.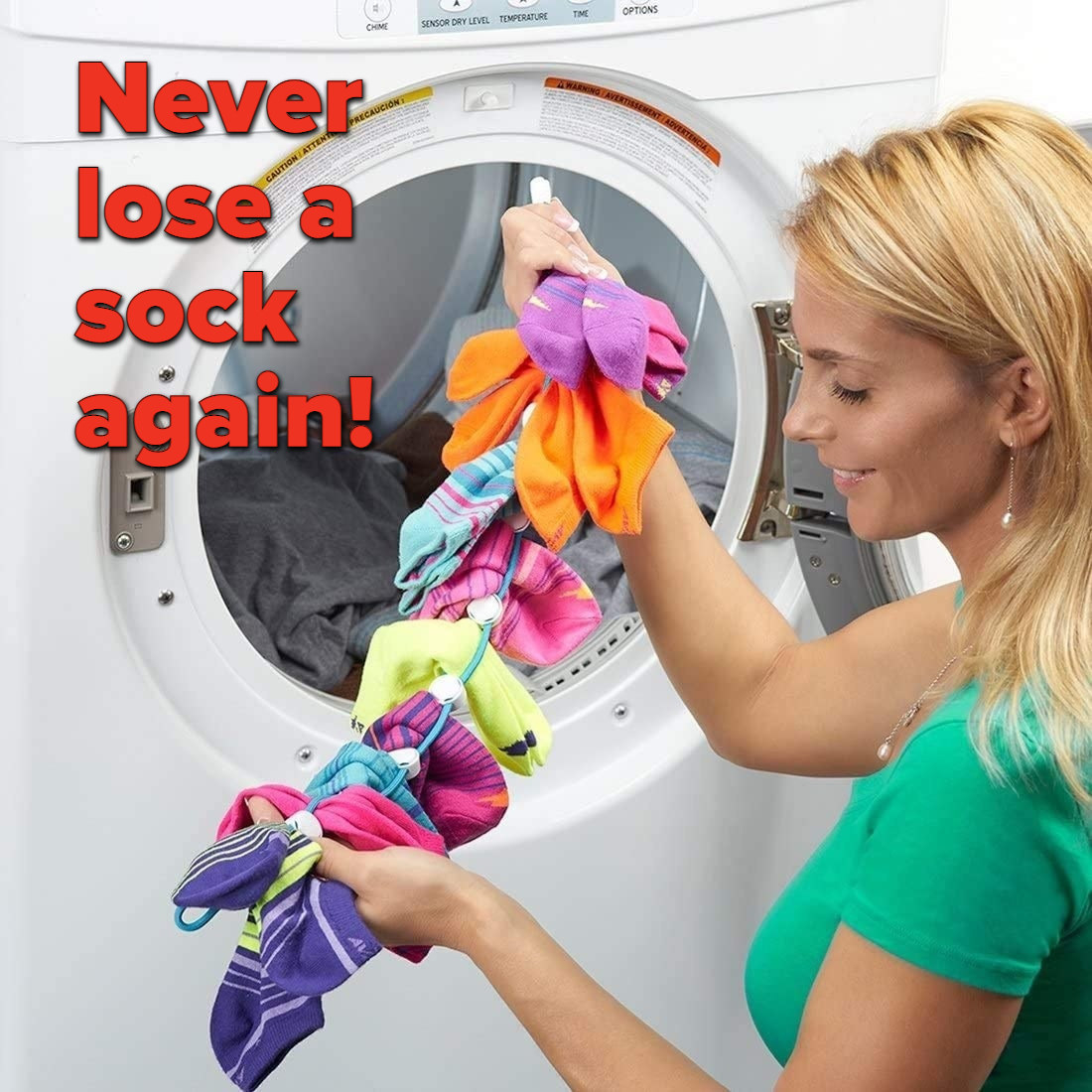 Promising review: "I love these! I hate sorting socks after doing laundry and these are the perfect solution! I just hang this near my hamper and stick my socks in every day. When it's full I drop in the hamper and am ready to go. Such a time-saver." —R. Steebs
Get it from Amazon for $18 (available in five colors).
11.
An all-natural, chemical-free fizzing toilet tablet that's like a bath bomb for your bowl. Drop one in, let it do its fizzy thing, and then lightly scrub away any residue. And you have seven popular scents to choose from, from lemongrass to eucalyptus mint. 
Pardo Naturals is a Black woman-owned small biz founded by Rita Pardo who creates natural body, hair, and home products.
BuzzFeed Shopping editor Melanie Aman says: "For all the folks who don't enjoy cleaning the toilet — myself included — these dissolving tablets make quick work of a grimy bowl. The tablets are a little hard to dislodge from the plastic container (though that does make me feel confident that they're secure during transit and won't break; mine all arrived intact!), but once you get one out, you drop it in the toilet, and let it do its thing. It'll start fizzing — just like a bath bomb — loosening any stains and streaks in 10 minutes so they come away with a light brushing. I never let the toilet get too bad (and usually it takes awhile for me to notice any buildup since there are only two people in the apartment), so I can't vouch for them if you have really set-in hard water stains or haven't cleaned the commode in six months. But if you're looking to ditch the harsh cleansers in your toilet cleaning routine, this is a great addition to your lineup."
Get six tablets from Pardo Naturals for $10.50 (available in seven scents).
12.
A reusable weighted bottle cleaner to take on all the gunk that's in your water bottles that a sponge or bottle brush can't reach. Simply drop, shake, and empty.
13.
A portable dishwasher that can hold up to six place settings and fits right on your countertop. This will be a game-changer for anyone who doesn't have a built-in dishwasher or hates doing dishes (aka everybody). It hooks right up to the faucet, no need for direct plumbing or permanent installation.
Promising review: "Installed it about two weeks ago. The machine has cleaned all dishes nicely. In fact better than machines I had before provided by apartment companies. The faucet hook up is very easy since it is both water in and water return holding both pipes in place. All over very happy. Easy installation. Was up and running in no time" —Steven
Get it from Amazon for $410.63.
14.
Dishwasher-cleaning tablets because did you know the thing that cleans your dirty plates and bowls needs cleaning too? One tablet will clean the blades, walls, and every nook and cranny of your appliance. You'll be shocked at how much cleaner your dishes and glasses will be after using this. 
It's recommended to use a tablet once a month. You can use these on stainless-steel and plastic tub dishwashers. 
Promising review: "Absolute magic. I always approach with a healthy dose of skepticism whenever taking advice from BuzzFeed, tip hero, etc. but this time I took a chance and could not be happier. I recently bought a condo that was not well maintained and struggled cleaning many of the appliances. The dishwasher was caked in deposits from years of operation without proper care. Two of these pods, as suggested for heavily soiled scenarios turned back the clock. It looks brand-new inside. BRAND-NEW. The plastic, the walls, everything. For those who spend hours a week cleaning, you will be amazed by this product. 10/10 would buy again and again and I'm telling everyone I know about this." —Jason

Get a pack of six from Amazon for $8.54.