Gateau Invisible (Invisible Apple Cake)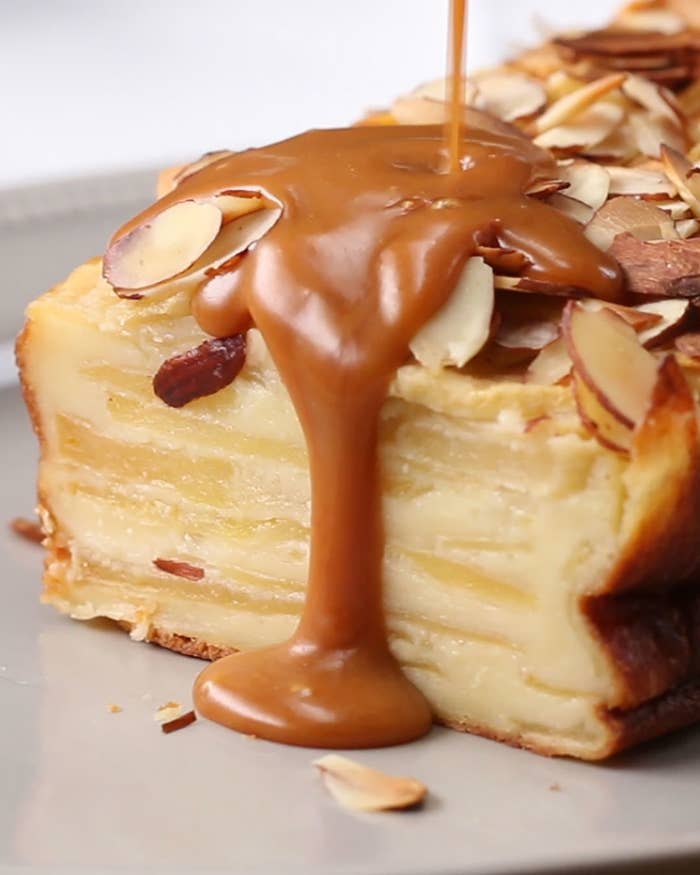 INGREDIENTS
Gâteau Invisible:
1 pound apples, such as fuji or pink lady
2 eggs
½ cup sugar
½ cup milk
1 tablespoons melted butter
¾ cup flour
Sliced almonds to taste
Butter Caramel Sauce:
½ cup sugar
1 tablespoon butter
½ cup heavy cream
PREPARATION
1. Preheat oven to 350˚F/170˚C.
2. Make gâteau invisible. Peel the apples and remove the core. Slice them very thinly. Soak them in lemon water so it won't change the color.
3. In a medium bowl, whisk the eggs and sugar until pale. Add milk and melted butter and mix well. Sift in the flour and combine. Add the sliced apples. Using a rubber spatula, coat them well with the batter.
4. In a parchment paper-lined pound cake mold, pour in the batter. Top with sliced almonds. Bake them 40 minutes. Cover with a foil and bake another 10 minutes.
5. Take out from the mold once it cool to touch.
6. Make butter caramel sauce. In a microwave-safe bowl, add the sugar and butter. Microwave 2 minutes or until sugar turns dark brown. Using oven mitts, very carefully take the bowl from the microwave. The bowl and sugar will be extremely hot so be careful when you are handling them.
7. Immediately add the cream and whisk well with a metal spoon or whisk (this will splatter a bit, but keep stirring!).
8. Pour the caramel over the cake.
9. Enjoy!