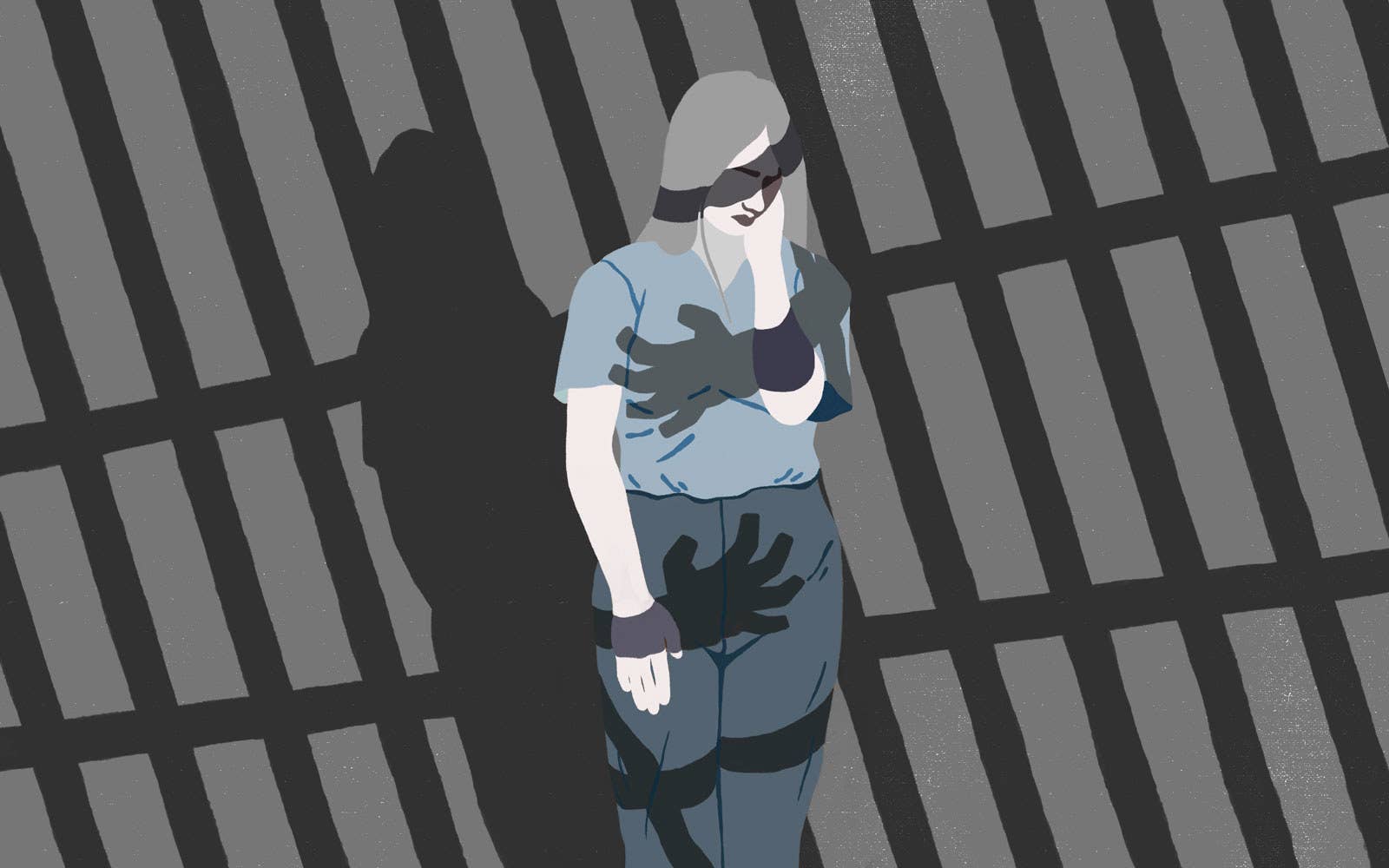 Because of her desire to dress "like a little girl," Paola was disowned by her Ecuadorian family when she was only 8 years old. She survived on the streets until the age of 15, before she began doing sex work. Then she met a man who beat her for several years, and she became HIV positive after being raped by six men as she was exiting a nightclub, having only just arrived in France. And yet it is prison, where she spent only three days, that remains "the worst experience" of her life.
She did a brief stint in the French city of Lille's northern correctional facility, where she was transferred in 2014. "The other detainees were in the courtyard, they were shouting, 'We don't want any women here!' They all wanted to hit me," she remembers today.
Paola was incarcerated in an all-male establishment, just like the vast majority of transgender women whose legal gender is marked as male, and who haven't undergone sex reassignment surgery. In France, as in many other countries, it is the gender that is inscribed on one's identification that determines where one will be detained, at least officially. "Men and women are to be incarcerated in separate establishments," Article D248 of the French criminal procedure code specifies. But what about trans and nonbinary people? What is a man and what is a woman in the eyes of the French prison administration? It seems to have quite a hard time wrapping its head around the question, even though transgender detainees — the vast majority of whom are women — are the group that "suffers the most" in prison, according to Adeline Hazan, the controller-general of Places for Deprivation of Liberty.

Recent news has demonstrated this, with the "worrying" conditions under which an American transgender woman by the name of Kara B. is being detained, after she was found guilty in a well-publicized trial about a police car that was set on fire during a protest in Paris in 2016. Paola's story is far from an isolated incident.

Hailing from Argentina, Daiana, her hair dyed blonde and large red hoop earrings framing her face, tells the story of how she was incarcerated for a year in the all-male correctional facility of Fleury-Mérogis, to the south of Paris, because her legal gender status was male. She was in a cell of the D3 building, where special quarters had been set up for detainees described as "vulnerable," several transgender women among them. Around six of them were locked up there when she arrived, in December 2012.
Beatriz also did a stint there, arriving in September 2013, and remaining for two years. "I submitted a request to be put with the women, but I was told 'No, you haven't had surgery.' But I'm a woman!" she says, showing her Argentinian passport, which lists her as female. Based on that, why put her in with the men, if what you're going on is the criminal procedure code?
"All states are sovereign when it comes to the rules of what their nationality grants," her lawyer, Joachim Cellier, says. "It isn't that French law doesn't recognize her Argentinian legal gender, but it says, You have a gender that doesn't correspond to your body, so it is up to you to go all the way through with the procedure. For the prison administration, the only thing that matters is a person's biological sex. ... It's stupid and mean."
Yet this unwritten rule doesn't apply to everyone. An Ecuadorian national whose legal gender is male, Ariana underwent gender affirmation surgery in August 1998, on her birthday. Arrested in the French city of Nantes, in Brittany, in November 2011, she was initially sent to an all-male prison in Lorient, about 100 miles from there. "I stayed there for a week, waiting for an answer from Fleury-Mérogis, even though I didn't want to go there. I was told, 'It's a modern prison, adapted to your needs.' I thought they meant adapted to women."
But when she got there, she got a nasty shock: "I read the words, 'Men's Prison.' Everyone was checking me out and laughing at me, the guards included. One of them looked at me and said: 'There must have been a mistake — this is a men's prison here.' I would cry in my cell, in solitary confinement. I couldn't stand it," she recounts, with tears in her eyes.

"I would cry in my cell, in solitary confinement. I couldn't stand it."
On Jan. 13, 2012, Ariana was finally transferred to the women's prison in Fleury. But her relief was short-lived: Three months later, the prison administration ordered her to return to building D3, with the men.
"I said I was going to file a complaint. Finally they took me to see a gynecologist, to make sure that I was 'really' a woman. ... The whole thing was a circus," says Ariana, who had been denied access to a gynecologist during her stay in the men's quarters. "Then I was told, 'Now that we see you are a woman, you are going to be transferred over to the women's, in Fleury.'"
It was only once her provisional detainment was over that she was finally transferred to the women's prison in Nantes — which is what she had initially requested, so she could be closer to her place of residence and to her partner at the time.

It's hard to know, ultimately, what rules win out for trans people, who are sometimes reduced to their genitalia, and other times to their legal gender. So everyone deals with it as well as they can, even if it sometimes means having to circumvent the law.
"Overall, efforts are actually being made, but there is this constant risk of things being cast back into doubt, since every prison does its own thing. A change in directors can completely reverse the situation in an establishment, for better or for worse," says François Bes, the Study Center coordinator at the International Prison Observatory.
Michel Fix, who was the head doctor of the ambulatory care and consultation unit for the Fleury-Mérogis prison for 13 years, acknowledges having repeatedly advocated for transgender people who had transitioned, but whose legal gender was still male, to be housed with the women.
"I also wanted transgender people who had not undergone surgery but who were very feminine-presenting to be put in the women's facilities," he says. "However, the prison administration later refused this kind of restructuring on the basis of a reminder notice issued by Christiane Taubira, then–justice minister, which specified that no detainee whose legal name and gender was male could be incarcerated with women, regardless of their physical appearance."
Anne Lécu, a doctor at the Fleury-Mérogis women's prison, remembers one case in particular: "For a person who wanted to be closer to their family, I was sometimes asked, 'Where do we put him?' I responded in a clear way that it wasn't up to me to decide. It's a process that I don't want to get dragged into." Out of a dozen follow-ups since the year 2000, she claims not to have had "any negative experiences in the women's quarters with a transgender person who had transitioned," and that everyone there who wanted hormones got them.

In the men's facilities, the finding is far more mixed. Access to treatment is far from a given for people whose health concerns already tend to add up. "Transgender persons are considerably more likely to have hepatitis and HIV; many of them have difficult lives, and are in very precarious situations," Lécu says.
"When they are incarcerated, they find themselves without access to treatment from one day to the next, an experience they find very difficult, and that lasts up until whenever they see me, up to one month after their arrival. I always provide hormonal treatment, but if they have other concerns, which may or may not be related to being transgender, then things get complicated," says endocrinologist Alfred Penfornis, who shows up once a month at the men's prison in Fleury and once every two months at the women's facility.

Detainees can thus find themselves with no treatment for several months on end, even several years. "They didn't want to give me my hormones — I only got them two months before I left," says Beatriz. The same goes for Ariana, who had to wait to be transferred to the women's center before she could obtain any hormones. Daiana says that she was deprived of hormones due to her hepatitis C. As she was already living with HIV (with an undetectable viral load since 2007), prison only increased her vulnerability: "I developed cancer while in jail. I was anxious and depressed. If they hadn't freed me, I would be dead, because they were doing nothing for me." In December 2013, she was finally transferred to the Parisian Pitié-Salpêtrière hospital, where she was diagnosed with Hodgkin's disease, a type of lymphatic cancer, and had to undergo an operation.
Freed in April 2014 after having been incarcerated for 16 years in several establishments in France, Chloe was one of the first people to demand hormonal treatment and women's clothing while in jail. Because she was secretly wearing skirts in her cell in the evenings, a prison guard asked her to get changed one day. And so began her long struggle.
Chloe began with a hunger strike, which lasted for three months. She also inflicted a lot of self-harm. "I burned my arms, I cut myself with razor blades, I chopped one of my fingers off," she says, shortly after having been released from prison, her arms covered in numerous scars. In 2005, Chloe asked to be seen by an endocrinologist so she could begin hormonal treatment. She was promised an appointment, which never came. A few months later, a detainee who was coming back from leave secretly brought her some hormones. She took the birth control pills for a few days, while she waited for the official treatment, which was granted to her in June 2006 by the city of Caen's regional psychological and medical support service.
But shortly thereafter, her request for sex reassignment surgery was denied. "When I asked for this thing to be surgically removed, they told me that they weren't allowed to, that I could just cut it off myself," she says. Chloe took this provocation to heart: In February 2006, she was sent to the emergency room, having maimed her penis with a doornail. Then she was sent back in 2008 and 2009 for "testicular necrosis" and "superinfection." It was only in 2013 that she would finally be granted the surgery she wanted, after a new, unsustainable chain of violent acts.

In December 2012, Chloe's request was granted; she was authorized "to purchase female clothing items and products from the prison commissary, to be used and worn exclusively within the confines of her cell."
She acquired her first bra, some makeup, and a sewing machine to allow her to make her own skirts. A guard mocked her when she requested a nightgown. According to a different guard from Caen, who preferred to remain anonymous, "Makeup and female clothing are forbidden in correctional facilities, although it is possible to wear a skirt when going out on leave."
In fact, the criminal procedure code allows each prison to apply its own rules in this instance as well. It states: "Exceptionally, when the director of a prison grants his authorization, and in accordance with the parameters that he defines, a detainee may acquire objects that are not on the list of objects provided by the prison commissary." For one former ranking officer at the Fleury men's correctional facility (who wished to remain anonymous), this means "wearing women's clothing is permitted," he says.
"It was complicated, but I got some," Beatriz confirms. "First they said no to me, then yes." But even though she was being detained in the same quarters, Daiana wasn't so lucky: "I couldn't have any women's things — no bras, no makeup."
"With better rules, certain conflicts could be avoided," says the prison guard from Caen.
When she arrived in Fleury, Ariana was searched by a woman, before a higher-up ordered her to stop. "Persons being detained can only be searched by officers of the same sex and under conditions that, while continuing to guarantee that the check is conducted successfully, uphold the fundamental dignity and respect due to the human person," states the disposition in Article R57-7-81 of the criminal procedure code. In 2010, the director of the Caen correctional facility, Karine Vernière, believed she was doing a good thing when she ordered that Chloe's body search be performed by two officers: "A man for the bottom half and a woman for the top half."
"Given her breasts, I had thought at the time, although undoubtedly a little too quickly and on my own, that this was a good solution," she said in late 2014. (The board of the prison administration declined a recent interview request.) But the Ministry of Justice had by then canceled Vernière's service notice: A person who was for administrative purposes listed as a man had to be searched by a man.

Between the walls of prisons, our society's anti-trans bias is exacerbated. In 2010, a handout from an officer who belonged to the CGT prison guards union mentioned, in reference to Chloe, a "detainee about whom no one knows whether they're male or female, who is always bothering us (to avoid saying something else), and who, incidentally, makes us come across as total dumbasses." Beatriz recalls the anti-trans attitude of prison guards:
"When some trans people who didn't speak French arrived, they took advantage of the situation and started calling them 'trannies.' Even the girl guards were mocking. They would say: 'Look, a transvestite!' It was the first time that had happened to me. In my country, I got respect."
Beatriz also wasn't expecting to become the victim of both physical and psychological attacks by other detainees. "In order to bring me to the courthouse, they put me into the back of a van with some boys. They called me a fag. They spit on me," she recounts. "I said this to the judge and the answer I got was that this was normal: 'Seeing as you're a prostitute, you should be used to that kind of thing.'"

"They called me a fag. They spit on me."
She says she was attacked once she reached the correctional facility by a man who had been placed in the same quarters as her: "At night, we would watch a telenovela, and then we'd talk through the windows. I don't think he appreciated it. The next day, he hit me in the sports room. He threw a bottle of water against my head. The prison guards didn't do anything about it."
In Lille, Paola says she was also traumatized: "An inmate tried to attack me with a knife. I stayed locked up in solitary confinement for two days. It was very difficult."
Chloe reports that she was raped three times in Caen's correctional facility: in her cell, in the showers, and at the self-service bar, while she was cleaning it one Sunday morning. "I decided not to make a bunch of noise and file a complaint about it — I just said that I had run into some trouble."
While it is impossible to obtain precise data on this subject in France, several American studies have emphasized the prevalence of sexual abuse experienced by trans detainees. In a report, the statistics bureau for the US Department of Justice claimed that between 2011 and 2012, 33.2% of transgender people who were incarcerated in federal and state prisons had been sexually assaulted by another detainee, as opposed to 4% for the overall prison population.
In Caen, the majority of detainees are incarcerated for sexual misconduct — another reason for escalated violence, both in the US and in France. After Chloe's time in that prison, "The director set up regular meetings for prison guards, on a voluntary basis, in order to emphasize the particularities of the establishment," the guardian of the correctional facility tells BuzzFeed News. "They also talk about the things that are specific to transgender detainees." To address trans people, though, he still sticks to the rules regarding legal gender, as a great many of his coworkers do: "They are male detainees," he asserts. "You cannot say 'she' of them."
To prevent this kind of ill-informed policymaking that leads to discrimination and violence, the organization Acceptess-T, which advocates for the rights of transgender people, has offered to create training modules for France's National Prison Administration School that would educate personnel about the specifics of trans identity. "But although it was sent more than two years ago, our letter never received a reply, other than a confirmation of receipt," says Giovanna Rincon, the organization's president, who regularly visits the trans detainees of Fleury-Mérogis to discuss their options with them.
Interviewed by BuzzFeed News, Youssef Badr, the spokesperson for the French Ministry of Justice, states: "At the Caen correctional facility, the prison personnel have a psychologist who comes in and speaks to the question of gender dysphoria every two to three months. In establishments that do not have detainees with gender dysphoria, it isn't required for a psychologist to come in. Nevertheless, it can be requested that they do so; this is left up to the director's discretion."
A spokesperson for the National Prison Administration School said via email that "there are no targeted events around this question."

Supposedly in order to ensure their security, numerous transgender people are put into solitary confinement or into separate quarters. "But technically, those amount to the same thing," says Améline Morineau, who was in charge of the National Student Group for the Education of Incarcerated People (known in French as Genepi) in Fleury for two years. Beatriz remarks on this: "We couldn't do anything — we were only allowed two walks a day."
"In a tiny little space. We were like dogs," adds Daiana. As the Genepi volunteer describes it: "In the separate quarters, their cell is their own, as opposed to in the rest of the prison, but they can't go down to the exercise courtyard with the others." Instead, they have their own exercise facility: a cement room with the ceiling removed, which must be about 9 by 15 feet wide. According to the Genepi volunteer, trans prisoners also aren't able to take advantage of the activities that are offered to other detainees because "they can't be mixed in with them."
And although Ariana's time in a women's establishment went by without any hiccups — she had access to care, work, and activities, was able to move around normally, and maintained good relations with other detainees — she suffered greatly when she was with the men. Due to the fact that she had undergone sex reassignment surgery, unlike other trans women in the prison's special unit, her contact with other humans was limited to the prison guards. "When I went out on walks, they put me far away from my girlfriends," she said, referring to the other trans women. "Why? 'Because you're a woman.' But you've been telling me since the beginning that I am a man, and now you're telling me that I'm a woman — are you making fun of me or what?" she says, exasperated.
Like others, Ariana began contemplating the worst: "After Christmas, I wanted to kill myself. A woman opened the door to my cell and asked me what I wanted. I told her that I didn't want to go on living." In October 2012, she took legal action against the prison administration, claiming damages in relation to her detention conditions.
"We obtained 2,000 euros," her lawyer, Talia Coquis, says. "It was a courageous decision, but they didn't take it very far. The sum was largely symbolic. I dare hope this decision will set a legal precedent for others."

On Nov. 14, 2012, Nathalie, in solitary confinement in Caen, killed herself, after the prison administration refused, among other things, to grant her hormonal treatment. That same day, she had been notified by her lawyer that her request to legally change her first name had been rejected.

As of Nov. 1, 2016, there were 13 transgender detainees in France, according to Youssef Badr of the Ministry of Justice. "They were detained across eight different establishments, though the majority were located inside the Fleury-Mérogis prison," he said via email. He estimates that the number varies from 15 to 30 people, depending on the year. And according to François Bès, between 10 and 15 trans detainees get in touch with the International Prison Observatory every year.
On June 30, 2010, after Chloe contacted him, Jean-Marie Delarue, then controller-general of the Sites of Freedom Deprivation, published in the organization's official newspaper a "notice regarding the support of incarcerated transgender persons." He denounced, for one, the "lack of a driving principle," and further issued a series of recommendations, among them that the infamous Article D248 of the criminal procedure code be modified. The letter that the Justice Minister Michèle Alliot-Marie then sent to him echoed the response of the Ministry of Justice's spokesperson:
"In theory, and in accordance with Article D248 of the criminal procedure code, 'men and women are to be incarcerated in separate establishments.' In keeping with this, the prison administration must hold itself to the identification papers that are provided during the incarceration process. Yet it is possible that this identity may not correspond with their gender presentation. Given this fact, determining where a transgender person is sent is, in practice, done bearing in mind both the best interests of the person (putting them in individual cells, assigning them to parts of a prison that are more welcoming to vulnerable people, placing them in solitary confinement), and the managerial requirements of prison establishments," Youssef Badr told BuzzFeed News.
So, even though seven years have passed since then, Sites of Freedom Deprivation's findings thus remain largely the same. "What we said in the report from 2010 is unfortunately still relevant," says Adeline Hazan, who has since taken the helm as controller-general.
Do recent developments when it comes to changing one's legal gender, which remain insufficient according to certain organizations, change anything? "We don't have enough hindsight yet regarding the application of this law," says Giovanna Rincon, of Acceptess-T. Additionally, she says, "we still have a hard time when it comes to the procedures for people who are free, so it is fair to assume that things are going to be very complicated when it comes to those who are incarcerated. It is, after all, a request you have to put before a judge."

Erwann Binet and Pascale Crozon, former Socialist Party representatives, encountered this problem during the hearings for their amendment, which aimed to make it easier for trans people to change their legal gender status.
"I spoke about the situation of transgender detainees during the first meeting of the Prison Studies Group, because I had just been confronted with a testimony by a woman who had been incarcerated with men, which I found highly disturbing," said Crozon, the former congressman for the Rhône department of France. "After that, we wrote to Jean-Jacques Urvoas and met up with him in order to explain to him that there was a real problem here. He said he would think about it, but it was near the end of that administration."
According to Binet, there is no need for laws to improve the daily life of incarcerated transgender people — "just some simple, clear, cogent instructions from the minister of justice."
"This situation needs to receive some attention over at the Justice Department, but up until now nobody has given it any," he says. "Just like nobody took care of how to change one's legal gender status, which should have been the first, indispensable step. There was real reticence on the part of the prime minister's cabinet at the time, a desire not to budge too much on this issue."
The Ministry of Justice disagrees: "Obviously, we can't just send out a memorandum for a dozen people," Youssef Badr says.
Will the pressure have to come from abroad as France continues to regularly be condemned by the European Human Rights Court for its prison conditions, as well as for the way that it treats transgender people? In January 2016, a special reporter for the United Nations presented a report to the Human Rights Council regarding "torture and other cruel, inhumane, or degrading treatments or sentences, and the way in which they specifically affect women and the LGBT community."
Meanwhile, other countries are contemplating evolving in ways that have been seen as more or less beneficial. In 2010, Italy was planning on opening up a prison in Pozzale, Tuscany, that would only house trans people, but the project wound up going nowhere. For François Bès of the International Prison Observatory, it was "counterproductive, because it would still foster discrimination ... in creating ghettos, you deprive people of socialization," he says.
"In Colombia, in Argentina, or Ecuador, on the other hand, the standard framework you have is fairly forward-thinking," says Jean-Sébastien Blanc, an adviser on matters of prison detention for the Geneva-based Organization for the Prevention of Torture. "Prison rules and regulations recommend that placement be decided according to a person's perceived gender, and by consulting those involved," he says. "But there is nevertheless a large gap between this progressive legal framework and the reality on the ground."

Does France need a media figure like Chelsea Manning in the US for the powers that be to start moving forward on the matter? In June 2016, the French government announced that it would be putting into place a "plan advocating against hatred and discrimination toward LGBT people," collaboratively drawn up with the heads of the Prison Administration and the Ministry of Justice. "We are, more specifically, mobilizing for axis number 5 of the 2nd priority, to 'continue to improve the treatment of freedom-deprived LGBT people,''' Badr says. The plan involves three points:
Putting the question of anti-LGBT acts on the agenda of prison surveillance commissions once a year;

Favoring, when it is in the interest of and in order to protect those involved, and taking into account the preservation of order in the correctional facility, individual cells for persons who are endangered by their sexual orientation or gender identity, avoiding inasmuch as possible putting them into separate quarters;
Allowing the number of a hotline for victims of anti-LGBT acts to be added to the list of numbers available to detainees at telephone stations inside correctional facilities (calls are free and anonymous).

However, of the annual budget of 1.5 million euros that's been allotted for the plan, it is impossible to know how much will be set aside for the aforementioned axis number 5: "Those numbers are not meant to be communicated to the public," the spokesperson for the Ministry of Justice says. The Ministry of Justice could not provide details of these nonmandatory measures, or about when they will be put into effect.
The completion of the full plan was only supposed to take three years. But a year and a half after this plan was first was announced, the projects are still being reviewed by the board of the prison administration.