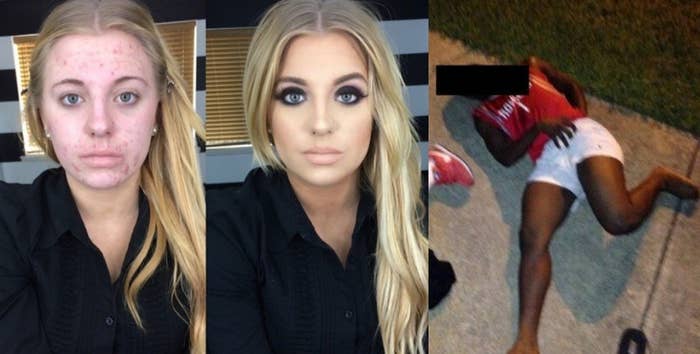 On Tuesday, a video of a boy and a girl went viral. In the clip, he is seen to shout "hey ladies" to two female cyclists passing by. The girl, disgruntled by his advances, replies: "Fuck you."
The boy proceeds to throw a basketball at her, and she falls off her bike. She goes flying through the air and lands hard on her face on the road. The boy then stands and watches what he's done as she tries to get back up.
In two days, the video had been viewed more than 8 million times, and shared over 180,000 times. Under it, thousands of people commented gleefully at the "bitch" who "fucked up" and "deserved that shit".
"Would have done the same thing. Hope the concrete washed her mouth."
"Who wants to play a game called spot the feminist?"
"Moral of the story: don't be a bitch for no reason ladies."
This video is not a one-off. In just a few clicks on Vine, Tumblr, Twitter, or Facebook, it's pretty easy to stumble across videos, tweets, groups, and images that put women down.
Typically the types of things that then go viral are things that provoke a strong emotive response – and when a video or a photo of a woman goes viral, it's usually something that shames, harasses, abuses, or mocks the woman. A 17-year-old girl who is photographed performing oral sex at an Eminem concert becomes a global trending topic. A photo of a girl not wearing makeup is turned into a meme across the world for being "ugly". A girl who is filmed performing a sex act on 24 men on a drinking holiday features on national news sites. A young girl is turned into a hashtag and meme after being raped. These are just a handful of recent cases where young women have been mercilessly humiliated and shamed online.
Now take a moment and see if you can think of an example involving a man.
It's difficult to think of equivalent examples, because despite their being complicit in – or in some cases solely responsible for – the sexual acts or crimes that put the girls under a global spotlight, no shame attaches to the men. They never become the focus of the news story, their names probably won't even make it into print, and their lives immediately go back to normal. Meanwhile, the female involved faces trial by media or social media, and in some cases by the legal system that's meant to be protecting them.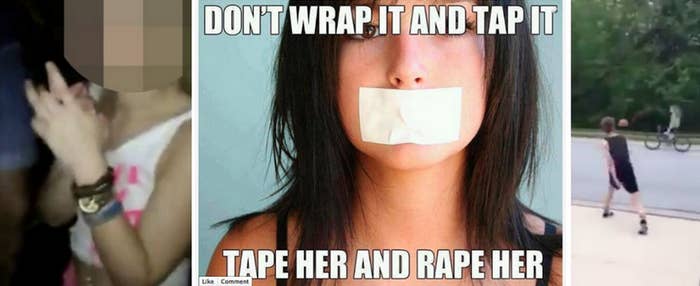 This video of the boy who knocked the girl off her bike for rejecting his attention would once have remained unseen by most people – but it's now widespread on social media. And as its presence becomes an everyday fact of life on the internet, those who see it gradually come around to the view that this sexism and violence against women is the norm, whereas similar content featuring males being targeted is rarely seen and certainly not widely shared.
Social media and the internet cannot be blamed for the existence of misogyny, but they have helped perpetuate the culture that gives rise to it. These platforms have allowed those responsible for such content to promote their misogynistic views and make this unpleasant brand of sexism widely accessible. Some accounts, such as @MeninistTweet, even brand and pride themselves on their content being openly anti-women.
Sure, we could block and report the content and unfriend or unfollow those who share it. But simply blocking out the sexism from our own feeds doesn't make it disappear. Thousands of reports of offensive material are made every day to Facebook, Instagram, and Twitter. Many of these reports, however, complain of harmless images such as a mother's nipple exposed while breastfeeding, or women with mastectomies, or hashtag searches for "Love Your Curves".
Meanwhile, a big part of the problem is that the tech companies seem unable to prevent the flood of videos and photos that show harassment, abuse, and sexism being shared online.
Feminist writer Soraya Chemaly feels it's important to understand the context in which these companies operate. While Facebook and the other social media sites cannot be expected to review content as it comes in, Chemaly reminds us that these privately held companies have a decisive role in constructing the "norm" as to what constitutes offensive, violent, or threatening content.
"The fact these photos and videos of rape and graphic violence are allowed to stay on the site, while photos of breastfeeding and nipples are removed and considered 'pornographic' or 'obscene', shows that the process in which content is moderated is all very much gendered," says Chemaly.
She points out that tech companies have demonstrated they are capable of addressing certain issues very swiftly and efficiently, proving rapid action can be taken when the will is there.
"When someone on Facebook is reported because it looks like a user may commit suicide, or there's evidence of child exploitation, that goes down a path at Facebook that nothing else does," Chemaly explains. "They need to track gendered violence content in the same way."