The co-pilot who French officials say "voluntarily" activated the Germanwings plane's descent system into the Alps was Andreas Lubitz from Montabaur, Germany. This is believed to be a photo of him from his Facebook page: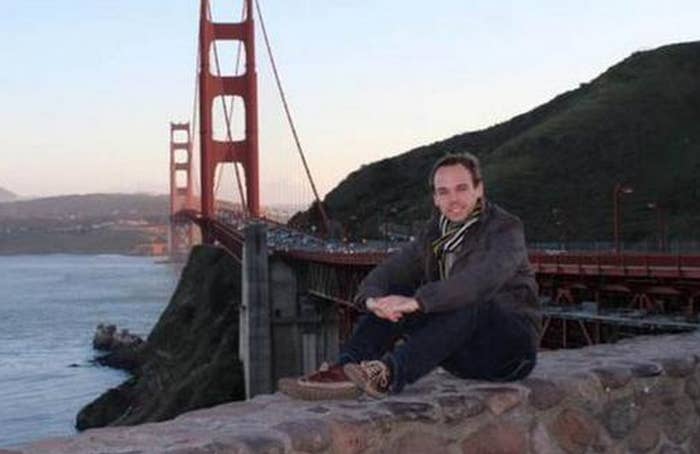 Marseille prosecutor Brice Robin named the German citizen at a press conference on Thursday, and ruled out a terrorist motive for his actions.
Robin did not rule out that the plane crash was a suicide attempt by the co-pilot. "I can't call this a suicide," he said, "but it is a legitimate question to ask."
Officials originally said Lubitz was 28-years-old. Reports from other news organizations, including the New York Times, cited his birthday as Dec. 18, 1987, which would make him 27.
On Friday morning, German prosecutors said Lubitz hid details of an existing illness from his employers after they searched his properties.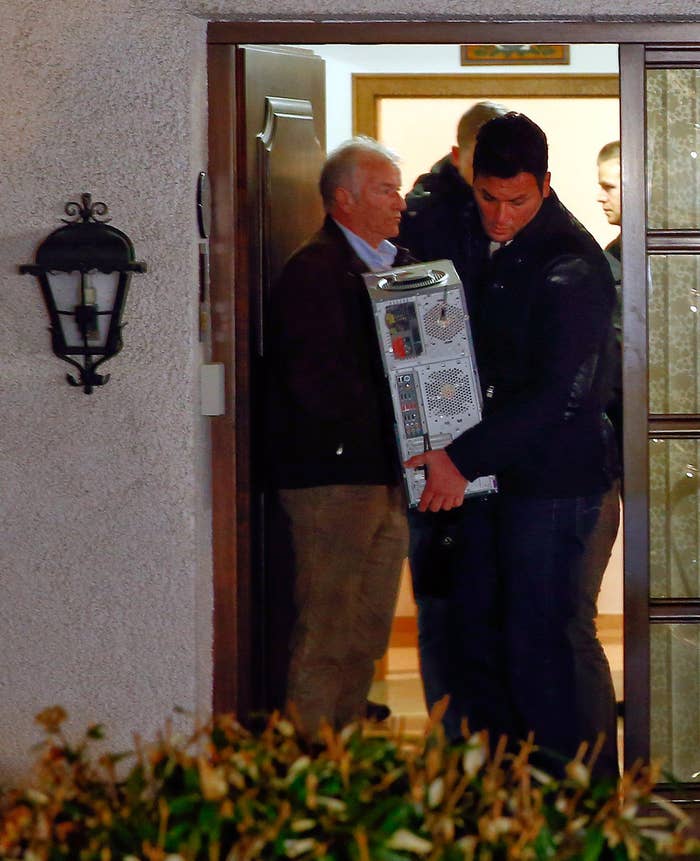 In his properties, the authorities said they found torn-up sick notes, including one covering the day of the crash.
In their statement, prosecutors said no evidence of a political or religious motive to his actions were found. They said that no suicide note was found and did not confirm what illness Lubitz had.
According to a statement by Germanwings on Friday afternoon, the sick note was not submitted to the company. The statement read:
This corresponds to the insights of the senior prosecutor of Dusseldorf. According to these insights, "a torn-up current sick note, also valid for the day of the incident" was found in the co-pilot's documents. According to the prosecutor's statement, this "would - according to preliminary evaluation - support the assumption that the deceased had concealed his illness towards his employer and his occupational environment."
Earlier reports in German media speculated that documents found at his home showed he suffered from depression.
Der Spiegel claimed that items retrieved by police from his flat in Düsseldorf and from the home near Frankfurt that he shared with his parents suggested Lubitz suffered from "psychological illness."
Bild claims to have obtained confidential medical records which show that Lubitz went through a "heavily depressive episode" some years ago, which was why he broke off his flight training for several months, and that he was still undergoing treatment.
The German authorities have yet to confirm either the Bild or the Spiegel report.
Mental health charities have stated that assessing the pilot's physical and mental health is "entirely appropriate" but that it should be approached with caution.
"Assumptions about risk shouldn't be made across the board for people with depression, or any other illness," Mind said in a statement. "There will be pilots with experience of depression who have flown safely for decades, and assessments should be made on a case by case basis."
But some acquaintances of Lubitz said that he showed no signs of depression when they saw him last autumn as he renewed his glider pilot's license.
"He was happy he had the job with Germanwings and he was doing well," Peter Rücker, a retiree and member of LSC Westerwald, told the Associated Press.
He described Lubitz as a "rather quiet" but friendly young man, and added: "He gave off a good feeling."
Rücker said that he last saw Lubitz last autumn with someone he believed to be his girlfriend.
According to the Wall Street Journal : "Mr. Rücker said he last saw Mr. Lubitz, whom he described as an athletic-looking young man, last autumn at a barbecue at the club that the co-pilot attended with his girlfriend."
Lubitz trained at the Lufthansa Flight Training Pilot School in Bremen, a city in northwestern Germany.

He started training in 2008 and spent an 11-month waiting period working as a flight attendant before becoming a co-pilot.
Lubitz became a co-pilot on the Germanwings A320 fleet and clocked up 630 hours of flight experience, a Lufthansa spokesperson said on Thursday.
Lubitz had been an employee of the low-cost airline Germanwings, a Lufthansa subsidiary, since September 2013.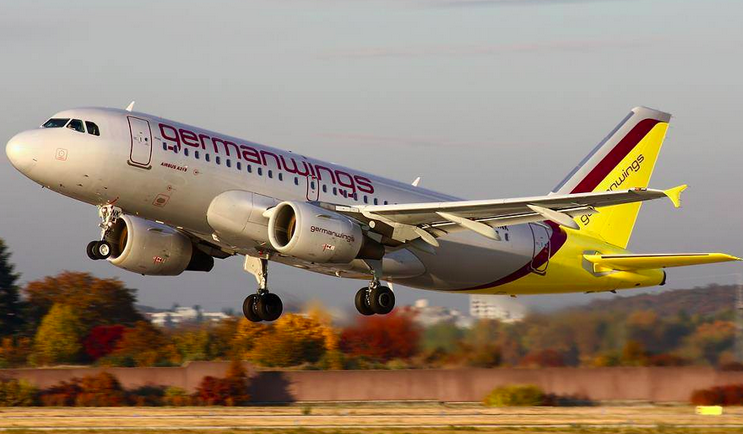 Lubitz was issued two licenses by the Federal Aviation Administration.
In a statement made during a Germanwings press conference on Thursday, Carsten Spohr, the CEO of Lufthansa, said Lubitz was "deemed to be fit in all areas."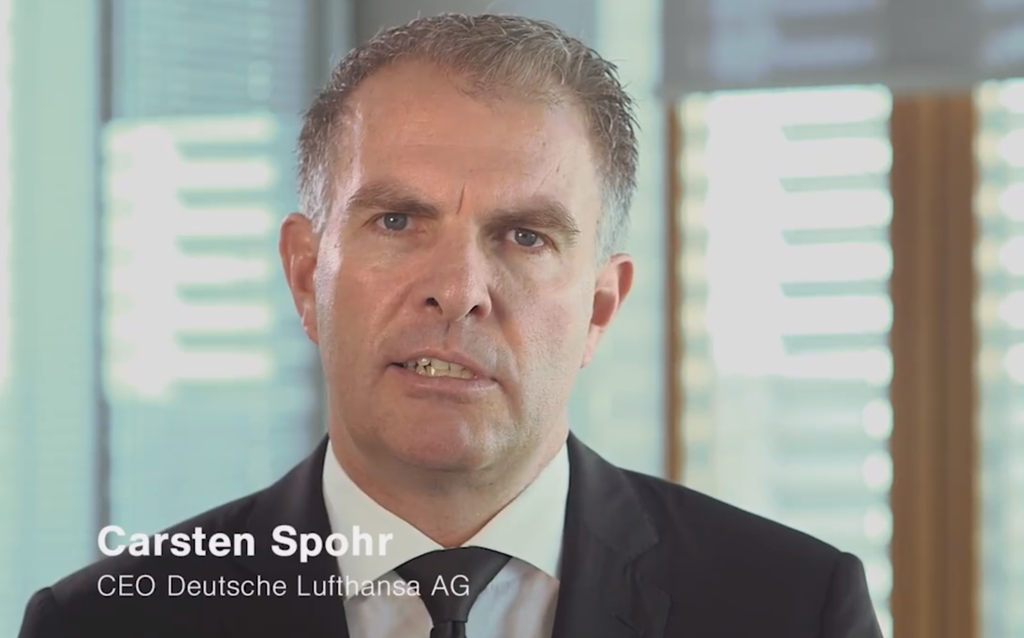 Spohr said Lubitz had training in Bremen and Arizona and that there was no doubt cast on his competence or skills.
"We could not have imagined this in our worst nightmares," Spohr added, speaking about the crash. "This is a very tragic individual case. We are just sorry."
Spohr confirmed that Lubitz took an 11-month break in his training, but could not give the reason for the interruption and said that it would need to be investigated. He stressed that the interruption was "not unusual" and that when Lubitz returned to training he passed all tests.
Lubitz lived with his parents in this house in Montabaur.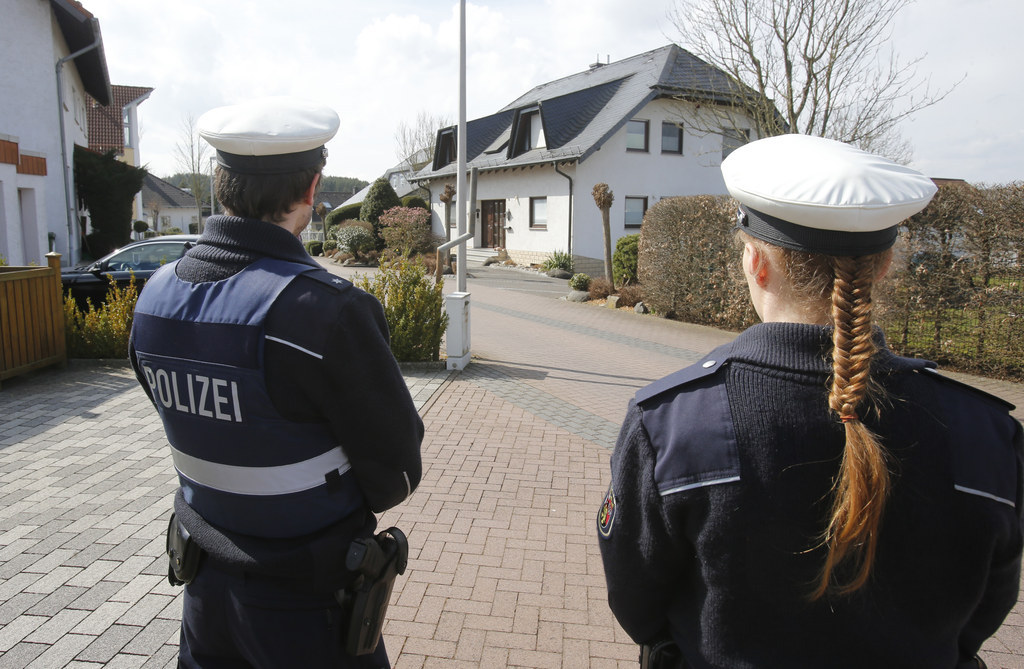 This is a door sign at his home. According to Gabriele Wieland, the mayor of his home town, he also kept a flat inin Montabaur, on the outskirts of Düsseldorf, the city to which the Germanwings flight was bound.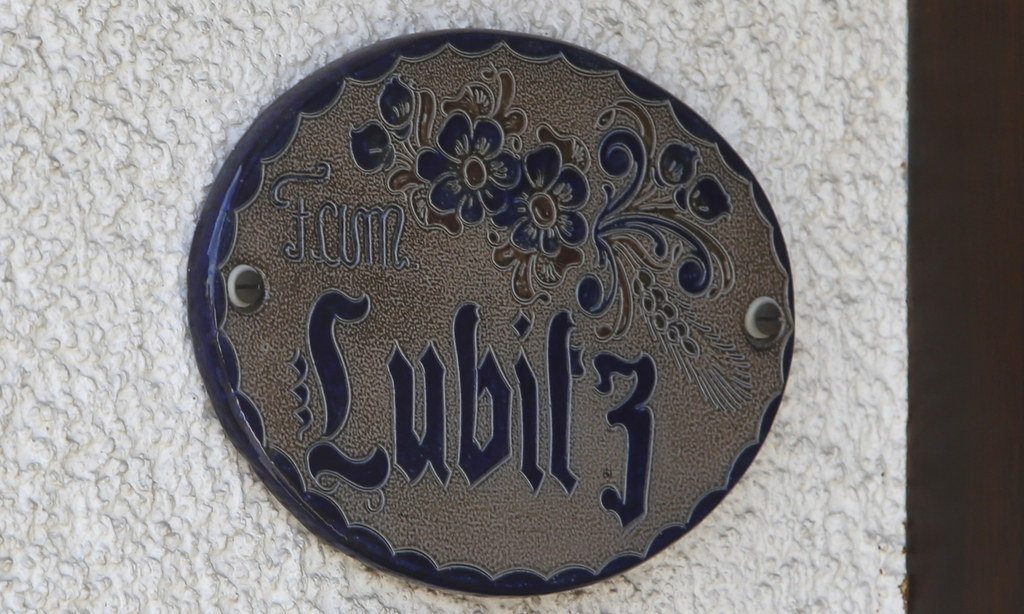 Germany's federal minister of the interior, Thomas de Maizière, said investigators had not found any suggestion that Lubitz had a "terrorism background."
In a press statement, Maizière said: "There are no indications of a terrorism background by the co-pilot or the crew. We have been checking this since Thursday."
Lubitz's Facebook page was deleted shortly after his name was confirmed by prosecutor Brice Robin on Thursday.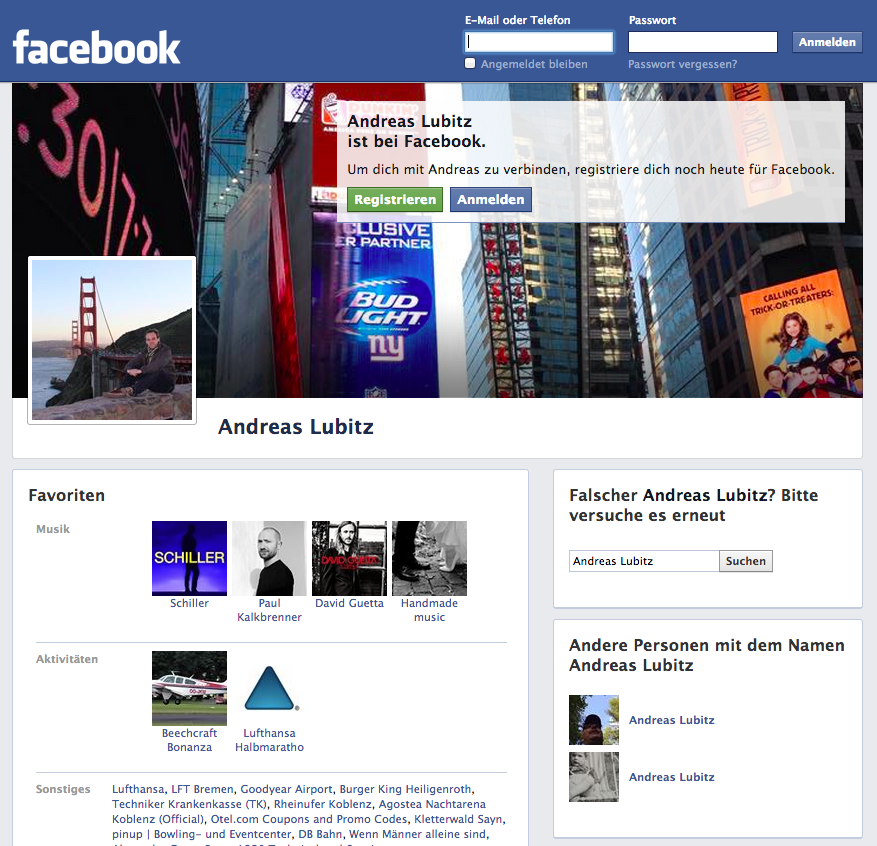 It was restored and "memorialized" on Thursday afternoon, an option that is offered by Facebook. It was taken down a second time on Friday.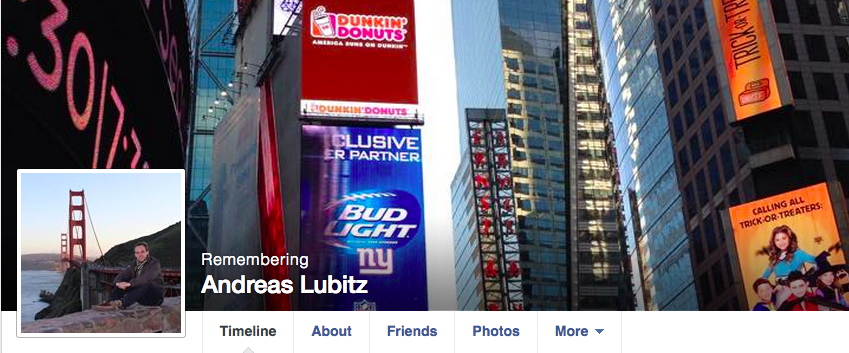 BuzzFeed News contacted Facebook to find out more about how memorialization works.
"A page is memorialized after a friend or family member contacts Facebook and lets us know someone has passed away and they make a request for the page to be memorialized," a representative said. "We verify this information and then memorialize the page. This is not something that happens automatically. Pages that have been deactivated or removed cannot be memorialized because after a certain amount of time it no longer exists."
On his Facebook page, Lubitz shared photos of his travels, including snaps of New York and San Francisco.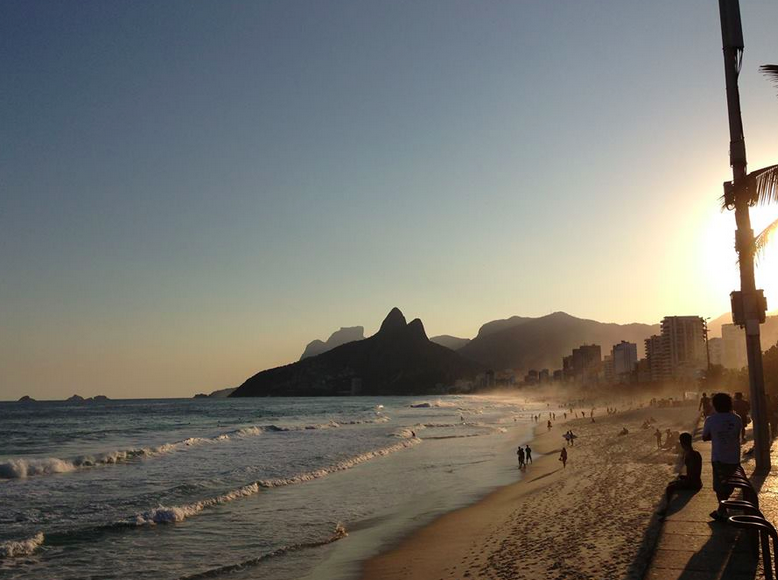 Lubitz had "liked" a number of musicians' Facebook pages, such as Paul Kalkbrenner and David Guetta. He was a member of several Facebook groups, including a local community group, "Bürger in Montabaur".
One person told the local newspaper, the Rhein Zeitung, that he had kept fit through running: "How often we saw him jogging past our house."
In a death notice on LSC Westerwald's website, of which Lubitz was a member, it said Lubitz "fulfilled his dream" of being a pilot.
The flight club published the following statement, along with an image of a back ribbon:
"As a youth, Andreas became a member of the club, he wanted to see his dream of flying fulfilled. He started as a gliding student and managed to become a pilot of the Airbus A320. He succeeded in fulfilling his dream, a dream that he paid for with his life.

The members of LSC Westerwald are grieving for Andreas and all the other 149 victims of the catastrophe of March 24, 2015.

Our deepest condolences to the relatives.

We will not forget Andreas."
Thumbnail credit: Facebook