It is rare for Spalding, a small town in Lincolnshire, east England, to be the centre of national conversation. But on a Tuesday morning in mid-July, it went into lockdown as reports that three people had been shot dead there emerged. As the town trended on Twitter, camera crews and armed response police vehicles descended on the scene.
"There's a shooting in Spalding," people asked online. "Is this a terrorist attack? What's happening to this country and this world?"
It wasn't out of the ordinary to assume the shooting could be terror-related: The night before, a teenager armed with an axe and a knife attacked 20 passengers on a train in Germany, and in the previous few weeks, Berlin and Nice had been hit by atrocities. Though Britain hadn't been targeted in the recent spate of attacks, the current threat level for international terrorism in the UK is "severe". However, it was later revealed the Spalding shooting was a world away from an international terror plot and nothing to do with the "warring migrant gangs engaged in bloody turf war" described by some corners of the press.
It turned out the perpetrator wasn't an ISIS-inspired attacker – it was a British man who, in broad daylight, shot his wife and daughter dead.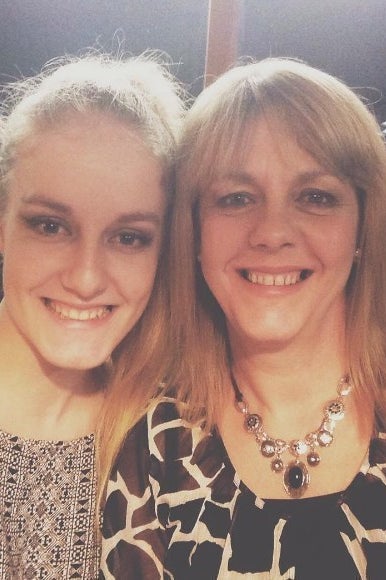 Charlotte with her mother, Claire.
That morning in Spalding, Lance Hart knew that Claire, his wife of 26 years, and their 19-year-old daughter Charlotte were swimming in the local sports centre. Hart went to the car park, climbed under the family car, and hid. As he waited, he clutched a shotgun, waiting for their return. When the two women eventually approached the car, he climbed out from underneath and confronted them with the unlicensed shotgun. He shot Charlotte once, and Claire twice. Then he turned the gun on himself.
Details were soon revealed about Lance and Claire's relationship. A relative of Lance confirmed that Claire had ended their marriage just days before and that she planned to leave him. According to neighbours, the couple were disagreeing over finances and the sale of their family home. Friends said they believed Lance had been "struggling to move on with his life". Another local said: "I think they were splitting up. … I just think he has flipped."
Lance had shown signs of violent behaviour before. His former neighbour Bob Foreman said Lance had once threatened him with a shotgun over a row about a land planning application. "I was on my land and he walked across with a 12-bore shotgun saying, 'me and you have got a problem'," Foreman said. "He was clearly trying to intimidate me."
Six weeks after the Spalding shooting, 400 miles away in Co Caven, Ireland, a woman and her three sons were murdered. Clodagh Hawe and her three children, Liam, 13, Niall, 11, and 6-year-old Ryan, were killed by Alan, her husband and the boys' father. Clodagh was a "much-loved and valued" teacher at a local school. She died trying to save her three sons, who were killed while still dressed in their pyjamas. Alan Hawe left a suicide note in which he said, according to a source, that "he was taking the family with him because he did not think they would be able to cope without him".
Like Lance Hart, Alan had shown signs of violence. Clodagh and Alan were said to have been in a "violent struggle" on the night of their murder, and evidence was found that showed Clodagh "fought desperately to save her own life and those of her sons".
The Hawe and Hart families may have been from neighbouring countries, but they both lived in homes in the suburbs of small towns where little happened. They were relatively ordinary families: The parents worked in local schools and businesses, and the children enjoyed horse-riding and badminton.
The circumstances – and aftermath – of the two sets of murders also bared resemblance. Both fathers were described by those who knew them as having reached a breaking point where they couldn't "cope" any more; they both took the lives of their wives and children in vicious attacks in places that were familiar to the families and at a point when they were vulnerable; and in each case the press focused on how the men were upstanding members of the local community, with little mention or detail of the women and children who had been killed.
Despite the similarities, both cases were treated by the public and press as isolated incidences rather than symptomatic of an endemic issue. With family killings, there's a similar pattern: The perpetrator is usually known to have had a history of domestic violence, or signs of past violent or erratic behaviour, with little or no action taken; the welfare and custody of children had been at risk, or the wife had planned to leave her partner; the murder most commonly takes place at home, and the killer is described as having "snapped".
According to women's charities, risk factors for domestic homicide include physical abuse, death threats, controlling behaviour, stalking, and harassment. Women's Aid in Ireland told BuzzFeed News it has had an increase in calls from women worried for the safety of themselves and their children since the murder of Clodagh Hawe and her children earlier this week.
"The level of fear has escalated because of this," Margaret Martin, director of Women's Aid in Ireland, told BuzzFeed News.
In 2015, Women's Aid said, women told the charity on 970 occasions that abusive partners had threatened to kill them, their children, and their families.
The charity said it would be "irresponsible" to claim the murder of the Hart and Hawe families had nothing to do with domestic violence, and said the murders need to be reported within the context of domestic homicide. The fact that Claire Hart had planned to leave Lance is important, given that women are most likely to be killed by their partner when they try to leave them.
"The murders are a tragedy – but this is just like dropping a stone into a pool," Martin said. "There is a ripple effect, a wider impact. Women are calling our services saying they need to provide access to their children to their fathers as it's coming up to the weekend, but that they've been receiving death threats from them – ongoing comments such as 'if you ever leave me, I'll jump in the car, drive off, and kill the kids'. The women know if they don't provide access to their children, they could potentially face legal issues, or even jail."


Media coverage of domestic homicide also follows a familiar pattern. Reports of Hawe murders were largely sympathetic to the husband who killed Clodagh and their children, painting him as an equal victim. Stories fixated on testimony from friends who spoke glowingly of the perpetrator – he was a "real gentleman" and an "accomplished athlete" – with little mention of the Clodagh or the children. In some articles, Clodagh's name was only mentioned several paragraphs into the story.
"Alan never put a step wrong… If he said he would support you, he did," one local told The Mirror. "He was a man of his word and a good man and that's why this is all so confusing." Another said: "I feel so bad for Clodagh and the boys, but for Alan too. What was he going through?"
Reports of the Spalding shooting had followed a similar route. In a now-deleted Daily Mail article, Dr Max Pemberton wrote the shooting could be referred to as a "twisted act of love".
"Of course, such men are often motivated by anger and a desire to punish the spouse," Pemberton wrote. "But while killing their partner as an act of revenge may be understandable, for a man to kill his children (who are innocent bystanders in a marital breakdown) is a very different matter."
The Daily Express later attempted to answer a question it posed: "Why did Lance Hart gun down his wife and daughter?" Adrian Lee reported that Hart had been "tipped over the edge", and mentioned his "nice-guy image".
"It appears that the double murder and suicide were the ultimate act of vengeance by a rejected husband," Lee wrote.
Following the murder of a family, an attempt to understand the act is expected. The question "what was going through his mind?" is commonly asked. After the murder of Clodagh Hawe and her children, a local priest attempted to find reason, but with little luck: "We try to understand, and we try to find answers, but unfortunately there are no answers... We simply don't understand... I don't know if we will ever understand."
But perhaps the search to understand why these murders happen isn't all that hard to find.
In the first-ever study of "family annihilators" in the UK – the act of killing one's own family – criminologists from Birmingham City University examined newspaper archives from 1980 to 2012, drawing the conclusion that the "clearest unifying factor" is that this is an "overwhelmingly male crime" and that in all cases, "masculinity and perceptions of power set the background" for the crimes. Of the 71 family annihilators identified, 59 were male. The study found that family breakup was the most common cause, accounting for 66% of cases, including disputes over custody of the children.
The study identified four types of killer: "self-righteous" (those who seek to locate blame for their crimes on the mother they hold responsible for the breakdown of the family); "disappointed" (those who believe their family have let them down or undermined or destroyed their vision of ideal family life); "anomic" (those in whose minds the family has become firmly linked to the economy); and "paranoid" (those who perceive an external threat to the family, such as social services or the legal system).
Dr Marilyn Gregory, an expert on homicide followed by suicide, says the killer is commonly a middle-aged, "ordinary" man, and women's charities also say domestic violence perpetrators who send death threats to their families can often be seen by outsiders as "pillars of their society" and "at the pinnacle of their career", making it difficult for people to believe or understand how they could be driven to murder in the first place.
"You've often got men who are holding down jobs, they're men who have got a lot invested in their world and particularly, often, in the family on which they then turn the violence," Gregory told the BBC in 2012, when three fathers killed their partners, children and themselves in the first three months of the year. "Sometimes the children in these cases have almost become pawns in a game – the children have become a way of getting back at his wife."
Professor David Wilson, one of the criminologists for the Birmingham City University study, says family annihilators are "treated like spree or serial murderers" but should be regarded as a separate category of killer. Recognising family killings as a separate category of violence would help our understanding of the crime, he says.
"To begin solving this problem, the role of gender must be recognised, acknowledging that it is mainly men who will resort to this type of violence," Wilson said. "The family annihilator should be seen as a specific category of murderer, for a crime which appears to be increasing."
The murders of the Hawe and Hart families both happened in the summer, when family murder-suicides are most likely to take place as fathers have access to their children during the summer holidays. But Martin from Women's Aid knows the cases will continue as they did before, as they have done for many years. Her central concern now is for the women who called their services in the wake of the Hawe family murder, worried to hand over their children to their partners who have threatened violence.
"As we've seen with these recent family killings, these death threats are not simply threats – they can be acted upon," she said. "It's now coming up to the weekend, and these women are thinking of their children, and they're thinking, What am I going to do?"