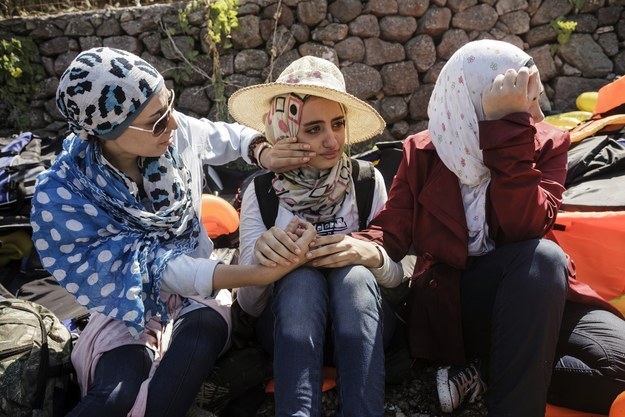 The individuals we spoke to didn't want their photographs used, fearing for their safety. The images used here are not of the women named below.
Farah Y:
I'm 21 years old, and I was once a student living in Latakia with my family in a big house with five sisters and brothers. Problems for us began when my 16-year-old brother was arrested for protesting against Assad. For seven months, we didn't know if he was alive or not. We had to pay a lot of money for him to be released – he was very lucky to have been kept alive. They then wanted to arrest me, too. My family wanted to get us out of Syria because they knew what would have happened to us if we stayed.
We decided we had to flee to Lebanon. We got there safely, and stayed for one year. I entered university to study – my dream was always to be a lawyer. When I was in Lebanon, I tried to forget everything, the pain at home.
While I was in Lebanon, I fell in love. He was a student in chemical engineering, and had also been arrested by Assad's regime. We decided to go to Europe together.
We heard about a way to Europe, from Libya to Italy. We walked to Libya, crossed the border, and travelled by car through the desert for 17 days. We barely had any food or water. Some people stayed in the woods. Through the night, we could hear people screaming – all the women with children screamed and cried.
When we finally arrived at the coast, we saw the boat. It was small – the smuggler told us it would be big and comfortable. There was no space on it to sit. Some people fell unconscious, some prayed for our safety. I will never forget the faces of the people on our boat. It was like they had just come back from the dead. I still have dreams that we are in the sea and that we will die.
It's taken three months for me to return to normal. I'm normally happy and optimistic. But after this, I'm not like how I once was. My boyfriend pushes me to forget, telling me we have to forget because we survived.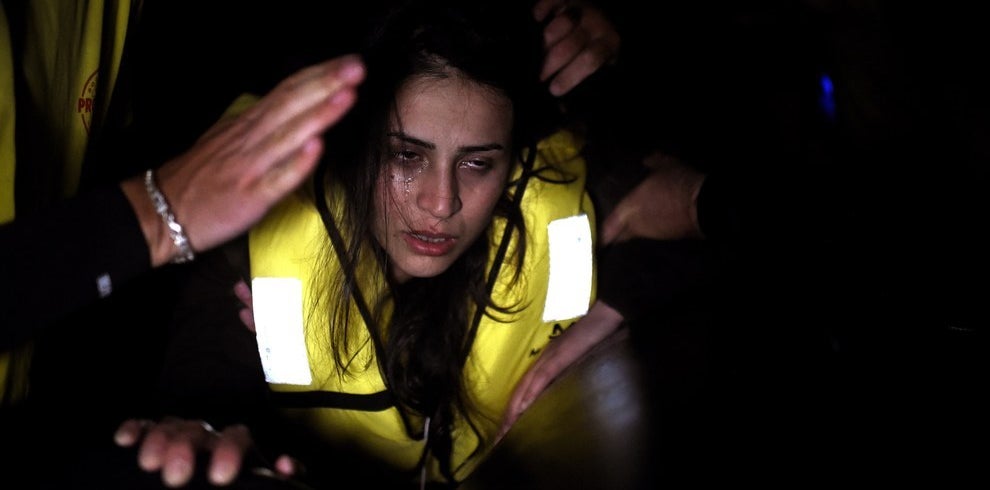 Farah S:
My grandmother and grandfather from my father's side went to Syria as a refugees in 1948. I'm half-Syrian, half-Palestinian, and I was living in Latakia, Syria. We are a small family – me, my sister, my father, who is an ophthalmologist, and my mother, who is just the perfect mom.
In Latakia, I was studying English translation, and my sister was studying law. After the war began, we couldn't complete our studies. The war created a lot of psychological pressure. We knew we could die at any time.
I told my father: I'm 22 years old and I want to live my life as a normal 22-year-old girl, far away from war and bombs. It was hard for him to say yes to me leaving, but he said OK. My parents couldn't travel with me and my sister as they're too old and sick. They cried a lot when we said goodbye – I tried to be strong and not to cry but I couldn't hold the tears in. Every time I remember them, I start crying.
We travelled to Italy, then on to Germany. We choose to go to Germany because I wanted to study and it has some of the best universities in the world, and is one of the most democratic countries. I call my parents on Viber and Skype. My mother misses us a lot, but she tells me that she's happy too that her only daughters are safe now, and that we can now continue our studies.
Alaa:
I had degrees from good universities, and all I was waiting for was the moment of my graduation. We were living in my village, al-Kadmous, in Syria, but with the war, we had to leave. I never got to graduate.
We traveled to Izmir to cross the sea to Greece by rubber boat, then by foot to Macedonia and Serbia, then on a train on to Germany. The journey was like hell – we came so close to death several times. In Hungary it was so hard to walk for hours in the forest, it was very dark and we didn't eat or drink water for days.
It was especially hard for women – we couldn't run like the men, especially the old women, and we couldn't sleep in the same places as men. The women carrying their small children along the roads would stay up all night, and the children would cry because of the cold. The smuggler who travelled with us through the woods would sometimes slap the children that cried a lot because they wanted them to stay quiet so the police wouldn't find them. Their mothers couldn't do anything.
I arrived in Germany on the 12th of September 2015, and at the moment, I live in a tent in a camp. I felt scared for me and my partner. I hope to get residency in Germany fast to start my life again with my fiancé so we can complete our studies and get married.
I hope to stay in peace, and to get back my life, the one I once had at home in Syria. That is all I am dreaming about.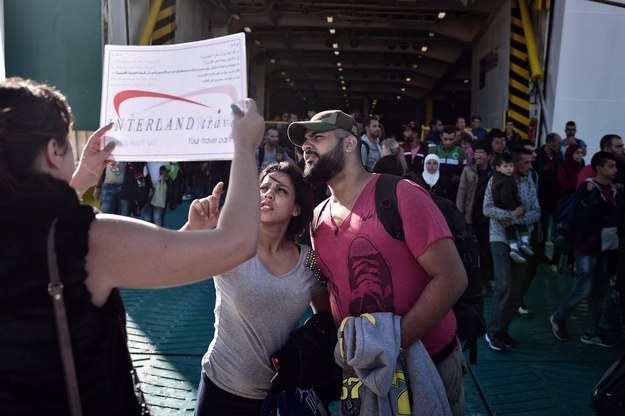 Kinda:
I'm 26 years old, and I come from a city in south Syria called Daraa. I don't have children, and my parents are dead, so I travelled here to Germany in July with my brother and my sister.
A smuggler helped us get to Germany. He agreed to take us to the border with Tunisia at night – it was very difficult and scary. The men who took us had weapons, and the children were afraid of them. They threatened to kill us. The smuggler told me and the others to prepare for our journey across the sea.
At one point, we ran away from him and sat by the seaside. We were tired of running in the hot weather without water, with no food for days on end. But at the seaside, we were away from all of that. We all sat down. We were all brought together.
When we went back, the smuggler didn't give us life jackets as he'd promised. Our boat flooded, and the water reached my shoulders. They moved us on to a different boat. I cried when I saw the smugglers hit men's feet with the boat oars. At that moment, I asked myself: Why did I come this way? Why have I paid the price for my death?
I am worried about my brother. After this trip and the war in Syria, he is suffering from some mental problems. I have met a lot of refugee women who are suffering from domestic violence, and whose children are having problems at school.
We must provide psychological support to the refugees because so many of them have problems.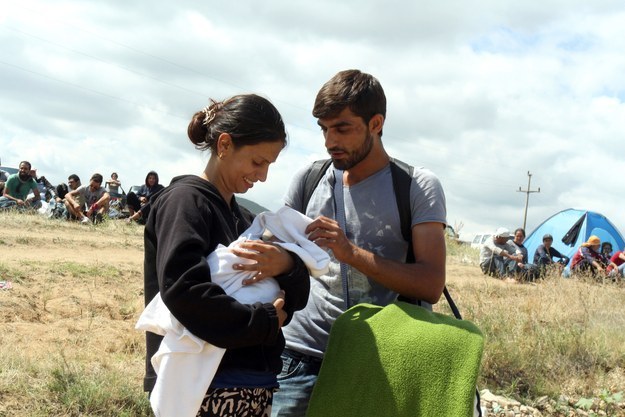 Nabila:
I am a computer engineer and had been working at a communication company in Syria. I have a big family – five sisters and one brother. They're all well educated, all engineers in different fields. We were forced to leave Syria when our home in Quneitra had been destroyed. There was no safety, and the situation in Syria was not stable. I feared that if we stayed, the Islamic armed group would force me into a life I cannot live.
My journey was much easier than others; I was lucky with the time I travelled. The journey was expensive, but thankfully I could just about afford it. I paid about 3,000 euros to get me and my whole family across the water to Greece.
When we got to a city on the border of Hungary, I lost my family and stayed with friends. After much discussion of how to pass through the country, we decided to run from a corn field at 12am. We hid from a helicopter and under leaves and bushes of the plants.
The journey was very tiring: days and nights of coldness and sleeping between trees or on streets. I arrived in Germany about 17 days ago, and I'm staying in a refugee camp. Everything is OK for now, but me and the women I am here with, we think the situation will get worse. My friend here is pregnant, and she feels sick a lot. She has bled a lot, too.
Maybe it will be difficult to set up a life here, I cannot judge that right now. All I want is for the world to know our life is not like a movie – we are real human beings.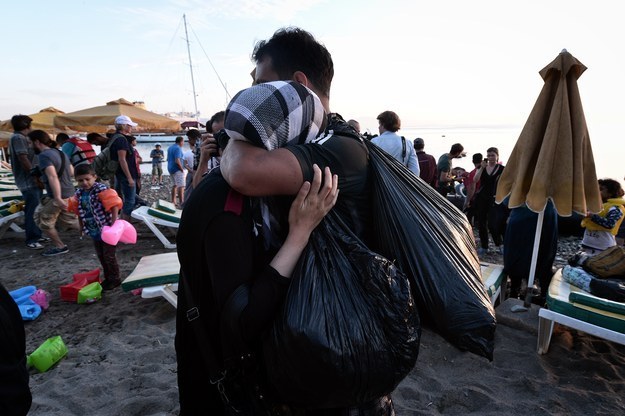 Looks like there are no comments yet.
Be the first to comment!