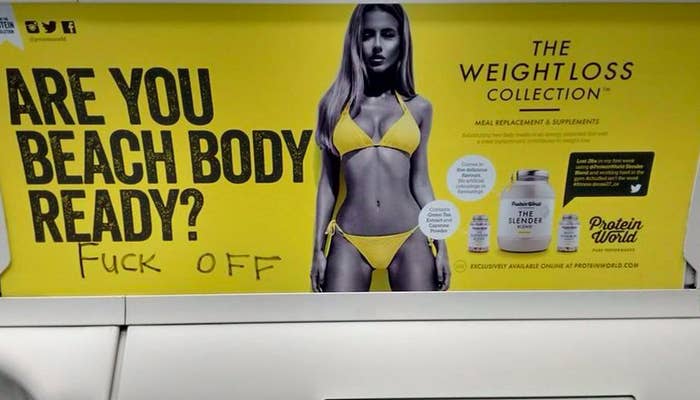 The Advertising Standards Authority (ASA) told BuzzFeed News it met with Protein World on Wednesday about the "Are You Beach Body Ready?" campaign and confirmed that the adverts were being removed from the tube in the next three days.
It said the posters would not return due to concerns "about a range of health and weight loss claims made" in the advert.
The ASA launched an investigation into the campaign and looked at whether it was "socially irresponsible" after receiving 270 complaints.
In a statement to BuzzFeed News, a spokesperson said: "Although the ad won't appear in the meantime, we've launched an investigation to establish if it breaks harm and offence rules or is socially irresponsible. We will now carefully and objectively explore the complaints that have prompted concerns around body confidence and promptly publish our findings."
Earlier this week, Transport for London confirmed to BuzzFeed News that the adverts were being removed from the underground as they were at the "end of their advertising cycle".
Protein World has yet to reply to BuzzFeed News' repeated requests for a comment.