The Daily Mail and its columnist Katie Hopkins have issued an apology for defamatory claims made against a Muslim family in one of her articles and have paid the family £150,000 in damages.
Last December, Hopkins branded the family of a man called Mohammad Tariq Mahmood "liars" and said they deserved to be stopped from boarding their flight to the US for a holiday because, she suggested, they were extremists with links to al-Qaeda.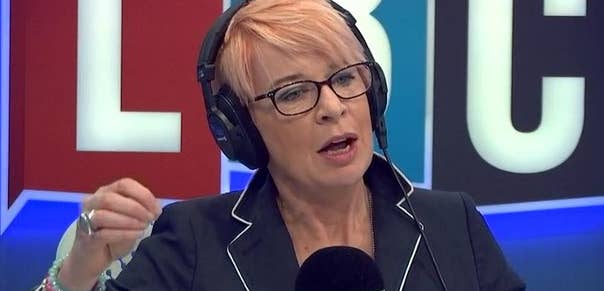 Mahmood and his family said the US Department of Homeland Security gave them no reason when it stopped them from travelling to Los Angeles from Gatwick Airport last December.
In a column published on the Daily Mail on 23 December 2015, Hopkins suggested that Mahmood and his brother, Mohammed Zahid Mahmood, were extremists with links to al-Qaeda, and wrote: "I put it to you that you and your lovely British family were not off to Disneyland at all. I am not buying your story."
Hopkins also congratulated the US Department of Homeland Security in a tweet for a "job well done" for denying the family their holiday.
Hopkins often tweets that she will refuse to apologise for xenophobic or "controversial" comments and opinions she's expressed in her articles...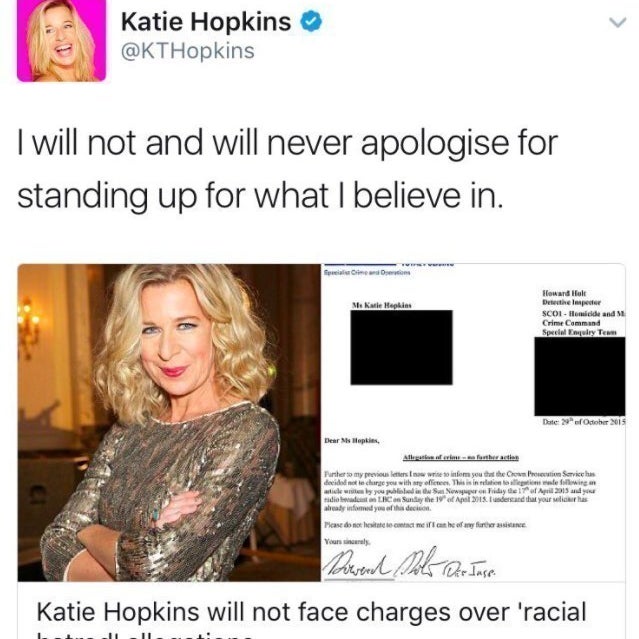 ...but now she has said sorry for the "distress and embarrassment caused" to the Mahmood family for suggesting the family were lying about their intentions to travel to the US, and for suggesting the family had terrorist connections.
The Mail and Hopkins' also apologised for a second article about Mahmood, and for sharing a photo of their family home, saying:
"In addition a further article in Katie's column on 29 December ('A brave Muslim tried to warn us their week about the extremists taking over his community. What a tragedy it is that our PC politicians would rather not know') suggested that Hamza Mahmood (Mohammed Tariq Mahmood's son) was responsible for a Facebook page which allegedly contained extremist material. Our article included a photo of the family home. Hamza Mahmood has pointed out that he is not responsible for the Facebook page, which was linked to him as a result of an error involving his email address. We are happy to make clear that there is no suggestion that either Hamza nor Taeeba or Hafsa Mahmood (Hamza's mother and sister) have any links to extremism."
The apology also said the family would be paid substantial damages and their legal costs. The full apology can be read here.
Many people believed that because she tweeted the link at 2am on a Monday morning, Hopkins wanted the apology to slip under the radar.
People believed the apology to the Mahmood family was significant and deserved more attention...
...especially because many people would have been asleep at the time the link was shared, and so may have missed it.
Some people said the late-night apology was in fact part of the Hopkins strategy to stay on brand as being "shameless"...
...but even politicians and celebrities decided to help Hopkins out by giving her apology a signal boost.
But mostly, as it was Hopkins apologising to a Muslim family, it was a rare time people didn't mind seeing her name trend.
In a statement, Tariq and Zahid Mahmood said: "We are very pleased that, after a great deal of dragging of their heels, the Mail and Ms Hopkins have now accepted that what they published was completely false."
They added: "Even to this day the US authorities have not explained the reason why we were not permitted to travel; we assume it was an error or even a case of mistaken identity. However, matters are not helped when such sensationalist and, frankly, Islamophobic articles such as this are published, and which caused us all a great deal of distress and anxiety. We are very pleased that the record has been set straight."