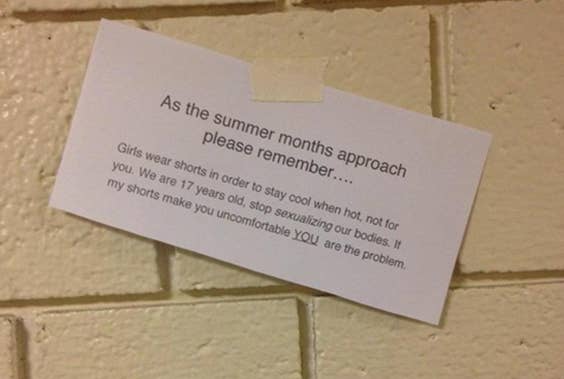 Around the world, girls and women are discriminated against, shamed, or even criminalised for how they look and dress.
They are constantly being reminded that what they wear and how they choose to look is too "distracting", "revealing", or "inappropriate" for school, work, and other public environments.
Here is a handful of examples of what women have had to deal with in 2015.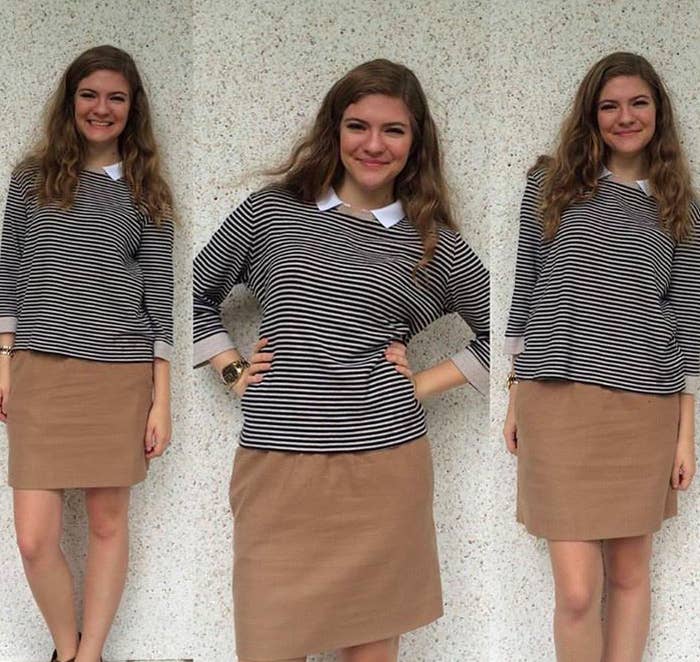 Skirts
* Carey Burgess, a 17-year-old student in the US, received an in-school suspension and was sent home for the day for wearing a skirt, shown in the photo above, that was deemed "too short". She said in a Facebook post: "Maybe our society isn't yet advanced enough to handle 3 inches of my thigh. ... Maybe instead of worrying about my skirt, Beaufort High should take notice of its incompetent employees, and sexist leaders."
* In the UK, the headmistress of a secondary school banned girls from wearing skirts, so that boys and male staff members wouldn't be "distracted". She said: "It's not pleasant for male members of staff and students either, the girls have to walk up stairs and sit down and it's a complete distraction."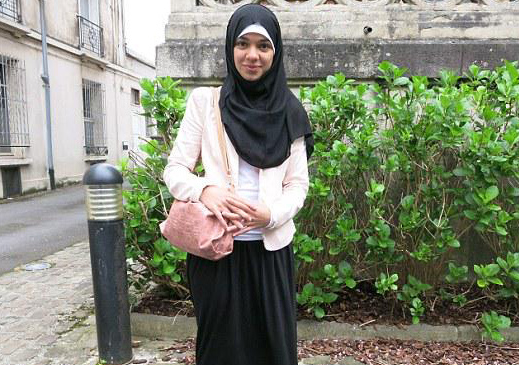 * A schoolgirl in France, shown above, was sent home from school because she was wearing a long black skirt. The school claimed she broke a ban on religious signs in schools. The response prompted a backlash, and the schoolgirl was supported online by thousands of people tweeting #JePorteMaJupeCommeJeVeux, which means "I wear my skirt how I want to".
* In Algeria, more than 100 men and women shared selfies of their bare legs online in support of a university student who was banned from an exam for wearing a short skirt. Sophia Jama, who set up the campaign in support of the unnamed student, said: "A woman's body has become a battle field in Algeria. If we keep silent, we women will lose a lot from our gains, regarding our freedom in public places."
Dresses
* In Canada, a student received detention for wearing a halter dress after, she says, the school described it as "inappropriate" and a "sexual distraction". In a Facebook post, the student, Lauren Wiggins, wrote: "I'm tired of the discrimination against our bodies, and I'm absolutely fed up with comments that make us feel like we can't be comfortable without being provocative. It's time to change the worlds mindset. Now."
* In the US, students at a high school in Idaho were told bare shoulders and spaghetti strap dresses were banned from the school dance. The school insists the rule was in place to ensure there was a "safe and fun" environment for the pupils.
* Elsewhere in the US, student Alexus Miller-Wigfall was told she'd have to serve in-school suspension for wearing a prom dress a school administrator described as "too revealing". Her mother believes her daughter was targeted because she is "plus-sized".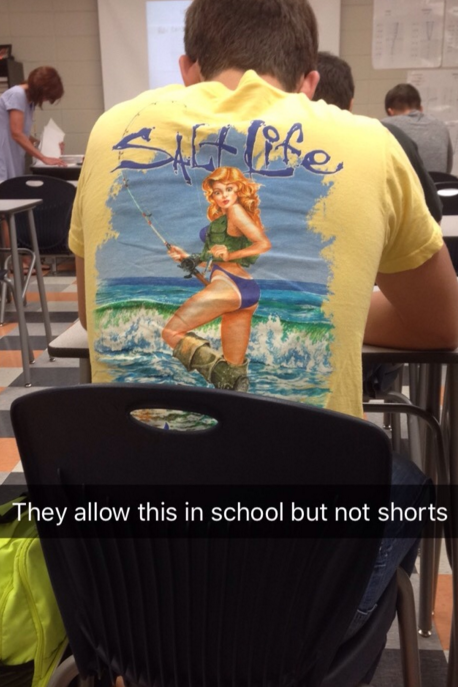 Tops
* In Toronto, Canada, student Alexi Halket was told by the vice principal of her school that her crop top was "inappropriate". In protest, she wore a crop top the next day, and thousands of people supported her by wearing crop tops and tweeting #CropTopDay. Meanwhile, elsewhere in Ontario, another student, Laura Anderson, was sent home for wearing a tank top and ripped jeans.
* In the US, student Briana Popour was punished by her school for wearing a T-shirt that read "Nobody knows I'm a lesbian". When she refused to change the T-shirt, which the school described as "offensive and distracting", she was suspended. After a public backlash, the school reversed its decision.
Yoga pants and leggings
* This summer, a school in the US banned girls from wearing yoga pants to school, insisting they only wear yoga pants if they wear a skirt or shorts over them. Outraged by the decision, more than 100 students protested by wearing yoga pants to school in a day of action. The Facebook event for the protest said: "We can't help we were born girls and we shouldn't have to pay for it either because boys can't 'control' themselves."
* In February, Republican lawmaker David Moore said he wanted to strengthen the state's indecent exposure laws so nipple exposure and tight-fitting clothing – including yoga pants – would be classed as indecent exposure. Moore said after the hearing: "Yoga pants should be illegal in public anyway."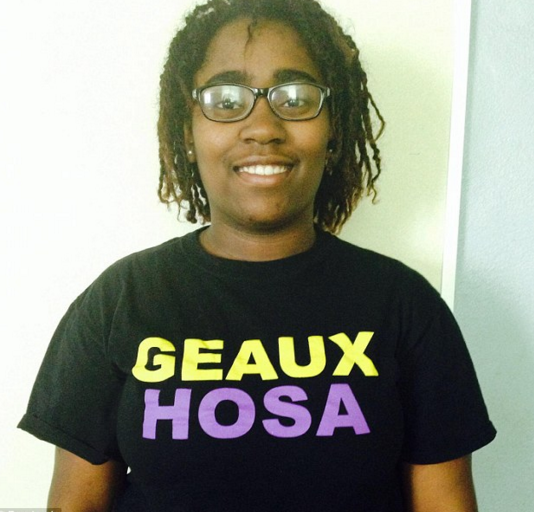 Tuxedo
* Claudetteia Love, above, a student in Louisiana, wanted to attend her prom in a tuxedo – but was later told by her school principal that girls were banned from wearing tuxedos. Her mother said the principal told her: "Girls wear dresses and boys wear tuxes, and that's the way it is." The mother said: "I feel like he's taking his values and throwing them on my daughter because of what her preference is and what she represents."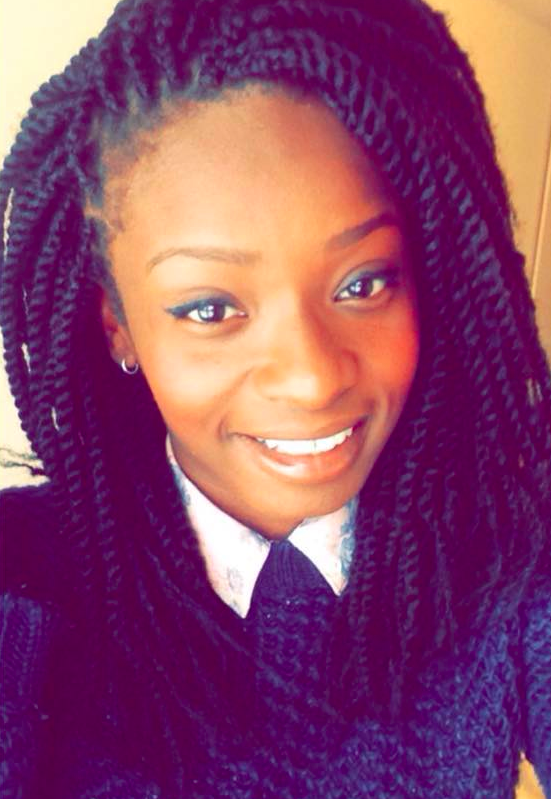 Hair
* In the UK, student Lara Odoffin said an employer withdrew a job offer because of her natural hair. Odoffin said the unnamed company told her it "cannot accept" braids, because they aren't part of the "uniform and grooming requirements".
* In Canada, an employee of a restaurant said she was given fewer hours by her supervisor because she wore natural braids. Lettia McNickle said she was a victim of racial discrimination, and she is fighting for the company policy on hair grooming to be changed to reflect racial and gender bias. She later said: "I wear my real hair most of the time, everybody knows it and I'm not going to stop."
Jeans
* In the US, a 12-year-old girl was internally suspended at her school because her jeans were "too tight", according to her school administrator, who said she "violated" the school dress code. The school's superintendent defended the decision, saying: "​Our school believes in maintaining a safe and orderly school environment. There are and will be times in which some styles of clothing are not appropriate or conducive to the school environment."
* In India, at least 10 villages in western Uttar Pradesh reportedly banned local girls and women from using mobiles and wearing jeans, because it "increases crime rate" and is only "allowed in cities".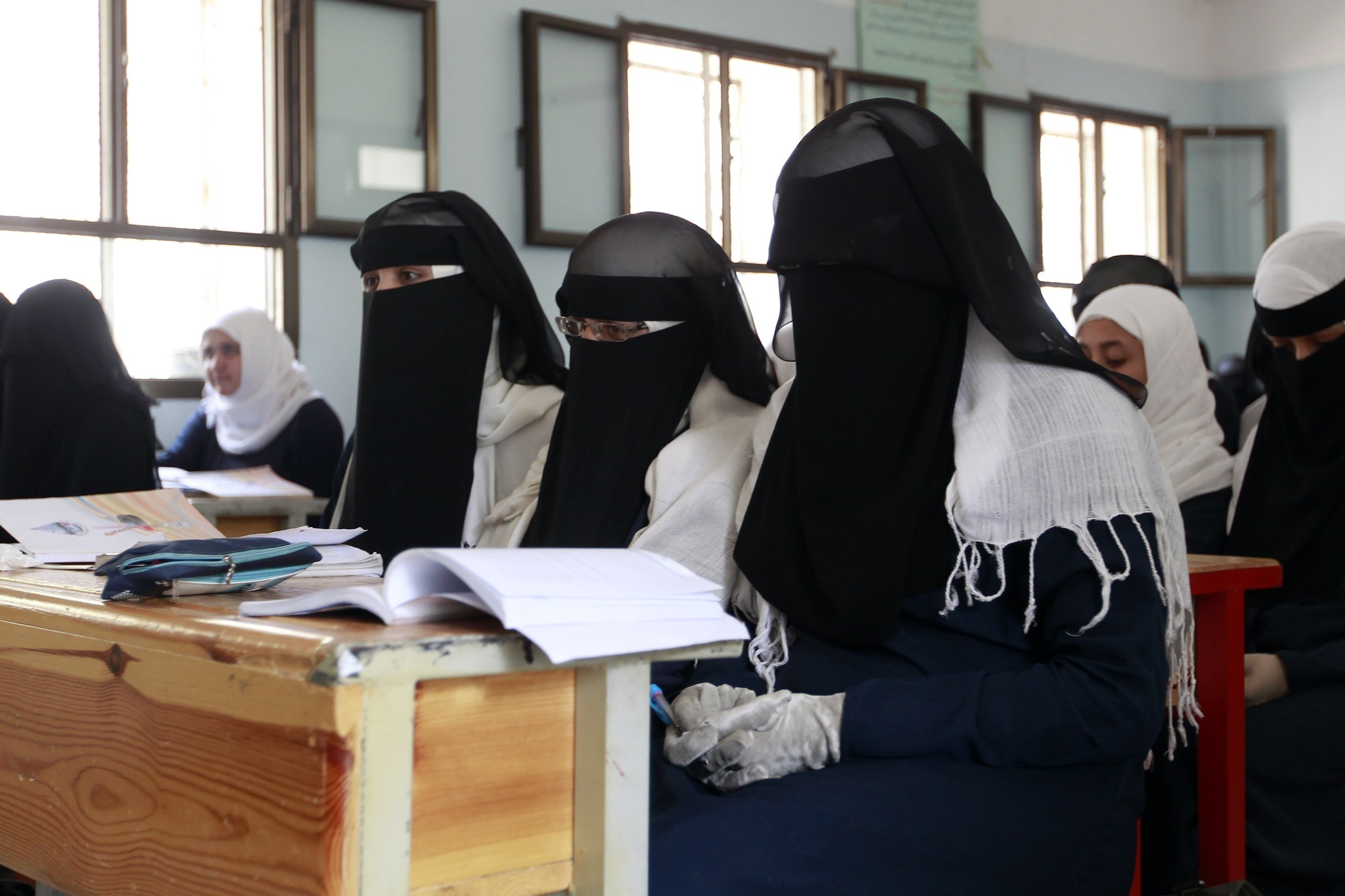 Flat shoes
* At this year's Cannes Film Festival, former festival film programmer Vicci Ho said she was turned away from a red carpet event for not wearing high heels and for wearing flat shoes (shown above). Ho said: "I was wearing nice leather shoes, but told that these were street shoes and I needed to change them. I respect the rule and the location but at the same time I was in formal dress." Another woman, Valeria Richter, said she was turned away for not wearing heels, despite a part of her left foot being amputated. However, Cannes director Thierry Fremaux denied the claims and said they were "baseless".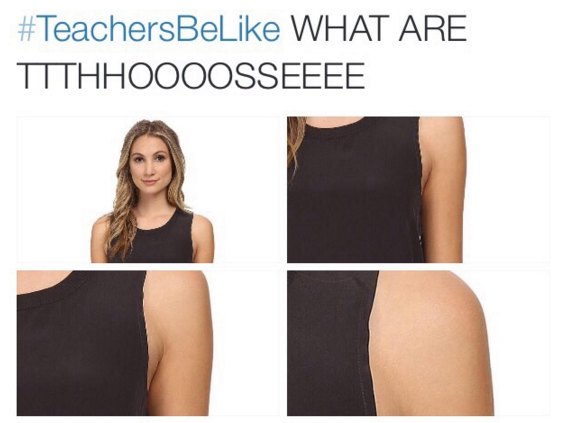 Need more buzz like this in your life? Sign up for the BuzzFeed Today newsletter!