A Woman Who Took Abortion Pills Has Been Sentenced To Three Months In Jail
The woman told Belfast crown court she couldn't afford to travel to England for a safe, legal abortion.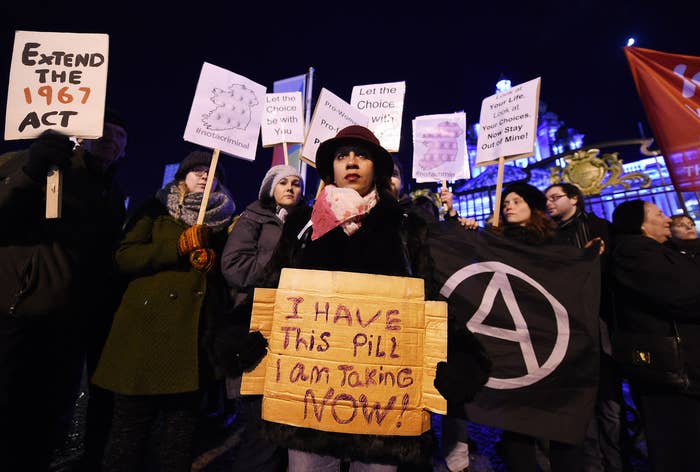 A woman in Northern Ireland was handed a suspended prison sentence after taking pills bought on the internet to induce a miscarriage in July 2014, Belfast crown court heard on Monday.
The 21-year-old woman — who cannot be named and was 19 at the time of her arrest — pleaded guilty to two charges of inducing a miscarriage. She said she could not raise enough money to travel to England for a termination, a common practice for women in Northern Ireland who have no safe or legal access to abortion. She instead contacted a clinic in England that advised her on which drugs to order.
The judge sentenced her to a three-month jail term, suspended for two years on the assumption she does not break the law again, after her defence barrister Paul Bacon told the court she had been "victimised by the system" and that if she had lived in England, Scotland, or Wales, where abortion is legal, she wouldn't "have found herself before the courts".
The barrister described the woman as a teenager "who felt trapped" and who resorted to "desperate measures". He told the court that she is now living with a partner and has a new baby.
Before his ruling, the judge told the court the legislation under which she was prosecuted was 150 years old and had been amended across the UK, except for Northern Ireland.
Police were initially contacted by the woman's two housemates, who said she had told them she was pregnant. The housemates say they found the male foetus in a bin in their shared house in south Belfast. A postmortem confirmed that the foetus was the woman's.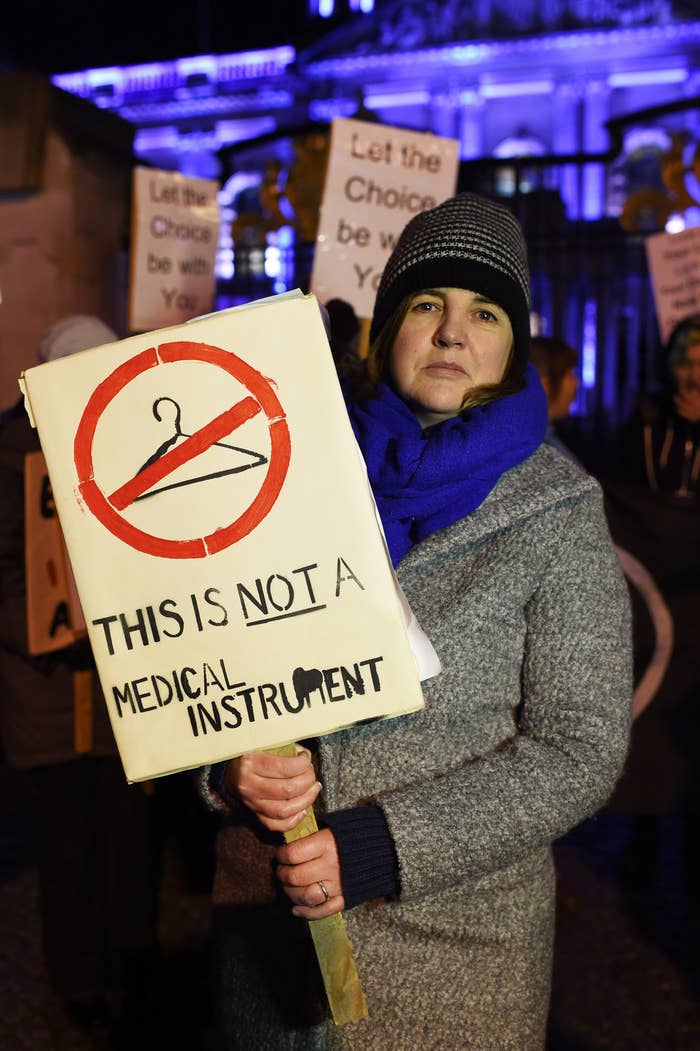 Women's rights charities criticised the ruling and described the woman as a victim of Northern Ireland's "draconian" abortion laws. They called on politicians to repeal laws they say harm, not help, women.
"We know that hundreds of women from Northern Ireland travel to England for abortion care every year, but we also know that there are many who are unable to do so, like the individual in this case," Katherine O'Brien, the media and policy manager for The British Pregnancy Advisory Service, told BuzzFeed News. "Online abortion medication is sadly, for some women, their only option – and they are being punished for lacking the financial means to travel. This is deeply unjust and, as Justice Horner recently stated, smacks of one law for the rich and one law for the poor."
In a landmark ruling in November last year, high court judge Mark Horner found the grounds for abortion should be extended in Northern Ireland, where the 1967 Abortion Act does not apply. Horner said Northern Ireland's abortion laws were "incompatible with human rights" and called for them to be reformed.
O'Brien added: "It is frightening that women in every country in the UK still face imprisonment for ending a pregnancy. We call on all politicians to repeal these antiquated, Victorian laws and create an abortion framework fit for women in 2016. We deserve nothing less."
Amnesty International's Northern Ireland director, Patrick Corrigan, said the human rights organisation is "appalled" by the Belfast court's decision.
"A woman who needs an abortion is not a criminal," Corrigan said. "The law should not treat her as such."