A Woman Bit Off Part Of A Sex Attacker's Tongue So She Could Get His DNA
"I didn't know I would get to bite a bit off the end of his tongue, but I knew I would try and get some DNA in my teeth."
In a quick-thinking move, a woman bit off part of a man's tongue as he sexually assaulted her in an effort to use it for DNA evidence to bring his conviction.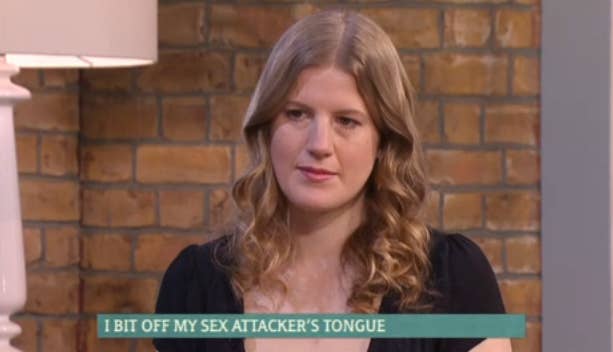 In an interview on ITV's This Morning, Adele Barber, from Dunstable, described the moment she was subjected to a violent sexual assault on her way home from the doctors at 5pm.
The 29-year-old told the show's hosts that the attacker pushed her up against a fence and violently sexually assaulted her in an alley way.
"As soon as he pushed me up against the fence he tried to kiss me and forced his tongue into my mouth," she said.
"I thought, right, this left him vulnerable. I was just going to bite down as hard as I can, it will show it's not consensual in anyway, shape or form, get as much DNA as I can and try and cause enough pain to get this guy off me. I didn't know I would get to bite a bit off the end of his tongue but I knew I would try and get some DNA in my teeth."
Thankfully, Barber was able to escape and ran home – with part of the attacker's tongue – where she immediately called the police. Officers advised her to put the tongue in a sterile pot.
With the tongue as evidence, police were able to convict the attacker, Ferdinand Manila, two months later when he was found committing other offences.
Manila was convicted of three sexual assaults, and was later sent to a psychiatric unit by a court after they determined he was unable to enter a plea due to mental health issues. Barber said that she is glad that Manila is now able to get the treatment he needs.
Barber said she wanted to encourage other victims of sexual assault to try to secure evidence if possible.
"The most important thing is to get as much evidence as you can," she said on This Morning. "Obviously in that situation you can't control what your body does, you can freeze. But you can fight back as much as you can and get to the police as quickly as you can."