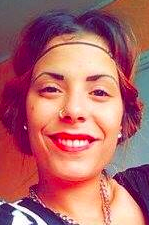 The group of women were arrested and are due to appear in court in September.
After the attack took place, a local daily newspaper, l'Union, reported that the five women attacked her for "moral" reasons because they were Muslim.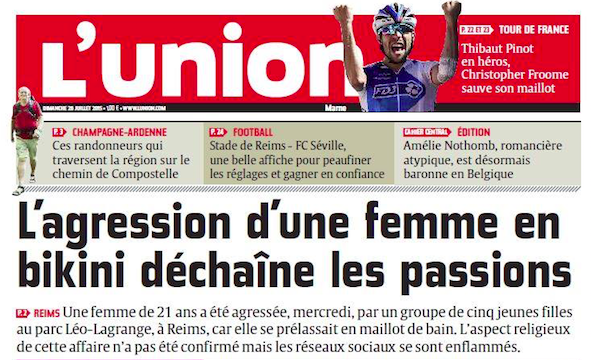 The newspaper said the attack took place because Slosse was "scantily" dressed and that the women tried to "dictate" how she dressed. Since then, French politicians and media around the world have expressed outrage.
In a online campaign to "stand" with Slosse, women across France began tweeting photos of themselves in bikinis and swimsuits.
But on Monday, the police officer who separated the women during the attack was confirmed "not to have heard references to morality or religion".
Julie Galisson, the police superintendent leading the enquiry, said: "As is clear from the statement of the victim and those implicated, there is no element of a religious or moral element which explains the aggression."
In a Facebook video, she explained that the incident had nothing to do with her wearing a bikini. She also spoke about how her and her friends are "easy prey" because they are Muslim.
With our history, we are easy prey ... Personally, since we are talking about me, I am not a terrorist, I'm not all that ... nor a Muslim police.

I'm the first to go sunbathing in swimsuit. ... I am not a terrorist.
Another woman, Anna (who also asked BuzzFeed News not to use her real name), was present during the attack. The 19-year-old told BuzzFeed News:
I was with three girlfriends and my sister Wednesday around 16:30 when we went to Léo Lagrange Park. We passed three girls in bathing suits and I just told my friend that if it were me, I would not dare wear their outfits ... But I said that because I have body issues, and it was absolutely not for religious or moral questions. I am Muslim, yes, but tolerant.

When one of the three girls heard me speak, she told me she understood that I wouldn't dare wear a bathing suit with my body. She also said that I was fat. I went to her to give her a slap, and then she fought with my friend. From there, I did everything to separate them.
She said that since the media misreported the incident, she and her friends have been attacked and shunned by their family:
Journalists are not aware of what they have. Yes, we should not have to fight, but they should check the information. Since they suggested that our motive was religious, it's been horrible. My family does not want to talk to me. I read all these racist comments about us. Frankly, we are weak, I am weak, I have dark thoughts.
L'Union has since retracted its original article, admitting it was a "clumsy" and "hasty" report.