Following a backlash online, New Adventure Travel, a private bus company based in Cardiff Bay, has pulled adverts featuring a naked woman holding a sign that reads: "Ride me all day for £3."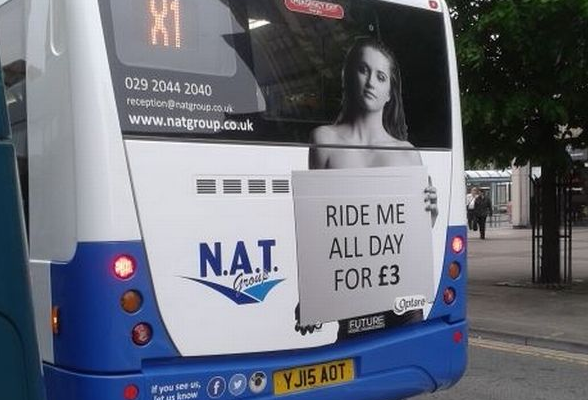 The company used the posters on buses to launch 10 new routes across the city. There were a number of posters featuring naked women, as well as a version featuring a man:
The advert was called out by a number of people online, including celebrities, who described the advert as sexist and offensive.
Following the critical response, New Adventure Travel provided the following statement this morning saying it will be pulling the adverts over the next 24 hours:
In view of the reaction to our bus advertising today we wish to set out our position:

Firstly we have stated that our objectives have been to make catching the bus attractive to the younger generation. We therefore developed an internal advertising campaign featuring males and females to hold boards to promote the cost of our daily tickets.

The slogan of 'ride me all day for £3' whilst being a little tongue in cheek was in no way intended to cause offence to either men or women and, if the advert has done so then we apologise unreservedly. There has certainly been no intention to objectify either men or women.

Given the volume of negativity received we have decided to remove the pictures from the back of the buses within the next twenty four hours.
The advert drew comparisons to the sexist advert by Protein World that caused controversy in the UK last month.
The bus adverts have since been turned into a meme by Twitter users.