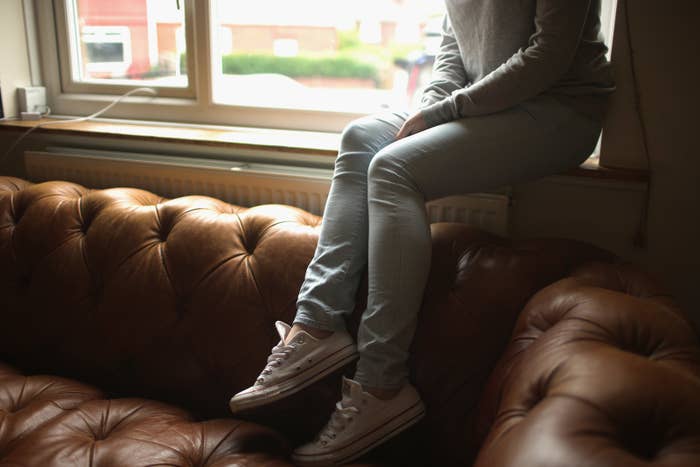 Universal credit (UC) will trap more women in abusive relationships, charities and women's refuges have warned as the new benefit system is rolled out nationally.
Women's Aid, Refuge, and the London charity Solace all told BuzzFeed News that the way UC was structured systematically disadvantaged women attempting to leave abusive relationships, as well as "exacerbating" financial abuse, because of delays in payment.
"The road to safety for survivors is already littered with obstacles, now you have universal credit that puts another hurdle in the way for women to escape abusive relationships," Katie Ghose, CEO of Women's Aid, told BuzzFeed News.
UC "wasn't designed with survivors' safety in mind", Ghose added, highlighting that the weeks-long wait for the first payment was a major barrier for women. "If she can't access the welfare safety net to help her support, to rebuild her life, then many more women and their children are going to be trapped in abusive homes."

A Conservative government benefit reform, UC has been beset with criticism from the outset. Charities and campaigners have repeatedly called for it to be scrapped, in particular highlighting the lengthy waiting period at the beginning of enrolment.
Over the weekend senior Conservatives hinted that prime minister Theresa May may be preparing to reduce the waiting period, responding to widespread criticism.
Sandra Horley, Refuge chief executive, described UC as leaving women in a "bureaucratic black hole", with survivors unable to access "critical financial support".
She described how one survivor, having left her abusive partner of years, was unable to access UC and instead forced to rely on hardship payouts each month, while living in a refuge. The UC may not be reinstated for months, and after that she will be forced to repay each of her hardship payments, saddling her with significant debt.
It was cases like this, Horley said, that left her organisation "extremely concerned" at UC's implementation. "As it stands, victims of domestic violence are being let down by the system."
Mary Mason, CEO of the London charity Solace, agreed. She said when women did manage to break out of abusive situations, they often arrived at refuges with nothing. "They have a very difficult time trying to get a claim. What we are then talking about is several weeks with nothing."
Although Solace has only seen a "trickle" of such cases – as UC has not been fully rolled out in all London boroughs – Mason said her organisation was "fearful" that "we are going to see a deluge of women and children that don't have the resources in order to survive".
She went on to say that although Solace had repeatedly flagged issues with the UC system to the government, its recommendations and concerns had been ignored.
One of the key issues rests with the decision to place all of the welfare money in a single household pot – allowing the perpetrator to control the purse strings – which was pushed by the government as a means of simplifying a complicated system.
Instead, this system was often "exacerbating" financial abuse, Ghose said, as perpetrators used control of the household accounts to continue their abuse. The government's solution – offering split payment exemptions, where the benefit was paid to a single claimant, rather than the household pot – also raised concerns, she said, as the perpetrator would have to be informed of the decision to split payments.
This worry was echoed by Mason, who said it was "incredibly frustrating" that although they had raised concerns "right from the start", nothing had been done.
A spokesperson for the Department for Work and Pensions said it was "committed to doing all we can to improve support for people affected" by domestic violence.

They highlighted the use of split payment, and said: "Our staff are trained to support vulnerable people, including those who are victims of domestic abuse, and can refer them to specialist organisations for more support and help."