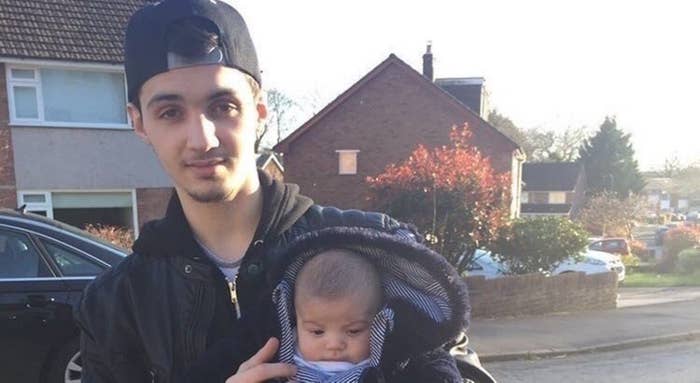 A young Syrian man who was reunited with his family in the UK after crossing Europe as an unaccompanied minor is facing deportation to Bulgaria – where he endured horrendous treatment.
Mohammed Mirzo arrived in Britain in April and is currently with his family in Wales. But his father, Ali, said they don't know what will happen next.
"We don't have any information, we are so worried," he told BuzzFeed News from the family home.
Mohammed was detained by Home Office officials when he reported to them as part of his refugee status application. He was held at Parc Prison in Bridgend for two days, before being moved to Campsfield House immigration centre in Oxfordshire until Tuesday afternoon.
The family had desperately applied for European visas shortly after Mohammed turned 16, only managing to secure him one for Bulgaria, where they twice paid a smuggler to take him over the border to Germany – both times ending in disaster. The second time, the smuggler's van was stopped and Mohammed was taken in for questioning.

Refugee abuses in Bulgaria, despite the country being a member of the EEA (European Economic Area), have been well documented. The most recent Amnesty International report noted that refugees continue to be detained, often for months, and there was an attitude of impunity for abuses at the border.

"He was treated very badly," Ali said. He claims a police officer slapped his son during questioning, and that "he was not given food for three days, and when he asked for water, the police told him he could drink water only from the toilet".
"They took him in a camp, but they took him to a faraway camp and it was a very filthy camp," Ali continued.
His son stayed in that camp for more than five months until he was granted "papers" and allowed to leave, joining up with a family travelling to Germany, where he was placed in a camp until his brother secured his release. "Mohammed was at this time very distressed and upset. He want[ed] to see his mum and his family," Ali said. "He got more depressed and twice he tried to harm himself."
However, he managed to get himself to France and cross into the UK from Calais.
Ali was "surprised and shocked" when he was called by Cardiff police to collect his son. "The whole family were so happy. But Mohammed was afraid, because he came illegally, that they might send him back."

Mohammed's case falls under the Dublin Regulation, which means the country that first registers an asylum application is responsible for that person.
"He suffered terribly in Bulgaria," solicitor Vinita Templeton, who is representing Mohammed, said. "His specific story is absolutely heartbreaking."
Templeton told BuzzFeed News that Mohammed's father faced "an impossible situation". "They believed he would be safe there, but he suffered a series of traumatising experiences – including being detained in solitary confinement and handcuffed at a time when he was still a child.
"He is terrified, absolutely terrified, of going back there. For somebody to be terrified of a supposedly safe country, that is just terrible."
An online petition, set up by Jonathan Cox of Citizens UK, calling for the Home Office to reconsider his application has already gathered just under 10,000 signatures.
A Home Office spokesperson told BuzzFeed News: "The UK has a proud history of providing protection to those who need it, but it is only fair that we do not shoulder the burden of asylum claims that should rightly be considered by other countries.

"Asylum seekers should claim in the first safe country they arrive in. Where there is evidence that an asylum seeker is the responsibility of another European country we will seek to return them there."