A court in Navarre, Spain, on Thursday found five men accused of the rape of a teenager not guilty, convicting them instead on the lesser crime of sexual abuse.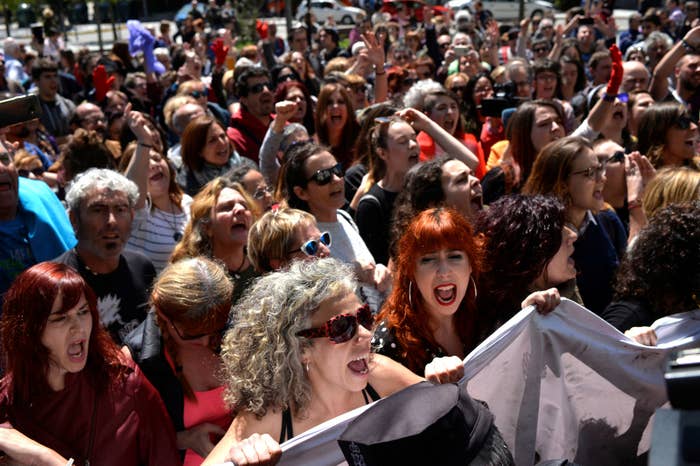 People are furious about the verdict, with hundreds protesting in Madrid, Pamplona, Seville, Barcelona, Alicante, Bilbao and other cities by evening.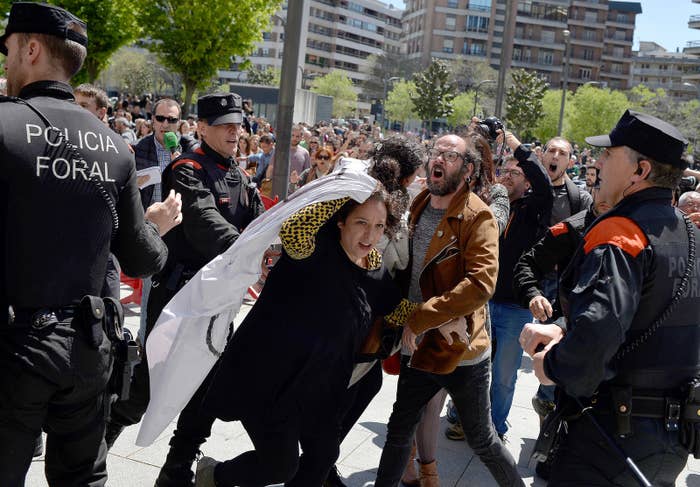 During the trial, the men's defence rested on the woman's apparent lack of resistance.
Defence lawyers argued that a short video clip of the women taken by one of the men during the assault – and which was shared in the group's WhatsApp – that showed her immobile, with her eyes shut, while one of the men kissed her, counted as consent.
Amnesty International said the case "could be sending a worrying message: if women don't resist, there is no rape".
One of the judges also accepted evidence from a private detective, who tailed the girl for several days and photographed her smiling with her friends. This, the defence claimed, was evidence that she had suffered no lasting trauma. Although the majority of this evidence was later removed, an Instagram post she was tagged in, of a T-shirt with the words, "Hagas lo que hagas, quítate las bragas" ("Whatever you do, make sure you take off your underwear") from the Spanish version of the US TV show Jersey Shore, was kept in.
"The defendants want us to believe that on that night they met an 18-year-old girl, living a normal life, who after 20 minutes of conversation with people she didn't know agreed to group sex involving every type of penetration, sometimes simultaneously, without using a condom," prosecuting lawyer Elena Sarasate said back in November.
Thousands of people took to the streets, angry with the nine year sentence – rather than the 22 years sought by prosecutors – that the men have received.
The hashtag #TeSeCreo (I Believe Her) and #YoSiTeCreo (I Do Believe You) trended across Spain after the verdict was read out.
Left-leaning politicians tweeted about the case, with many condemning the verdict.
Susana Díaz, the president of the regional government of Andalusia, tweeted:
Her colleague, Pedro Sanchez, the leader of Spain's socialist party, added his condemnation.
Other hashtags were also rapidly shared including #NoEsNo (No is No).
Spain's police sent out a series of tweets in the immediate aftermath of the verdict, reading: "No means no," and later telling women: "We're with you."
Many people are seeing the protests as Spain's #MeToo moment, with the same #IBelieveHer hashtag that was used after an Irish rape trial's verdict sparked outrage.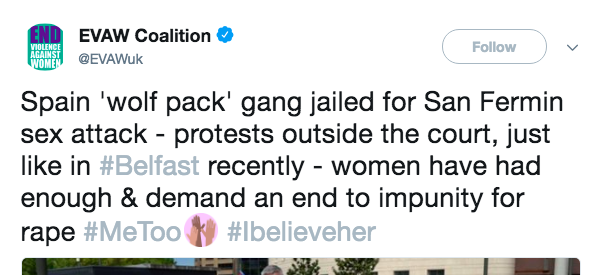 The victim's lawyer told reporters they were "disappointed" with the verdict, and lawyers for the five men confirmed they would also appeal, calling the verdict "unfair".