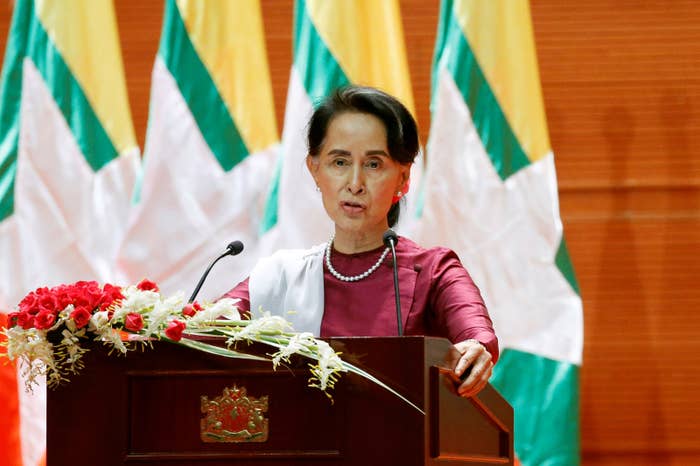 Council leaders in Oxford have confirmed they'll withdraw a freedom award given to honour Aung San Suu Kyi over her inaction to the Rohingya crisis in Myanmar.

The city's council leader and its lord mayor issued a statement in which they called for her to condemn the violence in Rakhine province back in September – something she has failed to do.

They said they would withdraw the Freedom of the City award, given to people of distinction or who have "rendered eminent services" to Oxford, which was granted to her in 1997.
Last night, a motion to remove the award as it was "no longer appropriate" was unanimously passed by councillors, a spokesperson for the council confirmed to BuzzFeed News.
Bob Price, Oxford city council leader, confirmed to the BBC that it was an "unprecedented step" for the council to remove the honour, and said that it was "extraordinary" Aung San Suu Kyi had not spoken out about the situation.

Oxford councillor Tom Hayes said it was "significant" that the councillors had voted to rescind the honour. There would be a special meeting, he told BuzzFeed News, to establish how that would work. "That said, we are still hopeful of some kind of miracle will happen and she'll change her mind."
"We need to make clear that you are not guaranteed to keep this award in perpetuity," he said. "We know that our voice is a small one, but we hope that will stir something in her."
Hayes added that all councillors, across the political spectrum, had come together having been moved by the images on TV showing the suffering of Rohingya refugees in Bangladesh.
The decision follows the persecution of the Rohingya Muslim community in Myanmar, formerly known as Burma. At least 400,000 Rohingyas have fled the country after indiscriminate attacks by the Burmese military and decades of persecution, but Aung San Suu Kyi has defended the army's handling of the crisis and refused to allow international observers into the region.
Hayes said in September that Aung San Suu Kyi's actions had "cruelly betrayed" the city. "It's an absolute tragedy," he told BuzzFeed News.
"This is somebody who has been so inspiring to so many for so many years, who has stood as a symbol of resistance against oppression, and now we are seeing this deafening silence being replaced by comments that would suggest that the situation is not serious.
"When the Freedom of City was given to her, it was given because she was that symbol for all of us. But she has actually betrayed the trust we have placed in her as an inspiration and as a freedom fighter. We feel especially cruelly betrayed."
He said the city of Oxford could not condone giving her the Freedom of the City.
Aung San Suu Kyi studied at Oxford University in the 1960s. She settled in the city with her husband Michael Aris and their two children in the 1980s until her return to Burma in 1988 to visit her ill mother. She was placed in solitary confinement by the Burmese military until 2010.
In 2012, following the fall of the junta and her release, the Nobel Peace Prize winner said she had been "upheld" during "the most difficult years" by memories of her time at Oxford. "Those were among the most important inner resources that helped me to cope with all the challenges I had to face," she said.
Oxford's criticism follows that from international aid organisations, such as Amnesty International, Human Rights Watch, and the United Nations, which have all warned of horrific crimes against the Rohingya Muslims.
Hayes said: "We realise that as a city council there are a small number of ways we can try to influence her, and we realise that other international actors will have a bigger impact, but we are just trying to play on that emotion, on that loyalty, from a city that she called home for so long.
"Just try and remind her of the time when she was a better person."