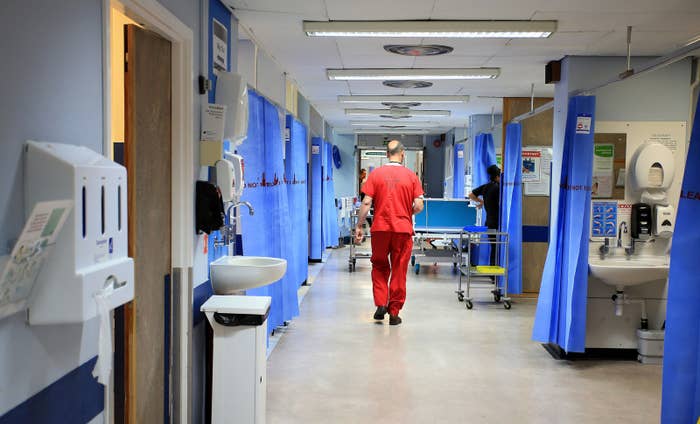 Almost 60% of NHS England staff reported working unpaid overtime each week, according to the findings of a survey.
The survey, which was carried out between September and December last year and and included responses from 423,000 members of staff (44%) in 316 NHS organisations in England, also found roughly 1 in 3 (30%) of those who responded "felt unable to meet all the conflicting demands on their time at work".
In addition, almost half of employees surveyed (47%) said they felt there were not "enough staff at their organisation for them to do their job properly".
Labour's shadow health minister, Justin Madders, MP for Ellesmere Port and Neston, said the results demonstrated the "enormous pressures" endured by those staffing the NHS "in the face of Theresa May's neglect and lack of interest".
"The government's endless underfunding of the NHS and constantly asking staff to do more and more with less is taking its toll and stretching NHS workers to breaking point," he told BuzzFeed News in a statement.
Madders also noted one-third of NHS staff now report feeling unwell due to work-related stress, and called on May's government to do more for them in the upcoming Budget.
"The winter crisis would have been so much worse without the dedication of NHS staff, but this survey is a clear warning that they cannot go on endlessly without more support," he added.
Dr Mark Porter, British Medical Association (BMA) council chair, said the survey's findings echo the concerns of his members, and demonstrated NHS staff continued to "go above and beyond" to serve patients.
Placing the blame on the government's lacklustre planning, he continued: "The NHS, already facing unprecedented pressure, is having to cope with huge and predictable staffing problems."
These issues will only worsen, he said, if "underlying issues such as unprecedented workload, chronic funding shortages and dwindling resources are not urgently addressed".
Janet Davies, chief executive and general secretary of the Royal College of Nurses also called attention to the worrying situation within the NHS, on the eve of the Budget. "This is another reminder for the government of how NHS staff across the board are straining to hold things together," she said in a statement.
Davies called on the government to give the NHS "the money it needs to keep patients safe and wards staffed at the right level".
The survey's findings follow recent statistics that showed record A&E waiting times, as well as delays for treatments, ambulance care, and discharges from hospital. The British Red Cross described the situation in some A&E wards in the country as a "humanitarian crisis" – a description strongly rejected by prime minister Theresa May.
But junior doctor Dr Rachel Clarke, based in Oxford, told BuzzFeed News in January, following the release of December's statistics: "This is exactly what happens when you systematically downgrade the NHS until it has some of the lowest numbers of beds and doctors per head of any country in Europe."
Simon Stevens, chief executive of NHS England, said the results of the staff survey were "surprisingly" good. "There's still much to be done to ensure staff are properly supported, and local NHS employers are now being incentivised to better support the health and wellbeing of their own staff," he added.

Neil Churchill, director of patient experience at NHS England, said in a statement to BuzzFeed News that it was "vital" staff were supported effectively. He continued that while NHS England was acting to improve the overall staff experience, "we also have to be alert to stress, discrimination, and harassment".
A spokesperson for the Department of Health said in a statement to BuzzFeed News: "NHS staff are our greatest asset and we are making sure there are enough staff to provide world-class care for patients by investing in the frontline - with over 34,800 extra professionally qualified clinical staff including over 11,600 more doctors, and over 13,400 more nurses on our wards since May 2010."
Doctors Say They're Right To Voice Their Fears About The NHS, And Recent Damning Data Proves It