Ten students are being celebrated online after refusing to choose a winner out of any of the "appalling" entries in a student accommodation competition.

Jenny Killin, 25, tweeted an image of the letter she and nine other judges sent to Property Week, organisers of the 2016 Student Accommodation Awards, after they rejected all of those shortlisted in the "Student Experience" category, claiming none offered affordable housing.
"We're seen as cash cows: a captive market who can have extortionate rents pushed on them," Killin told BuzzFeed News.

Killin said she and her fellow student judges were asked to score entrants on the "improved student experience in at least one of the following areas: academic, learning, well-being or social", and "student lifestyle choices".
But they were left shocked when they looked over the entries. "When we sat down and researched the providers listed, some of the stuff we discovered was just appalling.
"The ten of us decided it would be ridiculous to award any of them with a student accommodation award when the prices so clearly push students into poverty," Killin told BuzzFeed News.
The average rent for purpose-built student accommodation in the UK is £146.73 per week, according to the National Union of Students' (NUS) most recent housing survey. For private accommodation, the national average is higher, at £168.94.

Under new government guidelines for 2015-16, the maximum loan available for new students is £5,740 annually. The NUS estimated that based on accommodation costs outside London, this would leave students with only £851 to cover all other living expenses, including food and clothing, per year.
Data from the Institute of Fiscal Studies found last year that the government's decision to switch maintenance grants to loans – while increasing the amount given – could leave the poorest 40% of students with £53,000 graduation debt.
Killin, a welfare officer at Aberdeen University students' association, said in her university town the average rent worked out as 102% of her student loan. "As a student from a working-class background I had to work full-time throughout my degree to afford to pay bills," she said.
People on Twitter have been praising Killin's tweet and the judges' decision.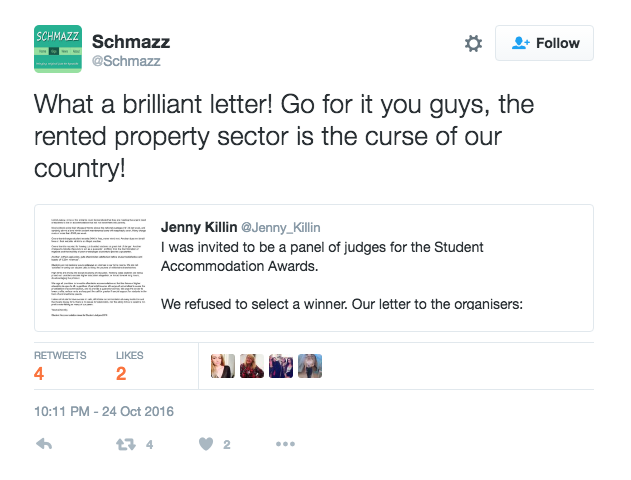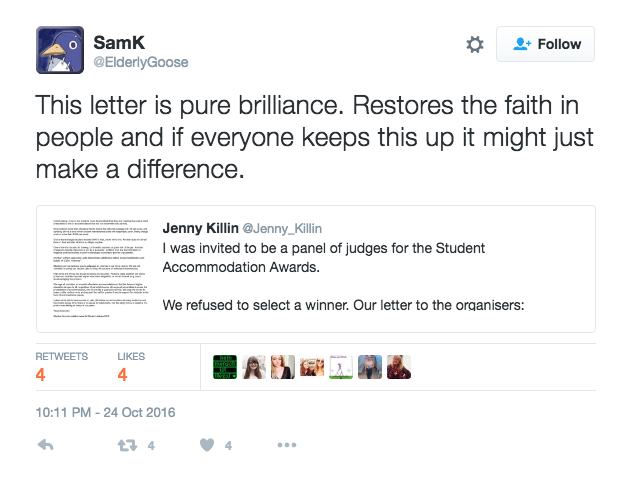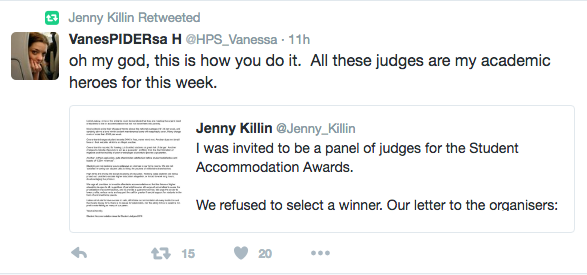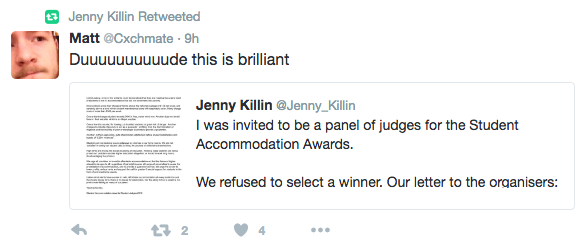 Killin said she and her fellow judges had been taken aback by the positive reaction. She added that although the cost of housing nationally was a big issue, anyone at university was "painfully aware of how badly students are ripped off".
Shelly Asquith, NUS vice president for welfare, said students across the country had been hit hard by 18% rent increases that had not been matched by government funding. "Rents in student accommodation have reached disaster point and too many students are struggling to get by while private providers boast huge profits," she told BuzzFeed News.
She added: "For working-class students, higher education is becoming increasingly out of reach – you're either priced out or in poverty."
Responding to the criticism, a spokesperson for the Student Accommodation Awards said they "completely respected" the judges' decision not to choose a winner.
"Developers and operators of student accommodation strive to produce the very best environment for students but our student judges have sent a clear message that the industry needs to do better," the statement to BuzzFeed News said.
They added that following the outcry, they had removed the category for the 2016 awards, and will review it next year.
Looks like there are no comments yet.
Be the first to comment!