But why do we need a reboot of Roots, anyway? It turns out there are some pretty good reasons to be excited:
1.
First off, the cast is AMAAAAAAZING.
2.
Also, there's a wealth of new information about the history of slavery in the U.S....
3.
...and that information will dramatically change the story of Roots.
4.
But don't think — even for a second — that this is just some boring history documentary.
5.
This version of Roots has been re-engineered for an entirely new audience.
6.
Roots is a story about slavery, but it's also about family...
8.
...and perseverance against seemingly insurmountable odds...
9.
...which is something we can all relate to in some way.
10.
Oh, you like action and adventure? Well, you're in luck because Roots has a TON of that.
11.
Plus, Questlove is the series' Executive Music Producer, so you know that soundtrack is gonna be poppin'.
12.
Most importantly, many young people today are woefully uninformed about the history of slavery...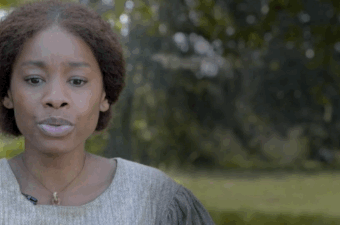 Anika Noni Rose (who plays "Kizzy") and Emayatzy Corinealdi (who plays "Belle") just want you to be in the know, y'know?
13.
...and Laurence Fishburne knows knowledge is a powerful tool.
14.
So it's not just a good time for a Roots remake...
15.
...it's actually the BEST time.
Images courtesy of The History Channel