Meet The Awesome Muslim Migrant Saving The World One Meal At A Time
"Whether you're Muslim, Christian, Buddhist, atheist, whatever, we're all on this Earth together!"
You'll never hear it from him, but Azem Elmaz is a one-man army. The owner of Lutfiyes Shish Kebab in Shepparton, Victoria, has been feeding some of the most vulnerable people in one of Australia's most disadvantaged towns for 26 years.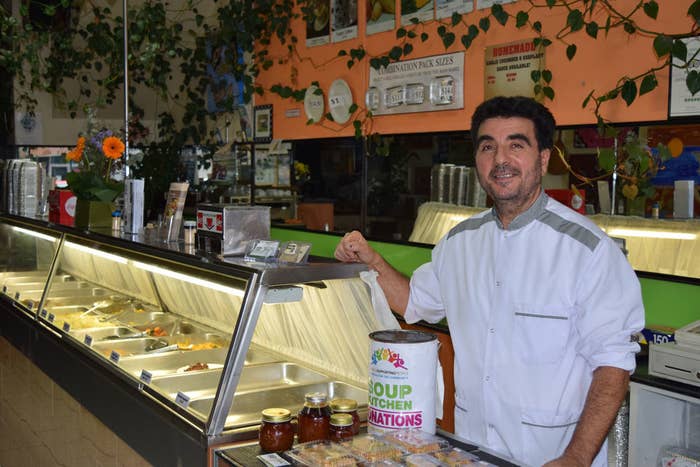 Azem told BuzzFeed News he moved to Australia from Macedonia 33 years ago with $2.40 in his pocket. He worked hard as a cleaner in Melbourne before meeting his wife and moving to Shepparton, where he opened the store in 1989 despite having no business experience and no cooking experience except for what he had learned from his mother.

Azem says the town of Shepparton - which has a proud history of accepting migrants dating back to before World War II - welcomed him with open arms.
"The bloody Australians, they're good! They welcome everybody," he tells BuzzFeed News in the cafe following a busy lunch rush. "I love that the Australian people accept me in this country, and I'm really proud of myself to be an Aussie."
In return, Azem and his wife have given back to his community.
From the early days of running the business, he has opened his doors to Shepparton's vulnerable and homeless. It started, he says, when a single person couldn't afford to pay for a meal.

"People would come in and say, 'mate, I don't have any money. Can I have a meal and I'll pay you next week?'", he says. "I said OK once, then twice, then I realised, they're not going to bloody pay! So we had a discussion with my wife and the kids and said, 'what are we doing? We're handing them food, and some people say they're hungry, how should we treat them?'"
"The kids said, 'dad, you treat them the way you want to treat them'. And that's what we did."
Today, his charity, People Supporting People, feeds up to 120 people in the Goulburn Valley each night. During the summer, if bushfires or floods hit anywhere in Victoria, Azem locks up his shop, starts up his mobile kitchen and heads straight to wherever disaster has hit.
"I have a great respect for men or women in the uniform," he says. "When the shit hits the wall, they'll come for us, they won't ask who you are or what you are. They'll come and save our lives. The least we can do is give them a warm meal and a cappuccino."
For his efforts, Azem was awarded an Order of Australia medal on Australia Day. But he says it's not about medals. His deep Muslim faith means it's charity, not pride, that drives him.
"The Prophet Muhammad, peace be upon him, said, 'do charity. Help as much as you can. But be wary of it. When people start respecting you, then you might forget who you're doing it for. You'll be proud of yourself, then you forget you're doing it for almighty God. Not for yourself."
Azem's faith also drives him to work hard for his community, which has been hit hard in recent years. Shepparton was once the heart and soul of Australia's fruit picking and processing industry, but the collapse of the country's manufacturing industry has hit Victoria's Goulburn Valley hard, and nowhere is that felt more than in Shepparton.
Shepparton faces unique problems - youth unemployment is sky high and Indigenous disadvantage is rife. Azem takes on plenty of young volunteers, who work in his kitchens and give back to the community, keeping them off the streets at night.
Azem says that despite the wide socio-economic disparities and ethnically diverse community groups in Shepparton, there is more to unite the town than to divide it. He works as an interpreter and helps to break down the barriers between newly arrived migrants and the wider community.
"Whether you're Muslim, Christian, Buddhist, atheist, whatever, we're all on this Earth together!"
Azem says he's not really tuned into the election this year. He used to enjoy politics, but the leadership chaos of the last decade turned him off. He says politicians need to stop focusing on themselves, and start looking after communities.

"Australia is the richest country in the world. The best country in the world. But we're not looking after everyone," he says. "The big boys sitting up there [in Canberra], and the poor farmers are struggling."
"We should go back and lift our people from the mud, and clean them, and help them out. Farmers are struggling so much. This is my message for the politicians. Step back and think about the people ... because without them, we're no good."