The latest viral rumour doing the rounds in right wing Australian social media circles falsely claims that former prime minister Julia Gillard kept a $5,650 prize after drawing her own name in a charity raffle.
And in another example of social media rumours having real world effects, mental health charity Beyond Blue says the drama is costing it donations.
It all started last Friday when The Herald Sun posted a story about Gillard, who was working as a "barrel girl" at a Women of Melbourne lunch and drew her own name for the raffle's major prize – a three month lease on a Mercedes-Benz C-Class Cabriolet C200, valued at $5,650. Money from the raffle was to be donated to Beyond Blue.
Gillard, the incoming head of Beyond Blue, offered to return her name and draw another one, but she was implored by the crowd to keep it, The Herald Sun reported.
"I've spent a lot of my life drawing ALP raffles where generally there wasn't a prize and if you did happen to win the meat tray you had to give it back or you would have been torn limb from limb," the former Labor leader was quoted saying in the story. "So, thank you very much."

But a few paragraphs later, a statement from Gillard's spokesperson confirmed the former PM had already donated the prize back to Beyond Blue.
"Ms Gillard immediately suggested she redraw but the MC and crowd insisted Ms Gillard take the prize," the spokesperson said.
"That afternoon Ms Gillard asked the CEO of Beyond Blue to see if arrangements could be made with Mercedes for Beyond Blue to use the prize for further fundraising, for example as a raffle prize at a future Beyond Blue event."
So that's that, right? What a cute lil' story about the former PM and a funny mishap at a charity event.
But then on Saturday, journalist Michael Smith published a blog post saying the incident revealed Gillard's true nature.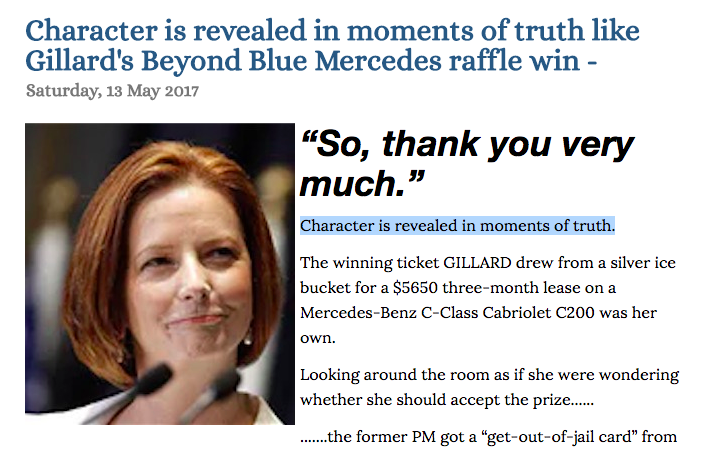 "Character is revealed in moments of truth," he wrote, before reposting The Herald Sun story in its entirety.

Smith was a fervent anti-Gillard voice during her prime ministership and was one of the strongest proponents of stories regarding the AWU scandal that consumed much of Gillard's time in office.
On Sunday conservative News Corp columnist Miranda Devine tweeted Smith's blog and was subsequently retweeted by her stablemate Chris Kenny.

This triumvirate of conservatives was enough to push right wing social media echo chambers into a frenzy.
The story was shared to right wing Facebook pages such as the "Bolt Report Supporters Group" and "I stand with Cory Bernardi About halal certifications", accompanied by dozens of angry comments.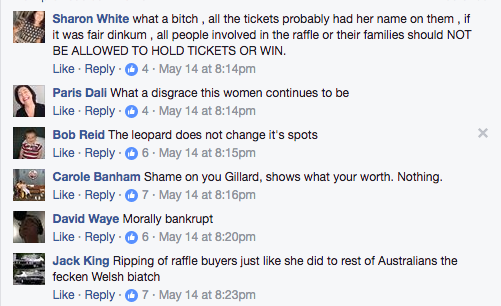 On Twitter, the conversation was much the same.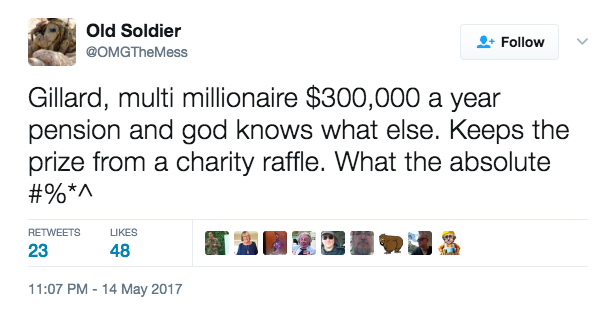 On Tuesday, outgoing Beyond Blue chairman Jeff Kennett was forced to defend his successor, telling The Australian that Gillard was never going to keep the car.
"It is one of the risks you run when you play barrel girl or barrel boy – against all odds your number is going to come up. In my opinion, if you bought the ticket you are quite entitled to keep it, but there is always the public perception that is wrong. The audience wanted her to keep it, but everything is about perception these days," he said.
A spokesperson for Beyond Blue told BuzzFeed News the organisation had been fielding angry calls from people who said they will no longer donate to the charity.
The spokesperson also confirmed that Gillard had sought to return the prize the same day, despite spending $550 of her own money to enter the raffle.

"The last ticket she drew was her own," the spokesperson said. "She immediately asked for a redraw but after protests from the MC and crowd, accepted the prize so as not to cause further embarrassment.
"As soon as her other engagements had finished that day, Ms Gillard advised the CEO of Beyond Blue she would be donating the prize back."
This was one of Gillard's first public events since announcing she'll take over as the head of the mental health advocacy group in July.
She spent $550 of her own money and all she got was a heap of bad publicity.