UPDATE: This post has been updated with the latest information from the Bureau of Meteorology, as of midday AEST on Sunday.
Tropical cyclone Debbie is expected to reach category 4 when it makes landfall in Queensland on Tuesday morning, and is being described as the most significant cyclone since Yasi in 2011.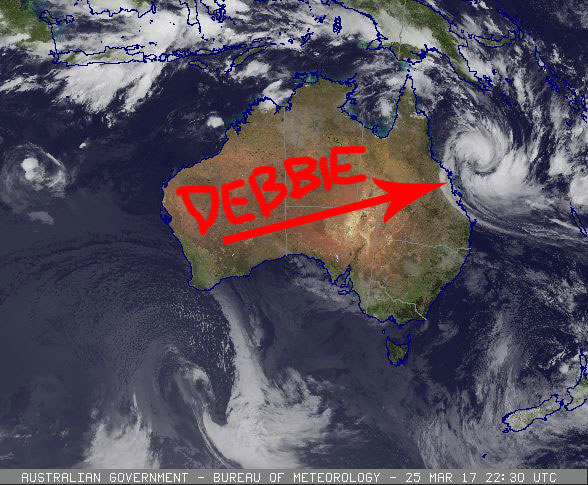 The slow-moving cyclone, currently a category 2, is sitting 475km northeast of Townsville. Areas between Townsville and Mackay are expected to be impacted.
It is expected to be upgraded to a category 3 on Sunday afternoon.
Debbie is likely to cross between Townsville and Proserpine, accompanied by heavy rain and dangerous tides for much of far north Queensland. Schools between Ayr and Proserpine will be closed on Monday.
Category 4 is the second most severe level of a tropical cyclone, bringing with it "very destructive winds" of between 225 to 279 km/h, which are likely to cause significant structural damage to buildings and widespread power outages.

Bruce Gunn from the Bureau of Meteorology said Debbie is shaping up to be the most significant cyclone since Yasi, a category 5, in 2011. Debbie is not expected to be as strong as Yasi, but will be larger in size, Gunn said at a press conference on Sunday morning.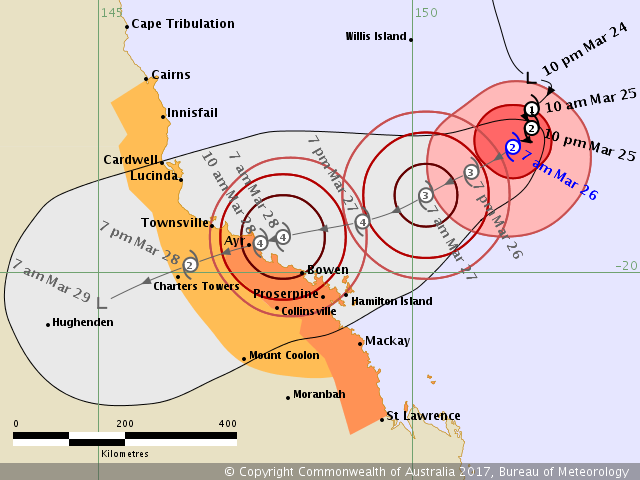 People between Cairns and Ayr, and inland to Charters Towers and Mount Coolon are being told to make preparations before Debbie hits. Residents are being told to tie down any loose objects around their homes, ensure their vehicles are full of fuel and prepare emergency kits.

"Please, if you are living in those communities up north, use this time to be prepared," Queensland premier Annastacia Palaszczuk said at a press conference on Saturday.
Queensland State Disaster Coordinator Stephen Gollschewski told residents to ensure they are adequately prepared.

"[People] need to have the food, the medications, the supplies they need for a protracted event. This could go on for some days," he warned.
"We're not just talking about a cyclone with wind, we're also talking about potential flooding events where there could be isolation."