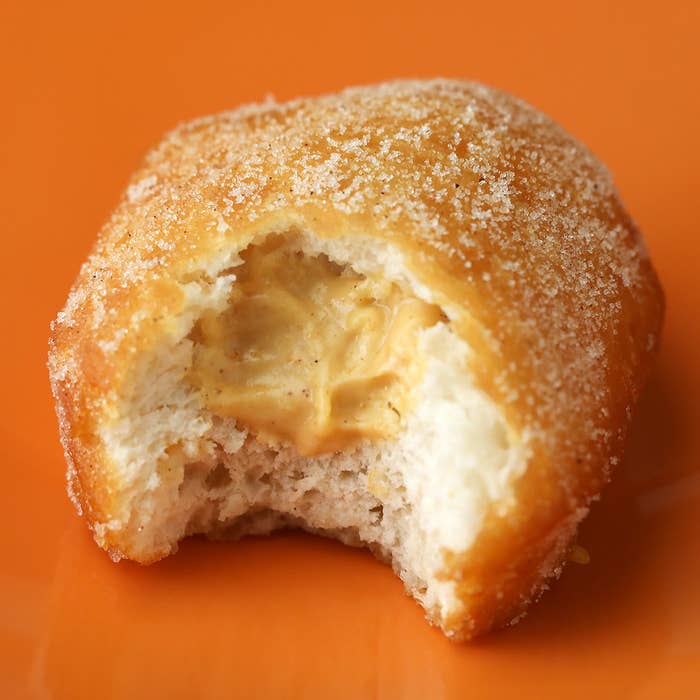 RECIPE
Servings: 12
Cooking Time: 5 hours
Prep Time: 1 hour

INGREDIENTS:
1 can Carnation ® Regular Evaporated Milk (12 oz.)
½ teaspoon salt
¼ cup + 1 tablespoon cornstarch
½ teaspoon vanilla extract
1 cup sugar, divided
3 egg yolks, beaten
2 tablespoons canned pumpkin
2 tablespoons butter, cut into small pieces
1½ teaspoons pumpkin pie spice, divided
12 refrigerated biscuits (16.3 ounces)
Vegetable oil, for frying
PREPARATION:
1. In a pot, heat Carnation ® Regular Evaporated Milk, salt, cornstarch, vanilla, and ½ cup sugar over medium-high heat, stirring occasionally. Bring to a simmer, then turn off.
2. Place egg yolks in a small bowl. Add a tablespoon of hot milk mixture to egg yolks and whisk. And another tablespoon and whisk again. Pour egg mixture into the pot, along with the pumpkin, butter, and ¾ teaspoon of pumpkin spice. Continue to cook until thick, 2–3 minutes, stirring constantly.
3. Remove from heat and let mixture cool for a few minutes, then blend. Cover with plastic (place plastic directly on surface of the filling) and chill for at least 3 hours.
4. Bring biscuits to room temperature. This will take at least 30 minutes.
5. Heat 2½–3 inches of vegetable oil (approximately 10 cups if you are using a 5-quart pot) over medium-high heat until candy thermometer reaches 330ºF. Do not fill pot more than halfway with oil.
6. Carefully fry biscuits until golden brown, making sure to turn in order to even color/cooking. Cook about 4–6 minutes and drain on paper towels. Allow to cool completely.
7. Using a piping bag with a small tip, carefully fill donuts with chilled filling, taking care to keep filling in.
8. Whisk together remaining sugar and spice. Roll donuts in spiced sugar and serve immediately.
(Freezing not recommended)
© Smucker Foods of Canada Corp. Carnation is a trademark of Société des Produits Nestlé S.A., used under license.