Pizza Pot Pie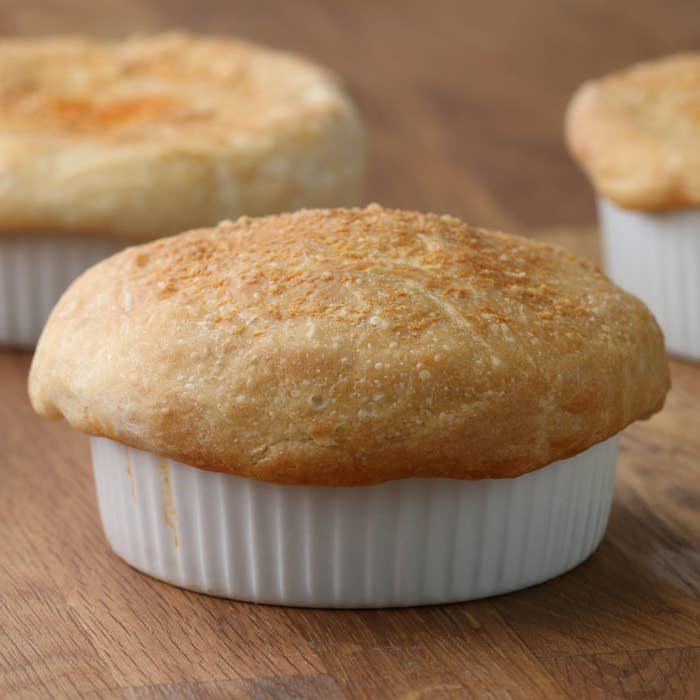 INGREDIENTS
Serving Size: 6 single serving pies
Pizza Dough
1 1/3 cup warm water
1 package dry yeast
3 ½ cups Robin Hood all-purpose flour, plus more for kneading
1 teaspoon salt

Fillings
2 cups marinara sauce
1 (12 ounce) package fully cooked chicken Italian sausage, diced
1 cup finely diced green or red bell pepper
1 cup chopped mushrooms
½ cup diced red onion
½ cup pepperoni, cut into quarters (optional)
½ teaspoon oregano
½ teaspoon garlic powder
2 cups shredded mozzarella cheese, divided
¼ cup grated parmesan cheese
Olive oil for brushing
PREPARATION
1. Sprinkle the yeast over the warm water and stir to combine. Let sit 5 minutes until it starts to bubble.
2. In a large mixing bowl, stir together the flour and salt. Make a small well in the center and pour the water and yeast mixture in the center. Using a fork, whisk together from the center of the well, slowly incorporating more flour from the edges.
3. When a loose ball forms, transfer to a floured surface and knead for 5 minutes until dough is smooth and elastic. Transfer to a bowl coated with olive oil and cover in plastic wrap. Let rise until dough doubles in volume, about 1 ½ hours.
4. In the meantime, prepare the filling. Combine marinara sauce, sausage, bell pepper, onion, pepperoni, oregano, garlic powder, and 1 cup of mozzarella.
5. Evenly distribute the mixture into 6 ramekins (or an 8x8 bake dish). Sprinkle the reserved mozzarella on top of the filling.
6. Preheat the oven to 400℉.
7. Cut the risen dough into equal halves, and reserve one half for a future pizza. Dough will keep 2-3 days in the refrigerator or up to 1 month in the freezer. Divide the other half into 6 equal pieces for the pot pies.
8. Roll out each piece of dough into a 6-7 inch circle. Lightly coat the edges of the ramekin with olive oil and place the dough circle on top, gently pressing around the edges. Cut a small slit in top of each with a knife. Brush with olive oil and sprinkle with parmesan cheese.
9. Bake 20 minutes or until golden brown.
10. Enjoy!