Maple Vanilla Red Velvet Ice Cream Sandwiches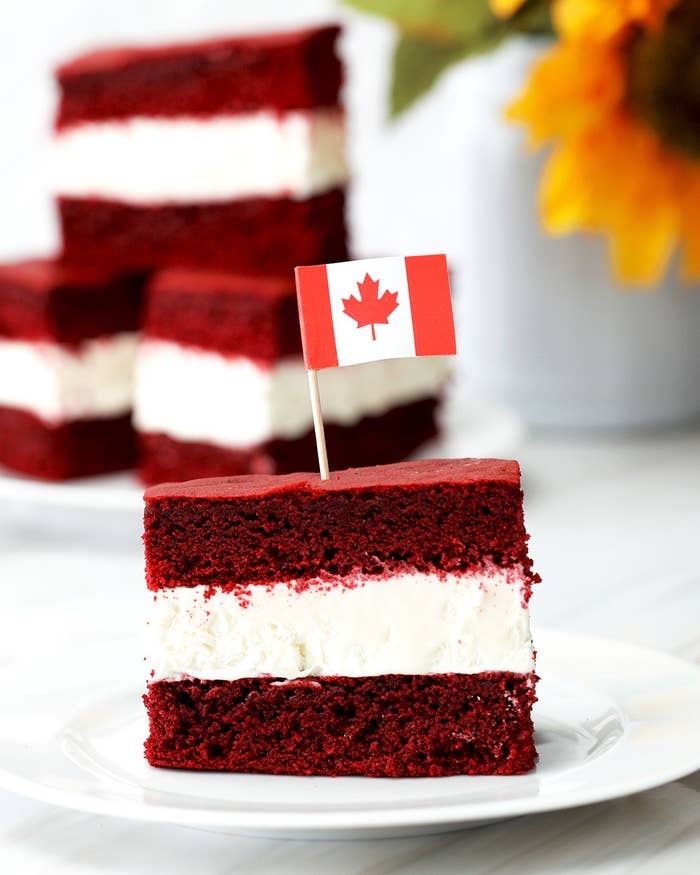 RECIPE
Yield: 12 Ice Cream Sandwiches
INGREDIENTS
2 boxes (15.25 oz) red velvet cake mix
1 cup vegetable oil
6 eggs
1 can Eagle® Brand Sweetened Condensed Milk
2 cups whipping cream
1 tablespoon vanilla extract
½ cup maple syrup
PREPARATION
1. Preheat oven to 350ºF.
2. Line 3 quarter baking sheet pans (9 1/2 x 13) with parchment paper in a "T" formation (lengthways and sideways).
3. Mix red velvet cake mix , oil, and eggs with electric hand mixer. Mixture will be very thick. Divide batter in half and carefully spread into 2 of the baking sheets.
4. Bake for 18 minutes or until done but slightly springy. Allow to cool completely.
5. Whip cream until stiff peaks form, then add vanilla.
6. Carefully fold in condensed milk and maple syrup.
7. Pour into remaining sheet pan and freeze until solid (at least 8 hours).
8. Remove cakes from pans, then discard parchment. Remove ice cream from pan as well and discard parchment. Stack cake and ice cream with ice cream in the center.
Carefully press down, then place back in the freezer for 1 hour to set.
9. Use a knife to even off edges and cut into 12 squares
10. Serve immediately. Or refreeze until ready to eat.