Bacon-Wrapped Burger Roll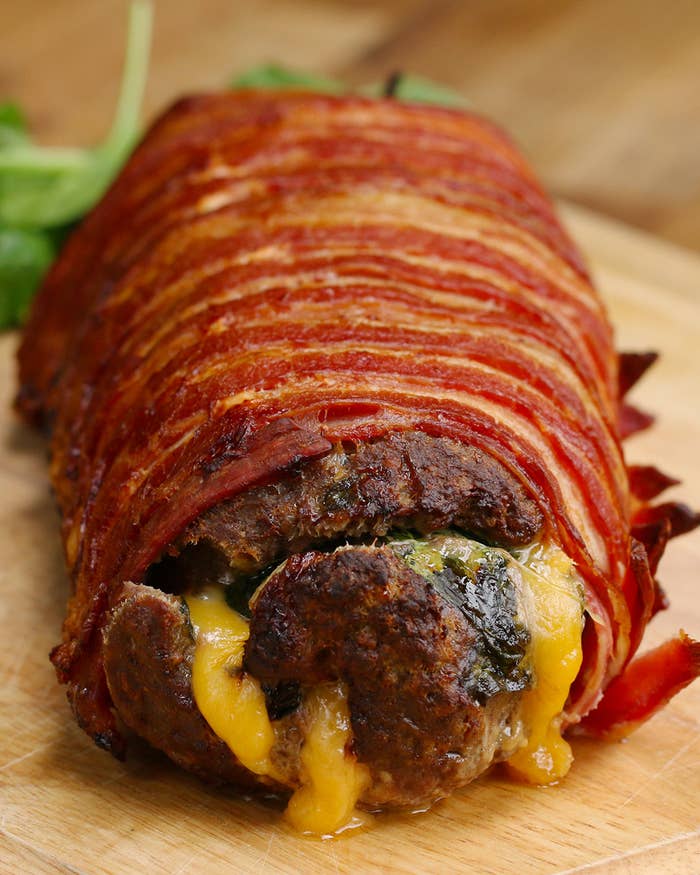 INGREDIENTS
2 pounds ground beef
2 eggs
1 cup bread crumbs
2 teaspoon salt
1 teaspoon pepper
2 teaspoons garlic powder
4-6 slices ham
8-10 slices cheddar cheese
2 cups spinach
10-12 slices bacon
PREPARATION
1. Preheat the oven to 350˚F/180˚C.
2. In a large bowl, mix the ground beef, eggs, bread crumbs, salt, pepper, and garlic powder. Mix until well combined.
3. Put the mixture in a medium baking tray lined with aluminum foil and distribute the meat mixture evenly.
4. Add the ham, cheese, and spinach on top of the meat.
5. Carefully lift the meat and form a roll.
6. In another aluminum-lined baking tray, place the slices of bacon side by side, one next to the other. Place the meat roll on top of the bacon.
7. Roll up the meat with the bacon, then wrap with foil.
8. Bake the aluminum-wrapped roll for 25 minutes.
9. Increase the temperature to 500˚F/260˚C. Remove the foil and bake for 20 more minutes until the bacon is golden brown and crispy.
10. Cool for 5 minutes, then slice and serve.
11. Enjoy!