Looking for a job isn't easy. You have to trawl through job boards, tailor your résumé to multiple applications and pray that you'll get a response. And when you do, then comes the hard part — nailing the job interview.
That's something that Mikey Saber, an ex-porn star and the main character in Sean Baker's latest indie flick, Red Rocket, — which is already generating Oscar buzz, mind you — can relate to.
After a Los Angeles lifestyle left him broke, Mikey returns to his hometown in Texas to start a fresh, new chapter in his life. The problem? He may be a street-smart individual, but on paper, he's not exactly a highly-desirable employee.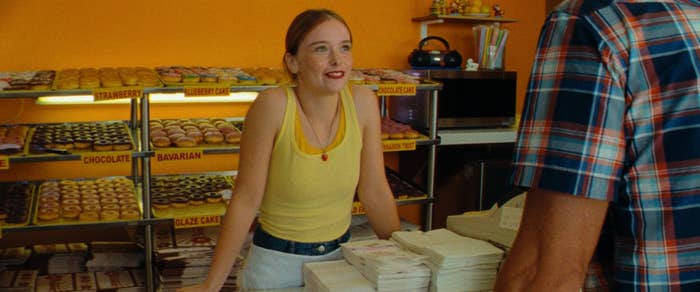 Inspired by Mikey's street-smarts, here are some real life skills that you probably shouldn't share while being interviewed for a job:
1.
You know how to perfectly roll a joint — each and every time.
2.
And you've impressed colleagues, friends and acquaintances with your smoke ring skills on more than one occasion.
3.
You're not afraid to bend the rules to get the job done — even if that means getting your hands dirty.
4.
You're good at pleasing people — especially in the bedroom.
5.
You're a grade-A bullshitter — who can hustle their way into or out of any situation.
6.
You've mastered the lingering rom-com gaze, which sure comes in handy when you've spotted someone that you're interested in.
7.
And, of course, your make-out skills are up to scratch — you've had a fair bit of practice, after all.
8.
You know all of your best angles.
9.
And lastly, you get along easily with man's best friend — thanks to your good vibes and energy.
You can catch Red Rocket in select Australian cinemas from January 6, 2022! It's set to become the most talked about indie film of the summer, so you don't want to miss out.