Beer-Battered Fish Tacos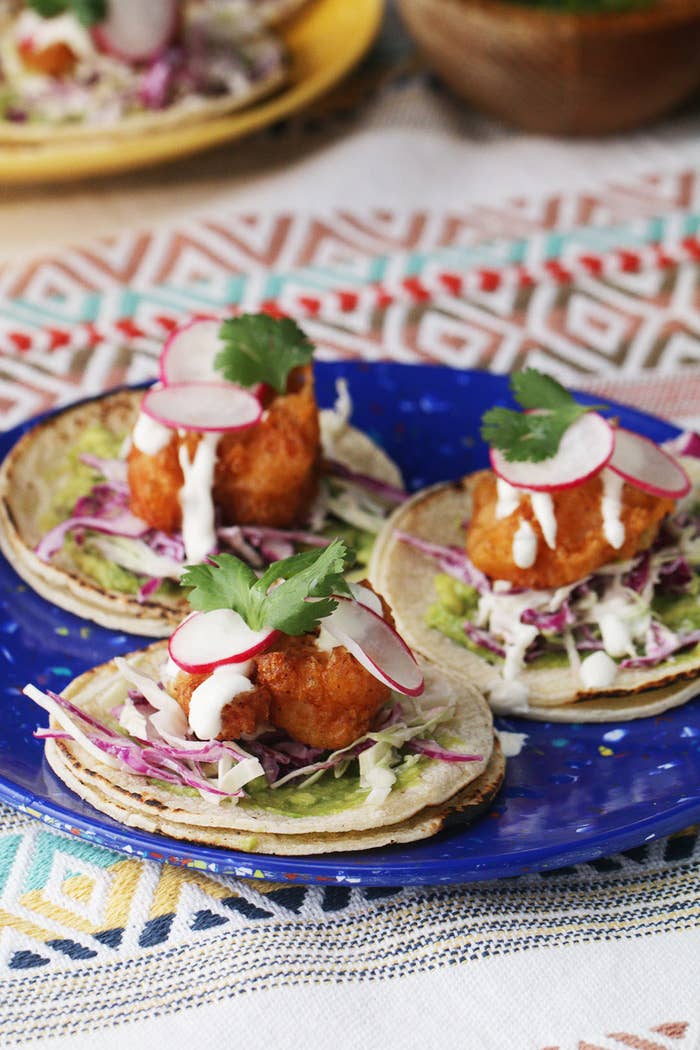 INGREDIENTS
Sauce
1 cup sour cream
2 tablespoons lime juice
1 tablespoon lime zest
1 teaspoon salt
Coleslaw
1 cup red cabbage, julienned
1 cup green cabbage, julienned
1 jalapeño, minced
Juice of 1 lime
Shrimp
1 pound shrimp, peeled and deveined
Salt, to taste
1 cup flour
1 teaspoon garlic powder
1 teaspoon smoked paprika
¼ teaspoon cayenne
½ teaspoon baking powder
1 cup beer
Oil, for frying
Corn tortillas, to serve
Guacamole, to serve
Sliced radishes, to serve
Cilantro, to serve
PREPARATION
1. In a small bowl, combine the sour cream, lime juice, lime zest, and salt and mix well.
2. In another bowl, combine the red cabbage, green cabbage, jalapeño, and lime juice and mix. Add 2 tablespoons of the sour cream sauce mix until fully incorporated.
3. Season the shrimp with a big pinch of salt.
4. Combine flour, garlic powder, smoked paprika, cayenne and baking powder in a medium size bowl and mix well. Add beer and stir well.
5. Add shrimp into the batter, making sure each is fully coated.
6. Heat oil in a pot to 350˚F (180˚C). Fry the shrimp in batches for 4 - 5 minutes, or until golden brown. Transfer the shrimp to a paper towel-lined plate.
7. Top a tortilla with guacamole, rainbow coleslaw, fried shrimp, a drizzle of sour cream sauce, sliced radishes, and cilantro.
8. Enjoy