Confetti Omurice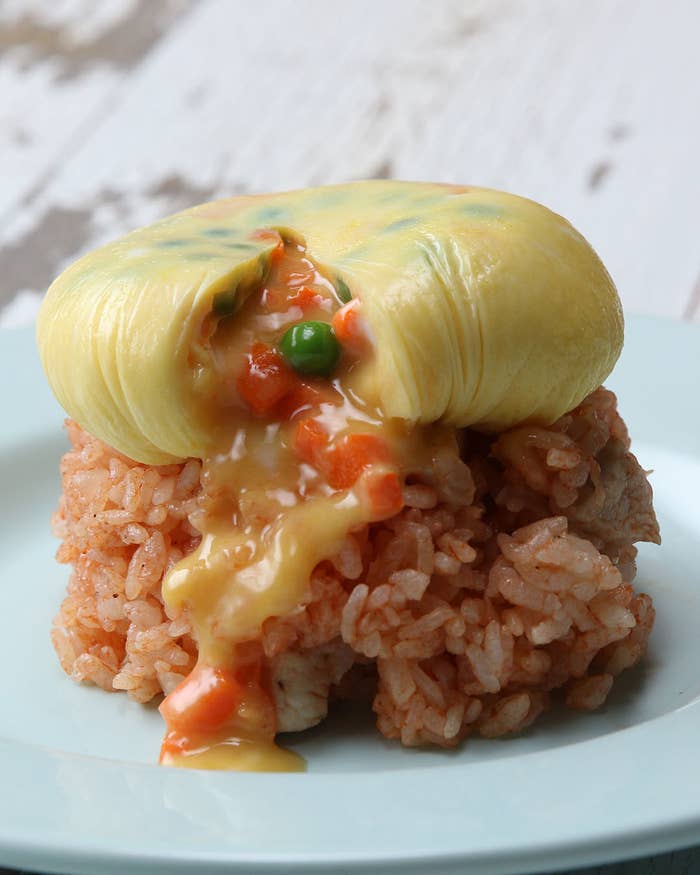 INGREDIENTS
Serves 4
Chicken Rice
1 tablespoon cooking oil
3 oz chicken breast, diced  
½ onion, diced
4 cups cooked rice
5 tablespoons ketchup
Salt and pepper, to taste
Confetti Omurice 
8 eggs
4 tablespoons milk
8 tablespoons english peas, cooked
4 tablespoons carrot, diced into 5mm, cooked
PREPARATION
To make chicken rice, heat cooking oil in a pan and add chicken. Once chicken is browned, add onion. Season with salt and pepper.
Add the rice in the pan and mix lightly. Add ketchup and mix well until the rice is evenly red.
Make confetti omelet per portion (x 4). Place a plastic wrap over a small deep bowl. Cut the plastic twice as big as the bowl. Set aside.
Break two eggs in a bowl and whisk. Add milk and mix well. Pour the egg mixture into the bowl with the plastic. Add English peas and carrots into the bowl.
Twist top of the plastic lined. Tie it with a twine to seal the mixture inside.
Cook the egg mixture in the boiling water, constantly moving so the egg mixture cooks evenly. Once the egg mixture is separating from the plastic, and the outside is firm and cooked, remove from boiling water (approximately 4 minutes). Cool the egg mixture packet to touch.
Mold a cup of chicken rice in a rice bowl. Flip onto a flat plate. Place the omelette on top of the molded rice.
Enjoy!
Want BuzzFeed Tasty right in your inbox? Sign up for our newsletter!
If you can't see the signup box above, just go here to sign up for the BuzzFeed Tasty newsletter!