Britain's largest care home provider was in a tailspin — missed profit targets, ballooning debts, cratering stock price. So executives at Cambian Group plc, which bills taxpayers millions to look after disadvantaged children, came up with a plan: Cut spending and fill beds.
Consultants came in to review Cambian's "cost management". A "turnaround specialist" renowned for slashing expenses at corporate giants joined the board. Executives pushed staff to tighten their budgets and to hit occupancy targets in order to, as one memo put it, become "more efficient and agile" and "remain attractive to investors".
The plan worked. In the past two years Cambian's stock has tripled, and it cleared more than £192 million in revenue last year.
But while Cambian has reaped the benefits of its corporate recovery, young people in its care have endured decrepit conditions and even suffered violent assaults, a BuzzFeed News investigation has found. Documents and interviews show vulnerable kids forced to share close quarters with dangerous peers, rooms marred by vomit spatter and broken furniture, and homes spiralling out of control under the watch of poorly trained staff.
Some former Cambian employees say they had to claw and fight for even the most basic necessities for the children they looked after. Leigh Barton worked at a "volatile" home in Doncaster that was often run on skeleton staffing, where he said that front-line employees were "always brushed aside" when they asked for more resources. Then, at monthly meetings, management grilled them about their expenditures and ways they could cut back. "It was just 'money, money, money, money, money,'" Barton said.
Cambian was pulling in thousands of taxpayer pounds each month for the children in the home — yet sent staff only a £45 weekly allowance per child for day-to-day needs, Barton said. He was left with a burning question: "Where the hell is the money going?"
Cambian said in a statement that Barton "is incorrect" about the weekly allowance for each child. His figure excludes "additional budget allocated for clothing, toiletries, holidays, savings, birthdays, religious celebrations and personalization", and the true total is £159 per week, the company said. Monthly meetings "are not focused solely" on money, and the home Barton worked at has consistently been rated "good" or "outstanding" by government inspectors.

A BuzzFeed News investigation has found severe failings across Britain's children's care sector, which has become dominated by for-profit companies. Private providers charge taxpayers millions, yet their facilities are rated subpar more often than homes run by nonprofits or local governments, according to a BuzzFeed News analysis of the latest available regulator data.
Today we raise serious questions about whether the publicly traded, private equity–backed Cambian shortchanged children during its relentless quest to please investors. We obtained a cache of internal company documents, scoured government inspection reports, and interviewed 15 former Cambian employees. Our investigation can reveal:
Young people in Cambian homes have been attacked, threatened with death, and arrested. They have endured environments featuring weapons, drugs, and "chaos". One felt "petrified and scared" to be in a Cambian home.

They stayed in homes with bathrooms lacking toilet paper and soap, with cupboards lacking food, with broken furniture or unhygienic rooms, with offensive graffiti etched on the window. Inspectors have described homes as "cold", "sparsely furnished", and "unwelcoming and bare". One home failed to treat children "with the dignity and respect that they deserve", an inspector wrote.

Beleaguered staff members have resorted to excessive "physical restraints" to keep children under control at some homes. One told BuzzFeed News that he used "illegal" restraints multiple times because he was too "outnumbered" to cope with difficult situations.

One quarter of Cambian homes in England have been graded as "inadequate" or "requires improvement" by the regulator Ofsted, a rate higher than homes run by local authorities, nonprofits, or the rest of the private sector.
Cambian strongly rejected many of these allegations. A Cambian spokesperson, Richard Campbell, told BuzzFeed News that the company's "overriding priority" is "the wellbeing and safety" of the children it looks after. "We take our responsibilities to these children very seriously and do our utmost to ensure that they receive a standard of care and education that allows them to reach their personal best."
The company said it spends millions on repairs, pays its staff well, and ensures employees receive the training they need to keep children safe and to prevent the use of unnecessary restraints. Many of its homes quickly improved after government inspectors identified problems, Campbell said. "Where our own high standards have fallen short, we have an excellent track record of reacting with agility and resource to take appropriate corrective action."
In lengthy written statements delivered through a lawyer, Jonathan Coad, the company said all its cost-cutting has come from corporate inefficiencies, not the care that children receive. Cambian shelters "some of the most damaged and disturbed children in the country", the statement said. "It is inevitable that some of those children will express themselves violently on occasion." The company doesn't "just fill beds", but instead does "all that we can" to ensure children are not placed in harmful environments. As for the former employees BuzzFeed News spoke with, the company dismissed them as "malcontents" who make up what "appears to be a minute fraction" of the workforce.
Coad initially offered to set up an interview with Cambian's chief operating officer, Anne Marie Carrie, but then withdrew it because she "has better things to do tomorrow than assist in a journalistic exercise which is devoid of legitimacy".
Care homes serve as a last resort in Britain's child protection system. The children they take in have often suffered serious abuse or other trauma and have washed out of the foster care system, usually because their needs are too complex and their behaviour too challenging.
Cambian and other for-profit providers rose to prominence in the past two decades after cash-strapped local governments started outsourcing this difficult task, with the hope that it would drive down costs while improving care.
There is little evidence that either has happened. Local governments often have few viable options and need to place a child in a home quickly. As a result, the process can amount to an auction of sorts: The council asks for bids, and whichever company comes in with the best offer wins. It "was like a cattle market for children", said a former Cambian manager who declined to be named because she still works in the sector.
In theory, this is supposed to be cost-efficient. But in practice, companies can take advantage of the fact that the children have nowhere else to go, and push for extra services that drive up the costs. "Believe you me," the former manager told BuzzFeed News, "on a Friday afternoon if you've got a social worker that wants to place a kid by 5 o'clock they will give you whatever you want."
Cambian vigorously disagreed with this assessment. "Placement of children in any form of care services is not an auction of any sort," the company said. Home managers have "one key responsibility", and that is to "meet the needs of a child". Social workers don't have the "authority" to place children, the company said, and fees are "pre-set through legal framework agreements and cannot be altered on a whim".
"Young people have been involved in, and witness to, physical assaults on one another and staff."
In any case, industry-wide the cost to taxpayers has not led to better quality. A BuzzFeed News analysis, using the most recent inspection data available, shows that 19% of private care homes overseen by Ofsted were graded "inadequate" or "requires improvement" as of 31 March — a higher percentage than at homes run by nonprofits (16%) or local governments (15%).
Sarah Champion, the Labour MP for Rotherham, called BuzzFeed News' findings about for-profit companies "scandalous". Private providers use "the most vulnerable" children as a "cash cow", Champion said. "I find that to be immoral," she added. "We have a statutory duty to look after them and I don't think that is being best served by using these companies."
The numbers are especially stark for homes run by Cambian. The company has been charging taxpayers more and more — an average of £127,000 per child a year, a 9% increase from last year. Yet the company's homes are rated subpar at a rate substantially higher than homes run by local governments. (For a full explanation of BuzzFeed News' analysis, click here.)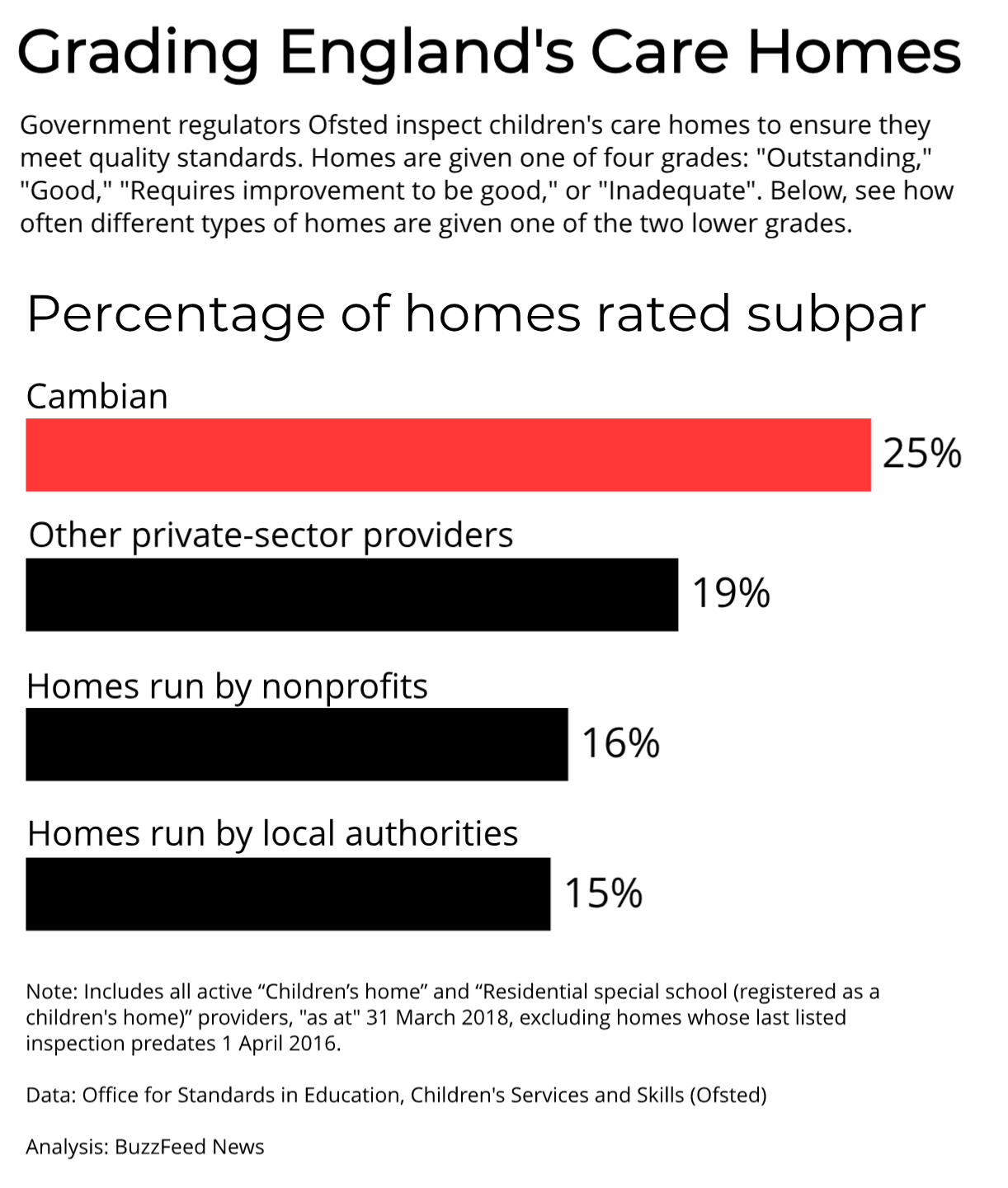 Cambian told BuzzFeed News its analysis was "grossly misleading and inaccurate", because it does not include inspection grades for Cambian services overseen by other regulators: Care Inspectorate Wales, which oversees Cambian's care homes in Wales, and the Care Quality Commission, which regulates health services. The company said it discloses inspection numbers showing the company is "aligned to the sector average" in its annual reports, which "are fully audited and checked as a regulatory requirement". Average fees have increased because the company has been looking after more and more children with "highest severity" needs, whose care costs more, the company said.
Former Cambian employees told BuzzFeed News that management skimp on staffing and resources yet push to keep homes as fully occupied as possible — even when it means sending children to live with other young people who pose them serious danger.
In one home a 10- or 11-year-old girl was sent to live with "16-year-old lads" who were "all going out, smoking, doing drugs", said Daniel Huszar, a former "team leader" at Cambian homes in Greater Manchester. "That to me was like, no, you don't put a little girl through that." Cambian told BuzzFeed News there was "no consequence as to the impact of this alleged placement", because normal family homes often feature a variety of ages. "Such an age range is not unusual." Staffing levels are robust and the company spends millions on maintenance each year, the company said.
In another home, a 10-year-old autistic boy was sent to live with two teens known to bully people, who then abused him, according to Samaira Azim, a staff member at the home. Cambian said that BuzzFeed News did not provide the company with enough information "to fully understand the validity of this allegation" and that "no general principles can be drawn from rare and isolated alleged incidents such as this one, especially when you have not produced sufficient detail for us to verify them".
Government inspection reports are littered with other examples of Cambian filling beds without adequately considering the dangers. Many children in need of care homes have experienced serious trauma — some are aggressive or even violent, while many others are vulnerable to bullying or much worse. Adding the wrong child to the mix can put children in extreme peril. But six different inspections in the first five months of this year have found problems with how Cambian matches children with one another. At one home in Wolverhampton, for example, "poor" decisions "compromised the safety of young people", leading them to go missing from the home and become "aggressive toward staff and other residents".
Cambian told BuzzFeed News that Cambian "makes every effort possible" to ensure children are placed in the right homes. "This is not always successful," the company said, because of "the changing needs of young people" and because local governments and previous carers sometimes provide "incomplete" information. "This is, however, no different from other providers in the sector," the company said.
Unstable homes have been overseen by staff with little training, compounding the problem. At one home in Manchester, bad behaviour escalated when "inexperienced staff have been left to lead shifts", the inspector wrote. Children at the home were "violent and aggressive", engaging in "criminal activities", and running away with ease.
Cambian said it is "misleading" for BuzzFeed News to connect the training problems with the violent behaviour inside this home. The company noted that the home has improved since these problems were identified, receiving a "good" rating on a more recent inspection, which found that the children were on "generally good" behaviour and following "consistent" rules set by staff.
"You have provided no evidence to suggest that our staff working hours, pay or assignments are any different to any other provider."
Even a former Cambian board member who defended the company's top executives admitted that the company faces intense financial pressure to keep homes full. In a home that caters to four children, if there are two empty spots, "you may be loss-making", he said, requesting not to be named because he didn't want to anger his former colleagues. "The economics of it are quite brutal." Cambian said that it puts "no financial pressure on home managers" to fill homes, that its "primary focus" is to "support young people", and that it is able to "redeploy staff to account for variations in occupancy".
That brutality plays out far differently for executives and investors from how it does for children and carers. Higher-ups have received millions in benefits and shareholders have received millions in dividends. Cambian is now worth nearly £340 million. But inside homes, it can be a struggle to get the company to provide even the bare essentials, former employees said.
One home where Huszar, the former team leader, worked went months without a vacuum cleaner, he told BuzzFeed News. He kept asking Cambian for a replacement but never got an answer. Eventually one of the kids got so tired of waiting to clean his room that he asked if a friend from outside could come over and bring a spare, Huszar said. "It just gets to a point when you are banging your head against a brick wall," he said. Cambian told BuzzFeed News that it was "unable to identify" any staff requests for a new vacuum cleaner inside that home, and therefore "cannot comment on the matter".

Saleem Asaria was an ambitious healthcare executive with close-cropped hair, a North American–sounding accent at odds with his British upbringing, and a £13 million fortune from developing senior living businesses. GI Partners was a transatlantic private equity firm best known for its investments in a caravan park operator and the Yates pub franchise. In 2004, they got together and formed Cambian. The company started out in "adult care", running mental health hospitals, then expanded into the burgeoning children's residential care market.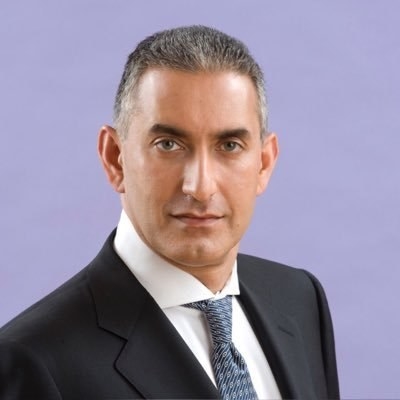 Their timing was perfect: Britain's care homes were undergoing a radical transformation from mostly government-run to overwhelmingly outsourced to private providers. At the turn of the century, local authorities ran 60% of all care homes. By 2014, private companies ran three-quarters of them.
Cambian rode the wave, growing larger and larger. In 2014, it became a behemoth. The company went public that year, floating shares on the London Stock Exchange, and investors poured in nearly £200 million. Asaria was richly rewarded, pulling in a £9.4 million compensation package laden with stock options.
"I wouldn't want anyone to have sympathy for that number," admitted Cambian's former board member. But it was a just reward for the "effort it took" to get Cambian off the ground, the board member said, and "build it up to what he built it up to". The board member declined to answer whether he still held personal interests in the company.
The company went on a spending spree after it went public, scooping up dozens of new homes and buying out smaller childcare providers. Cambian's debt skyrocketed, and investors raised a stink, sinking the company's stock price. Asaria announced that he had made a mistake. "We grew too fast and put in too much cost," he told a reporter.
Asaria and other executives quickly homed in on how they could tighten the belt. They hired PricewaterhouseCoopers, one of the famed Big Four accounting firms, to conduct a "financial review", and came up with "remedial actions to improve our cost control", they would later tell investors. PricewaterhouseCoopers declined to comment for this article, citing client confidentiality.
Cambian also brought aboard a man renowned for helping troubled businesses right the ship. His name was Donald Muir, and he had honed his techniques at a bank, a telecommunications company, and Rangers Football Club. Muir told the Financial Times in 2008 that people often question whether he knows the specifics of their business well enough to be helpful. "I tell them that a pound note is the same in any sector, and we need to generate cash," he said. Cambian said in a statement that these comments are "wholly irrelevant" and that making reference to them is "misleading". Neither Muir nor Asaria responded to letters seeking comment.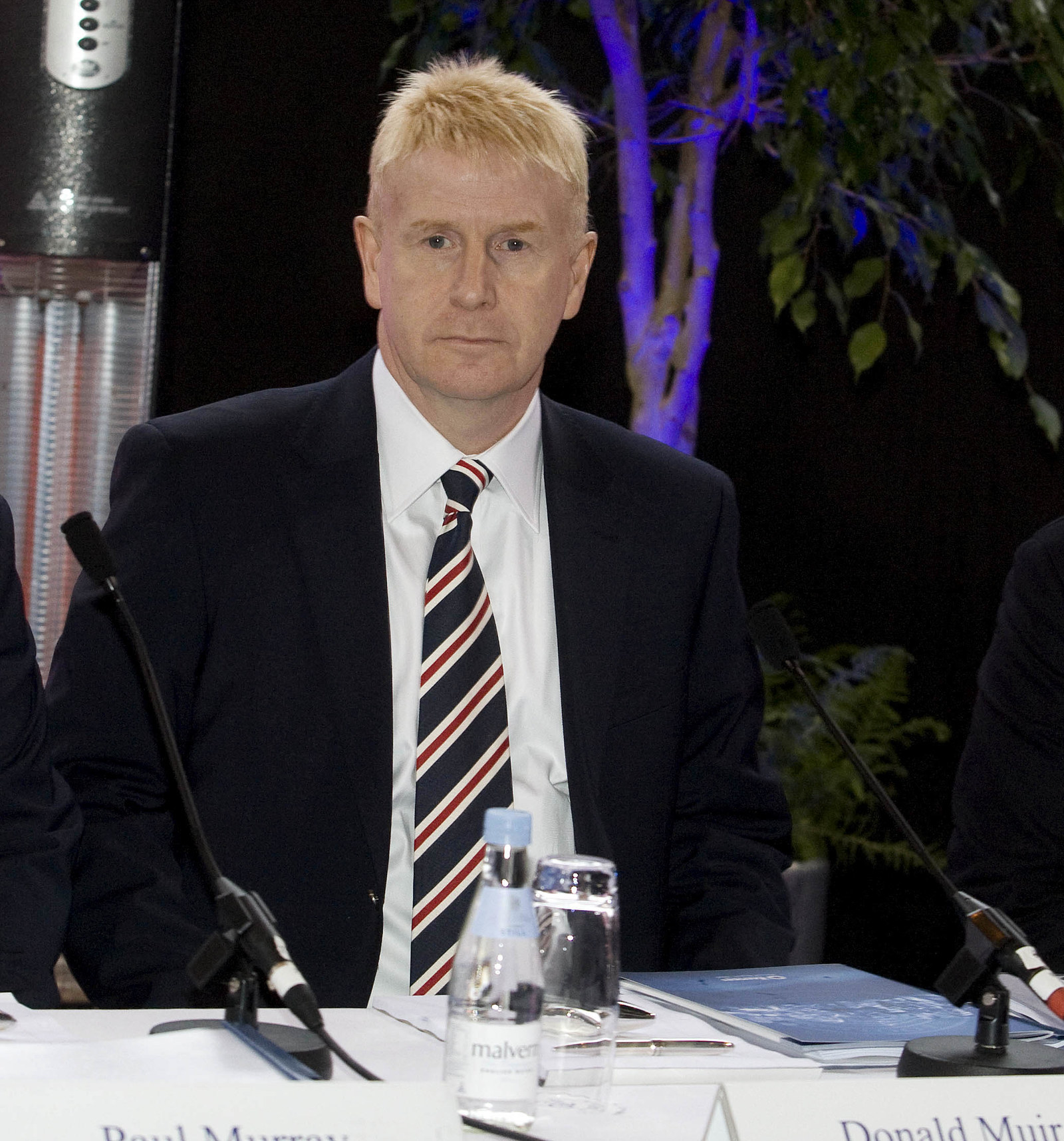 Days after Muir joined the board, a Cambian director sent out an all-staff email, obtained by BuzzFeed News, outlining how the company planned to trim costs "where we can" in order to "remain attractive to investors". She promised that the cuts would not compromise "the quality of front-line services", and that Cambian would continue to "meet the needs of those we serve".

Those promises were not kept, former employees told BuzzFeed News. The cuts left some children who relied on therapy without therapists for up to six months. Carers found themselves pulling double or triple shifts to cover staffing shortages — one told BuzzFeed News he once had to work 32 hours straight.
Cambian told BuzzFeed News it has a "therapy team of over 160 staff". When Cambian "restructured" the team, it was to "make better use" of its staff's skills and did not lead to less therapeutic care. "We do not believe that any child was unable to access therapy for the period of time stated," Cambian said, and the decision "had no bearing on any stock market activity". The budget-trimming has focused on administrative costs, and did not affect the "services we provide to children". Staff only work as long as they agree to, and generally not more than 15 hours per shift or 40 hours per week, Cambian said. Any suggestion that lengthy shifts are common practice at Cambian "would be both incorrect and misleading", the company said.
During this time, maintenance budgets became "squeezed" and it became a "constant battle" to get anything repaired, said James Morris, a former team leader at a Cambian home. Another former employee said that it got to the point where fixing a broken washing machine became a difficult ordeal that could take months. At her home, windows needed replacing and so did floors. "It looked like Bob the Builder was in there," the employee said.
Cambian told BuzzFeed News that it spends £6 million per year on repairs and maintenance, and employs a "24/7 in-house team" to address important issues. The home Morris worked at was rated "good" on four different inspections during his tenure there, and none "of these allegations were noted" in any of those inspections, Cambian said. Cambian has spent £88,000 on "maintenance and repairs" at the home in the past three years, the company said. The company said it had "no record" of issues with broken washing machines.
Government inspection reports reviewed by BuzzFeed News catalogue a wide range of disrepair inside other Cambian homes.
One inspector cited a group of homes in Dorset for "poor quality" bathrooms, many of which had "no toilet paper, sink/bath plugs, towels and hand soap". Another, in Somerset, found that a child's broken bed and wardrobe had languished unfixed, and the bedroom's "conditions were unhygienic".
Cambian said that toilet paper and other items posed a "safeguarding risk" for the children, who had "severe learning disabilities and autism", and were only removed from the bathrooms when they were unattended. A subsequent inspection of the Somerset home, Cambian noted, found that it had made "huge, unexpected progress" under new leadership and that the "home environment has improved considerably".
"They could have put these two kids somewhere else. But all they were interested in was filling beds."
At another home in Northamptonshire, inspectors found missing kitchen doors, damaged floorboards, and windows showing "obvious signs of needing full decoration or replacement". Yet one more, in Cambridgeshire, noted that fire risks flagged 16 months earlier had still "not been addressed". Cambian told BuzzFeed News that it has spent more than £285,000 on maintenance and repairs at the two homes over the past three years. Both homes have been rated subpar again in subsequent inspections.
One former employee told BuzzFeed News that Asaria, the CEO, was not always a fan of the conditions inside Cambian facilities. He declined to go inside one, the former employee said, because of how "it smelled". Cambian strongly denied this and said that Asaria has never refused to enter one of Cambian's homes.
In any case, inspection reports at a number of Cambian homes show employees unable to get ongoing maintenance issues fixed. "Staff continue to be frustrated that repairs are not routinely completed in a timely manner," an inspector wrote of a home in Warwickshire. Cambian told BuzzFeed News the home has since been redecorated, earning it a "good" rating in a more recent inspection.
At another home caring for six young people with emotional or behavioural difficulties in Dudley, West Midlands, the manager had applied for money to "make the environment more homely" but hadn't gotten any approval from his superiors, the inspector noted. As a result, the home was in a wretched state. The inspector found "offensive graffiti", a cigarette burn, and "a young person's sick" not yet cleaned up.
The home's manager had pushed for more money on "numerous occasions" but still hadn't heard back, the inspector wrote. "Consequently, young people continue to live in a home that does not treat them with the dignity and respect that they deserve." Cambian said in a statement that when inspectors returned to the home months later, they gave it a rating of "improved effectiveness", finding that Cambian had "refurbished" the home to make it "more welcoming and comfortable".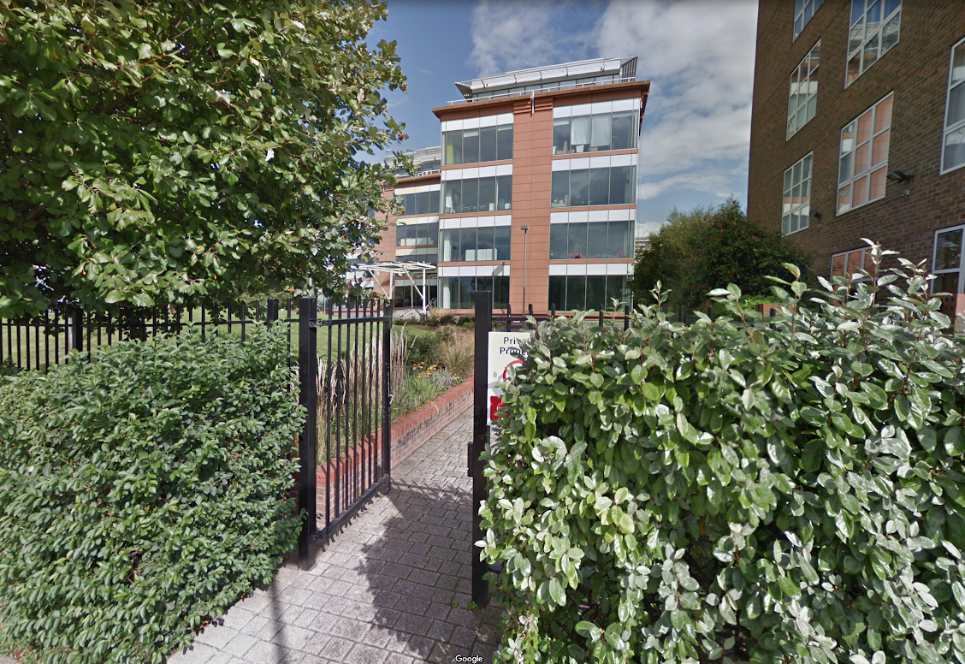 Alongside cost-cutting, Asaria found another way to turn around Cambian's stock market nosedive: Fill empty beds. The company told investors that its renewed focus was "now on filling existing capacity".
Even before the share price went downhill, executives had pressed the importance of meeting those targets to Cambian management and sent them bonuses for hitting them, three former employees told BuzzFeed News. One former manager, who declined to be named because he still works in the sector, said that when he started at the company he was told he needed the homes in his region to be 85% full at all times.
But when Cambian's stock fell, executives ratcheted up the pressure, the former manager said. Shortly before the company announced to shareholders that it was in financial trouble, higher-ups invited the former manager to the company's glass-plated waterfront offices in Hammersmith, London, where he said they told him to go beyond the targets and "get as much as we can to satisfy" shareholders, who "got jumpy" over the numbers. A few months later, the Cambian internal memo announcing its turnaround plans declared that there would be "stretching year-end targets" for "occupancy".
Cambian told BuzzFeed News that the company did not exert any pressure on managers to fill beds. Cambian sets "clear targets" just like "any business", to provide "focus for all staff", the company said. But there's no incentive to put a child in a home environment they shouldn't be in, Cambian said, because they would eventually have to be moved somewhere else.
But in their push to keep homes fully occupied, management have often ignored the risks of mixing vulnerable children with violent peers, documents and interviews show. Many Cambian homes become powder kegs as a result.
Samaira Azim, a staff member in Manchester, recalled the 10-year-old autistic boy — who had "experienced every form of abuse you can think of" — whom Cambian had sent to live with the two teenagers who had a history of bullying and abusive behaviour.
When BuzzFeed News made reference to Jobs and the turtleneck in a question, Cambian replied that the analogy was "at best unfortunate" because Jobs died in 2011, and because Jobs "did not make it famous".
When Azim raised concerns, managers became "furious" with her, telling her it was "none of your business", she told BuzzFeed News. Inside the home, the two older children quickly began intimidating and bullying the younger boy, Azim said. In retaliation, the boy started assaulting staff and making allegations against them when they restrained him.
"They could have avoided that. They could have put these two kids somewhere else," Azim told BuzzFeed News. "But all they were interested in was filling beds."
Cambian told BuzzFeed News in a statement that without more detail about this allegation, such as "exact dates" and "timings", the company has been "unable to triangulate" it and therefore "it is not possible to comment". If the incident did happen, it would be a "rare and isolated" case, from which "no general principles can be drawn".
At another home in Doncaster, a teenage boy started bringing in knives and other weapons. Staff confiscated what they could but weren't able to keep up, a former employee told BuzzFeed News. The employee said she pleaded with management to remove the child from the home before he hurt someone, but the child remained.
One day the boy attacked one of the others in the home with a baseball bat, said the former employee, who declined to be named in fear of retribution from Cambian directors. The victim survived the attack but was now terrified to be in the home. The former employee said she reported the incident up to Cambian management, expecting that the violent boy would be removed before he could hurt his peer again.
Cambian did nothing, the employee said. The boy remained in the same house.
Cambian told BuzzFeed News that the assault did happen, but "no baseball bat was used". The two boys "settled their difference", Cambian said, and remained in the home together until, nearly a year later, they both left.
At home after home, government inspectors have found that Cambian placed children in inappropriate and dangerous settings. "Poor matching" of children sent a home in Wolverhampton into anarchy: "Young people have been involved in, and witness to, physical assaults on one another and staff." Some of the children had joined in the "aggressive behaviours" simply because they were "feeling scared", the inspector wrote.
Cambian told BuzzFeed News that this home was run on a type of contract that gives the company less autonomy than normal over which children it chooses to accept. Cambian stopped running the home after the contract ran out.
"We do not 'just fill beds,'" Cambian said. Because of the impact a bad placement can have on a home, "we do all that we can to avoid this."
At another home, in Warwickshire, the company admitted a child without first acquiring "key information" about whether they were a suitable fit, leading to "an inappropriate decision", inspectors said. The child had to be removed from the home — an outcome childcare experts say adds further chaos to the lives of children who have often already lived through years of instability. Cambian noted that "despite these comments" the home received a "good" rating.
Staff at a home in east Yorkshire were well aware of the dangers of a bad placement. "I think we need to ensure that we've got the right mix of kids," one employee told the inspector. The home's manager had raised the issue with his superiors. But the manager's "concerns do not appear to have been acted upon", the inspector wrote. As a result, the atmosphere of the home "deteriorated", with the children becoming more and more aggressive towards one another. Cambian told BuzzFeed News the home has since been closed and "will reopen to provide a different type of service".
Cambian often sprang new arrivals on a home at the last minute, leaving staff scrambling to figure out how to make the placement work, said a former manager of Cambian homes in Birmingham and Wolverhampton who asked to remain anonymous because they still work in the sector. "They would just say, 'Right, we have got this admission coming in. It's 3 o'clock now; the social worker will drop them off at 5,'" they said.
The former manager would receive little information about the child and would have no time to assess how the admission might affect the rest of the home. "I used to fight it and say absolutely not, I am the responsible individual for this home — it's not happening," they said. "They would just say, 'We're under pressure, the beds need to be filled, children need to live somewhere.'" Cambian told BuzzFeed News "'springing' placements on staff simply cannot happen," because the home's manager has the power to decide whether the home is the right fit and authorise the admission.
Sometimes the warning signs were blatantly obvious. In Oldham, Greater Manchester, a home admitted a young person whose own care plan dictated that he should not live in the region, inspectors wrote. Cambian told BuzzFeed News the local government involved was "aware of this care plan advice" when placing him in the Oldham home, and agreed to a strategy to "mitigate this risk".
At the Doncaster home where the assault happened, the two children "had previously known each other and had problems", the former employee told BuzzFeed News.
But Cambian simply had other priorities, the former employee said. "As soon as a bed becomes available, they're just itching to get whomever in there to fill their quota."
Cambian told BuzzFeed News that it "makes every effort possible" to ensure that children are placed in the right home. "We do not 'just fill beds,'" Cambian said. Because of the impact a bad placement can have on a home, "we do all that we can to avoid this."

Last September, Cambian announced victory. It now had a "strong balance sheet", "confidence" in its future prospects, and a stock price back on the rise. The company had wiped away its staggering debt, thanks to its cost-cutting — and to a controversial £377 million sale of the adult care side of its business to Cygnet Health Care, the British arm of Universal Health Services, or UHS.

That deal had come just two days before a BuzzFeed News investigation in the US raised serious questions about whether UHS held psychiatric hospital patients longer than necessary to maximize revenues. The company is under investigation by multiple US government agencies. Last December, BuzzFeed News also revealed how Cygnet Health Care repeatedly failed to protect young people in its many psychiatric hospitals across the country.
But Cambian had executed the sale, and loyal shareholders who'd stuck with the company through its struggles were rewarded with a £50 million dividend. The payout netted Asaria around £550,000.
Cambian told BuzzFeed News that Cygnet "is a recognised provider of quality care" and that because a Cambian employee became Cygnet's CEO as part of the deal, Cambian did not believe that care "would be compromised". The company "cannot comment on the allegations made against UHS by BuzzFeed", Cambian said.
The investor windfall stands in stark contrast to the atmosphere among staff charged with protecting children inside Cambian homes. Pay for rank-and-file employees can be low: Multiple employees told BuzzFeed News their income hovered close to minimum wage. When the government raised the national living wage, the company had to lift its pay to keep up, boasting to investors that it had "managed to recover the increased cost through selective price increases". Cambian told BuzzFeed News that its staff is paid adequately — everyone earns above the national living wage.
On at least one occasion Cambian struggled to send paycheques on time, the former manager said, putting some workers under serious strain. "I had one woman who had four children," they said. "She couldn't pay her rent, she had no food, and I had to go and give this lady money out of my own personal account."
Cambian said that only once can company management recall "difficulties in paying staff", in June 2015, because of a one-time "payroll migration" problem that it fixed. Cambian is "not aware of individual cases where staff were disadvantaged", the company said. "Assuming — which we do not — that the account you have given is correct", it would make for "only one instance of hardship".
Other employees told BuzzFeed News that their care homes were frequently short-staffed and that they often had to cover for shortages. Basia Ksenia-Sooky told BuzzFeed News that she was finishing up her shift at a Blackpool home when, at 10:30pm, all three of the children who had been placed there ran away. She tried to contact her superiors, to no avail. "The manager wasn't there, the deputy manager wasn't there, on call wasn't there," she said. "We could get hold of absolutely nobody."
"Consequently, young people continue to live in a home that does not treat them with the dignity and respect that they deserve."
Ksenia-Sooky stayed another eight hours, and with another colleague tried to coax the children back into the home. At 7am, as she was about to leave, having worked 23 consecutive hours, the home's manager walked through the door — and told Ksenia-Sooky she should have just gone home when her shift ended without looking for the kids. Ksenia-Sooky resigned soon afterwards, after only one frustrating month on the job.
Ricky Watson told BuzzFeed News he was "pressured" by his manager into working 32 consecutive hours at an understaffed home in Bedfordshire. Staff shortages grew from the director's reluctance to pay contract workers in order to fill gaps at the homes, depending instead on overworked full-time staff, Watson said. "I knew people who did a few days in a row without going home," he said. "You couldn't go until they got somebody to replace you."
Cambian told BuzzFeed News that its staffing levels are appropriate "at all times". Working shifts "are no longer than 15 hours which is standard practice", and on average staff work no more than 40 hours per week, Cambian said. It is often unsafe to call in contract workers, the company said, and staff workers can often handle a given situation better. Shifts are designed to give children continuity similar to what "they would experience living in a family home", the company said, and employees only work long hours if they agree to it.
Many employees simply leave the company. Children at a home in Shropshire were cared for by 21 different staff members in just one month, inspectors found. Inconsistent staffing "does not allow children to form attachments and relationships" and has a "harmful effect on children's emotional health", inspectors wrote. When Ella Dhillon, then 16 years old, moved into a Cambian home, only one staff member had been there longer than two months. By the time she left, all but two of the employees who were there when she started were gone. The children even asked management if there was anything they could do to keep staff from leaving — and got little feedback. "We just felt like they didn't care," Dhillon told BuzzFeed News.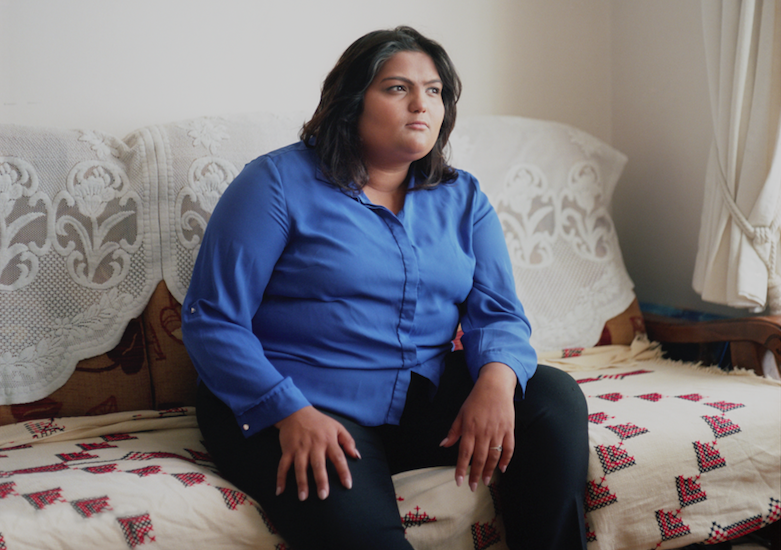 Cambian told BuzzFeed News that "the actual numbers of staff leaving our homes" tell a different story. "You have provided no evidence to suggest that our staff working hours, pay or assignments are any different to any other provider," the company added. Cambian "recognise the challenges" at the home in Shropshire and "have taken steps to address the concerns raised by the inspector in this instance".
Some employees who remain at Cambian often simply can't keep up. A different home in Shropshire became a cauldron of violence because staff failed to respond to tensions between the children, the inspector wrote.
One young person started assaulting the others in the home. He even threatened to kill one of them. One of his peers said she felt "petrified and scared". Yet after these troubling incidents, staff again failed to follow up.
Cambian noted that since this report the home has been inspected twice and rated "good" both times. One inspector noted that the home now had "consistent and competent" staff, and that the manager continued to make "improvements to the service".

On a number of occasions Cambian staff have used what is supposed to be a last resort: physical force. So-called "restraints", by which staff subdue young people by holding them down, are only supposed to be used in emergency situations where there is no other option to prevent someone from getting seriously hurt.

But in a number of Cambian homes, inspectors raised questions about how employees were using force on children. At a home in Cambridgeshire, staff apparently used a "physical intervention" that lasted an hour and 45 minutes. Managers at the home were keeping shoddy records of such incidents, the inspector wrote, and weren't adequately reviewing whether the actions were appropriate. Cambian told BuzzFeed News that the Cambridgeshire home received "verbal feedback" from inspectors last month saying the home had made "significant improvements".
At another home in Shropshire, inspectors noted that staff had used physical force with a single resident on 18 separate occasions over a seven-week span. One of those times the staff member held the child's face down on the floor, which the inspector wrote "was disproportionate and did not promote the child's emotional well-being and their safety".
Asked what happened when the child was put facedown, staff gave conflicting witness statements — yet no one investigated the situation, the inspector wrote. Management also hadn't bothered to review other cases where staff had used physical force, nor had they spoken to any of the affected children about it.
Cambian told BuzzFeed News that this was "an interim and not a full inspection report". Staff are "currently on a comprehensive training plan", the company said, to make sure they are all "able to proportionately meet the needs of children in our care". Cambian aims to de-escalate incidents "to avoid the need for physical restraint", the company said.
Leigh Barton, the former staffer in Doncaster, told BuzzFeed News that he himself had to "use excessive force" on children to keep them in line in "very volatile situations" on two or three occasions. On one it was all down to the inexperience of his colleagues, he said. He was driving three children home from a Christmas party, and in the back of the van were three other staff members — but they were all trainees, meaning they had very little on-the-job experience.
"Assuming — which we do not — that the account you have given is correct", it would make for "only one instance of hardship".
One of the children in the car, a stocky 14-year-old boy, began waving the sharp edge of a broken Coke can at one of the trainee staffers, who herself was only 19. The staffer panicked and started screaming, which "completely escalated" the situation, Barton said. Barton pulled over, reached back, and hit the young person until he relented. The boy "then burst into tears", Barton said.
This is plainly not allowed, and Barton knew full well that his actions were "illegal", he told BuzzFeed News. He did not want to hurt the children he was looking after. But, he said, Cambian had left him "outnumbered", and the home was out of control. "I had no choice."
Cambian said that Barton is a "provably unreliable source" because of his "incorrect" assertions about weekly allowances. The restraint episode Barton describes "further undermines both Mr Barton's credibility and competence", the company said. Cambian was unable to comment on the incident without "the exact dates, timings and detail", but "if it occurred" then "it is merely one alleged incident which occurred at one home". The only wider conclusion that can be drawn is that on rare occasions, employees grappling with "immensely difficult situations" fall short "of perfection", Cambian said.
Poor staff training created other dangerous problems elsewhere. At another home, in Halton, Cheshire, children were abusing drugs. Yet the staff had not been given any recent relevant training, an inspection report found, meaning they "had limited knowledge on this subject". What's more, staff were not given "realistic strategies to prevent potential harm". Inspectors at a home in Warwickshire found a lack of training in radicalisation and extremism of children, which left staff "without the knowledge to safeguard young people", the inspector wrote.
Cambian said that the Halton home has since been rated "good" in an inspection that found that staff now "follow clear, protective strategies to prevent and reduce harm". Asked about radicalisation, the company told BuzzFeed News that all its staff receive training through Prevent, a programme meant to help combat extremism.
James Morris, the former Cambian team leader, became alarmed when "untrained" staff members were left to handle one child with suicidal tendencies, and another who had ISIS videos on his phone. He sent an email pleading with his superiors for more training. "I am hearing from many staff feelings of being undervalued, demotivated and despondent around the work being done and the company as a whole", he wrote. Training would "hugely benefit the morale of all workers", Morris wrote, by helping them "feel that they are making more of an impact". Morris claims his plea went disregarded — staff were given a quick refresher in how to read therapy forms to children, but no other "meaningful" training.
Cambian told BuzzFeed News the company conducted workshops to listen to Morris's concerns and "agreed that staff needed additional support". The company said it has "clear records of training availability, training calendars were shared and managers were encouraged to identify and send people along who could benefit from this additional support". Cambian said in its statement that it offered to pay Morris to help support the additional training, but said he "was not forthcoming". Morris told BuzzFeed News he was not offered any payment.

In April, Cambian delivered a slick new brochure to its investors. It featured a picture of Asaria wearing a black turtleneck, a look made famous by Apple founder Steve Jobs, next to a section titled "Our ambition". (When BuzzFeed News made reference to Jobs and the turtleneck in a question, Cambian replied that the analogy was "at best unfortunate" because Jobs died in 2011, and because Jobs "did not make it famous". The company sent a link to a fashion article detailing the history of the turtleneck.)

The brochure declared that 2017 had been a strong year for Cambian. Revenue was up, and the company was filling beds at a higher rate, too. In the coming year, Cambian promised to focus on more of the same.