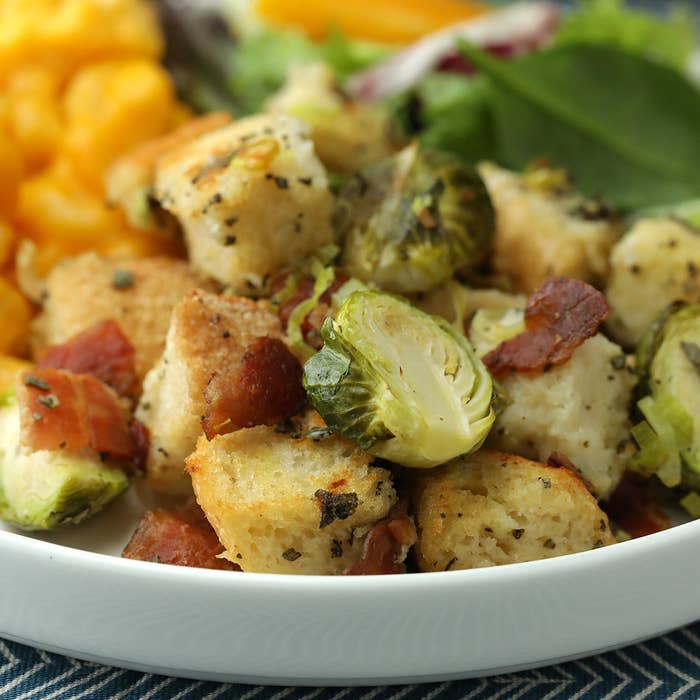 Ingredients:
½ pound bacon
1 pound sourdough bread, cut into 1-inch cubes
2 leeks, thinly sliced
4 celery stalks, diced small
1 pound Brussels sprouts, ends trimmed and halved (or quartered if large)
¼ cup finely chopped sage
2 tablespoons finely chopped rosemary
1½ cups chicken stock
2½ teaspoons kosher salt
2 eggs, whisked
Preparation:
1. Preheat oven to 400ºF.
2. Line a sheet tray with Reynolds Wrap® Non-Stick Foil. Lay out bacon, making sure slices do not overlap.
3. Cook for 15–20 minutes, until bacon is fully cooked. Reserve bacon fat and drain bacon slices on paper towels. Chop bacon and set aside.
4. Decrease oven temperature to 350ºF.
5. Place a new sheet of Reynolds Wrap® Non-Stick Foil on sheet tray. Arrange bread cubes on tray and bake for 10 minutes until toasted.
6. Remove from oven and set aside bread in a large bowl. Keep Reynolds Wrap® Non-Stick Foil on sheet tray for later.
7. Heat 2 tablespoons reserved bacon fat in a skillet over medium heat. Add leeks and celery. Sauté for 10 minutes, until translucent and starting to brown a bit. Add vegetables to bread cube bowl along with bacon, Brussels sprouts, sage, and rosemary.
8. Pour chicken stock over stuffing. Add kosher salt and toss everything together. Add whisked egg and toss again.
9. Spread out stuffing on the sheet tray and cover with 2 slightly overlapping sheets of Reynolds Wrap® Non-Stick Foil.
10. Place in oven and cook for 30 minutes.
11. Raise oven temperature to 425ºF.
12. Uncover and cook for 8–10 minutes, until top is browned and crispy.