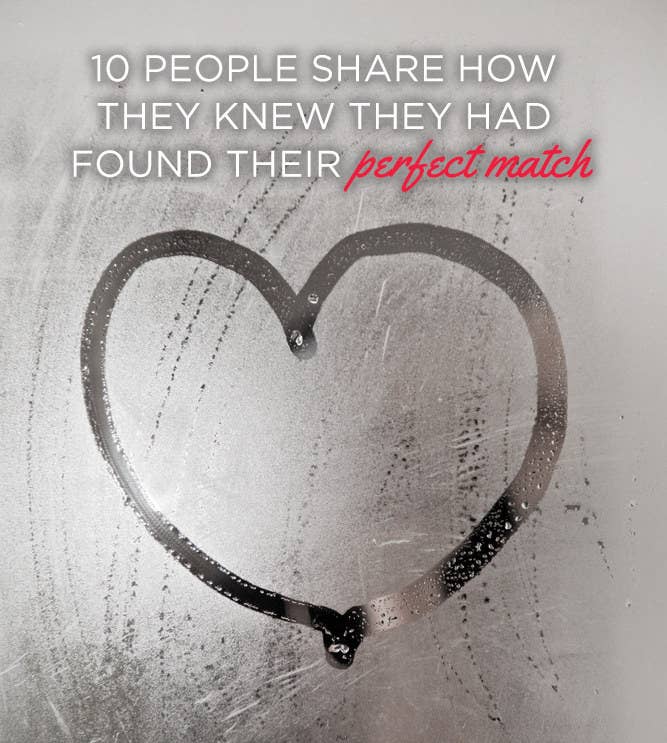 1.
"We met on Tinder. He texted me an R&B song he thought I'd like, along with a shrug emoji. I joked that the sexiest part of his text had been the shrug emoji, and he replied by sending me a screenshot showing he'd set up a keyboard shortcut for it. I responded by sending a screenshot of MY keyboard shortcut for the emoji, and he immediately asked me to get drinks. It just proves what we already knew to be true: The couple that ¯\_(ツ)_/¯s together stays together."
—Kat G.
2.
"I remember this one time when I was sad and he couldn't cheer me up, so he picked up a permanent marker, looked me straight in the eyes, and drew all over his face, just to make me laugh. It wasn't long before I couldn't even remember what I was sad about."
—Anne S.
3.
"The third time we hung out, I ended up staying over at his place. It was a Monday night, so when he asked if I wanted to stay over, I had to sheepishly admit that I had packed a bag of clothes for the next day and had it stored in my car in the hopes that I'd be needing them.
"Then, in the morning, he made me a coffee with soy milk and admitted that he'd bought the soy because he knew I didn't eat dairy, and he'd been hoping he'd get to make me coffee."
—Jana P.
4.
"We were on a road trip, and we hadn't started dating yet. I think we were somewhere around Byron Bay. Anyway, he sang along to Jagged Little Pill for a solid two hours, and I was like, 'Yeah'."
—Cyndi N.
5.
"We started dating right before Christmas, which meant we didn't see each other for two weeks smack bang in the middle of our honeymoon period. Thus we spent every day texting to get to know each other better, and since we were both writers, we talked a lot about language. One day, after nerding out about verbs for like an hour, I casually mentioned that we had similar taste in words. She replied by saying we had similar taste just by having a taste in words, period. It was just one text exchange, but it summed up our chemistry so well. I still have the screenshot somewhere."
—Jen W.
6.
"He always says that it was in the morning after our second date (ha, yes, morning) when he was driving me home and we stopped at a café. So far that morning we'd been a little awkward with each other, but as we waited in line for our coffees, I sidled up to him and put my head on his shoulder. Just that."
—Caitlin N.
7.
"He bought me a prepaid phone SIM card with free calls after 9pm and would talk and talk for hours on the phone and neither of us ever wanted to hang up. When we got stuck in the age-old battle of 'Now you hang up,' 'No you hang up!' I knew we were meant to be!"
—Tara W.
8.
"I was at a karaoke bar for a friend's birthday, and I (feeling tipsy) chose 'This Is Halloween' (you know, from the movie?). This dude got up and sang it with me, and he didn't just know every word – HE DID THE VOICES. I was low-key swooning after this because not only did he not make fun of me for singing terrible songs at a bar, he also got up and joined me and nailed it. I'm sorry, but after that, I am going to feel SOMETHING toward you. He moved across the country to be with me, and this March will mark two years of an insanely crazy but ultimately beautiful relationship."
—Mandy C.
9.
"I knew each and every time I came back home. We'd been roommates at uni for a year. We were great friends — totally platonic. No matter who I swiped right on, who I went out with, who I met at parties, I was always most looking forward to getting home. Usually I'd find her sitting in the living room, nose buried in a math book with 50 sheets of white paper spread across the floor. And she would look up and say, 'You're home! I missed you!'"
—James L.
10.
"We were out dancing with friends, and everyone else got tired and formed a circle around us. We kept dancing and dancing and essentially kept the party going by one-upping each other's goofy dance moves. That night, we made each other laugh more than anyone else ever had."
—Bonnie L.