Who is responsible or liable for the posts and/or images?
As part of any standard BuzzFeed program, BuzzFeed is creating a specified number of posts on behalf of your brand. As BuzzFeed is creating this content, BuzzFeed is responsible (and indemnifies you against any third party claims or lawsuits).

How are celebrities and third party logos incorporated into posts?
When creating posts on behalf of brands, BuzzFeed uses specific images it has licensed rights to where available and abides by the standards of fair use. In BuzzFeed's branded posts, it is important that celebrities and brands are not seen as "endorsing" your company, products or services.

How can brands integrate their BuzzFeed programs into certain events (i.e. Superbowl, NFL, award show)?
If your brand has an existing relationship with an official outside event, we are happy to work within the brand's existing rights to promote that event. Your brand is responsible for any images it provides and will need to submit a written confirmation that it owns or has valid rights to those images. In the event that there is no established relationship, BuzzFeed's legal team will need to work closely with your brand's legal team to avoid any implied endorsements.
How can brands share their custom BuzzFeed content (on their own site and/or social platforms)?
BuzzFeed encourages brands and agencies to share their BuzzFeed content as much as possible! Feel free to tweet and share direct links to the posts that live on our website and mobile application (the "BuzzFeed Platforms"). Note that BuzzFeed's image license does not allow us or any third parties to use the photos outside of the BuzzFeed Platforms. We cannot allow your brand to use the post images on your brand's own site and social media pages, because that would be a violation of the license terms.
Where are the brand call-outs within post(s)?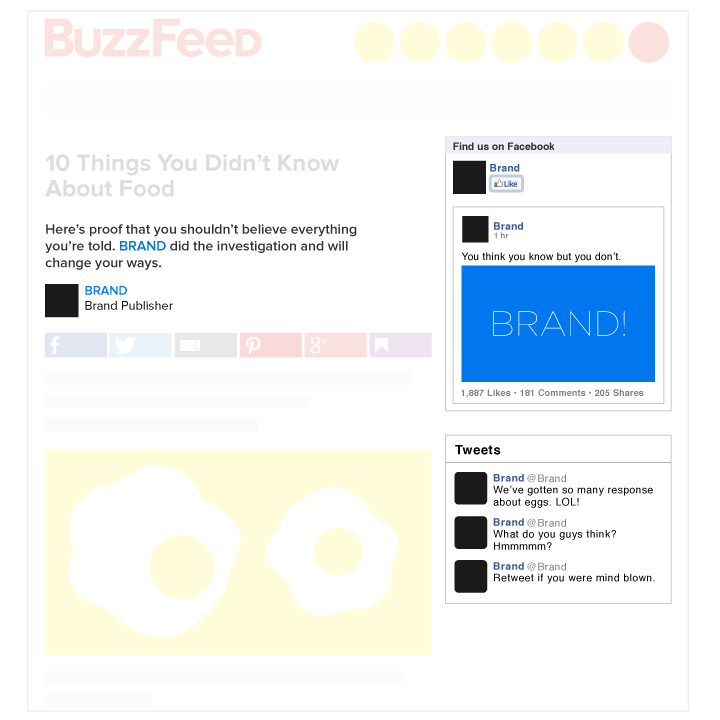 Who moderates the comments on branded posts?
The Account Manager assigned to your program is regularly monitoring the comments on your brand's posts. If there is a comment that is discriminatory, offensive or obscene, they will remove it.

Can a brand moderate BuzzFeed's editorial/news content that features or mentions their brand?
BuzzFeed maintains a strict division between our editorial and advertising departments, BuzzFeed Advertising cannot have any influence over the stories that editorial chooses to publish.