Red Rooster have announced the launch of their Hellfire Burgers. With the promise of some ~serious spice~, we wanted to see if they live up to the hype.
Here's the deal with the burgers.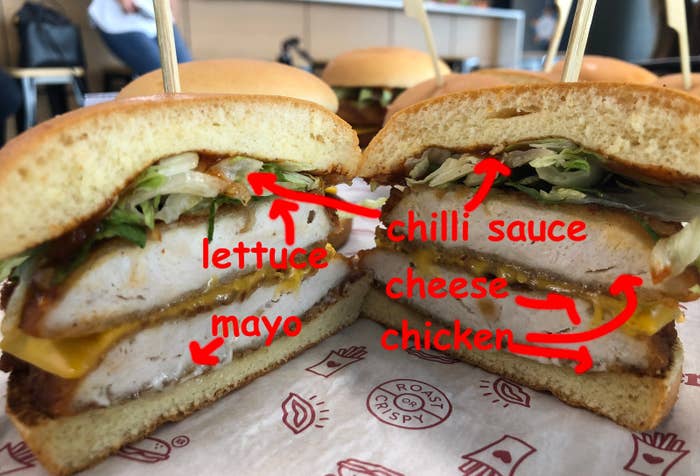 The levels of heat? Mild, medium, and hot, made respectively with jalapeño, habanero, and reaper chillis.
You can also opt between one or two slices of chicken – so we obviously doubled up.
So who's up for the challenge? BuzzFeeders Nat and Ryan.
As our resident Tasty producer, Ryan loves his food spicy.
"I grew up with lots of spicy food in my household as a child, so I now find that my tolerance to spice is quite strong. There's actually no level of spice that I wouldn't give a try."
Nat, not so much.
"I do like spicy food, but not burn-your-mouth-out spicy. I'm usually someone who likes a bit of chilli, but I also think laksa is hot, so there's that."
Because this is a ~scientific~ taste test, we started off with the control group: the Classic Mayo Hellfire Burger, which doesn't have any hot sauce.
Now the challenge really begins. First up, the mild Hellfire Burger.
Next: the medium Hellfire Burger.
And the grand finale: the hottest of the Hellfire Burgers.
Our favourites?
Ryan: "My favourite was definitely the the medium Hellfire Burger. The chilli level was hot enough that it felt like a hot charge was running through the buns, but the sauce didn't overpower or mask the other ingredients. It was the perfect balance of heat and this is exactly what you want when you order chilli with your meal."
Nat: "My favourite was the mild one. It's got a well-rounded flavour to it without being all about the heat. It's definitely a good one to try if you have a low tolerance for spice, but even if you love a spicy kick, this burger doesn't disappoint. I liked the medium burger too, but I feel like my mouth might have gone numb if I'd eaten the whole thing."
All images by Natalia Krslovic and Ryan Paturzo / BuzzFeed