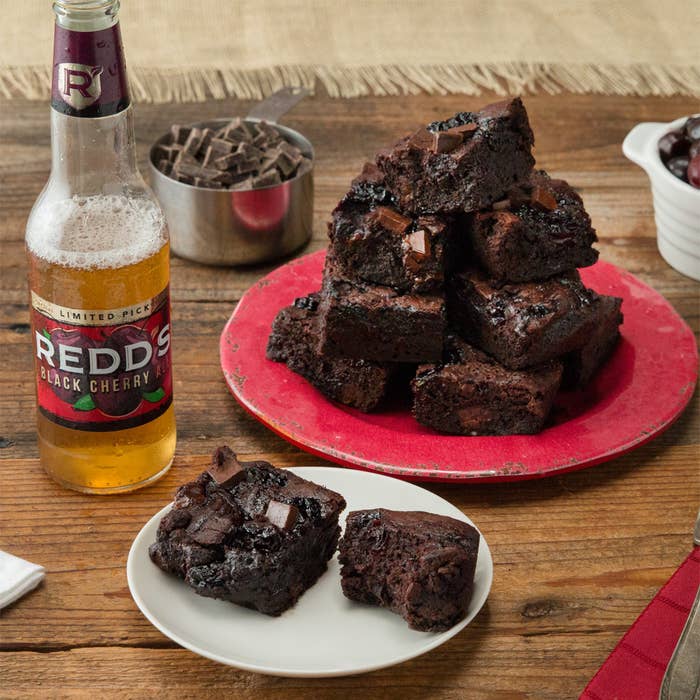 INGREDIENTS
10 ounces black cherries, fresh or frozen
12 ounces REDD'S Black Cherry Ale
10 tablespoons unsalted butter
1¼ cups sugar
1 cup dark cocoa powder
¼ teaspoon salt
½ teaspoon vanilla extract
2 eggs
½ cup flour
½ cup dark chocolate chunks, chopped
PREPARATION
1. Preheat oven to 325℉/160℃.
2. Line an 8x8-inch baking pan with parchment paper.
3. In a medium saucepan, bring cherries and REDD'S Black Cherry Ale to a rolling boil. Reduce heat and simmer for 25–30 minutes, stirring occasionally until almost all liquid has reduced. Set aside.
4. In a medium mixing bowl, melt butter in the microwave until fully melted, add sugar and cocoa, then stir to combine. Mixture will be gritty.
5. Add the eggs and stir together until fully incorporated.
6. Fold in the vanilla and salt.
7. Fold in flour gently. When flour is about 75% incorporated, add half of the cherry compote and ¼ cup of chocolate chunks. Stir until just fully mixed and no lumps remain.
8. Pour batter into a lined pan and top with remaining cherry compote and chopped chocolate.
9. Bake for 35–40 minutes. Brownies are done when the center just barely springs back in the middle.
10. Enjoy!