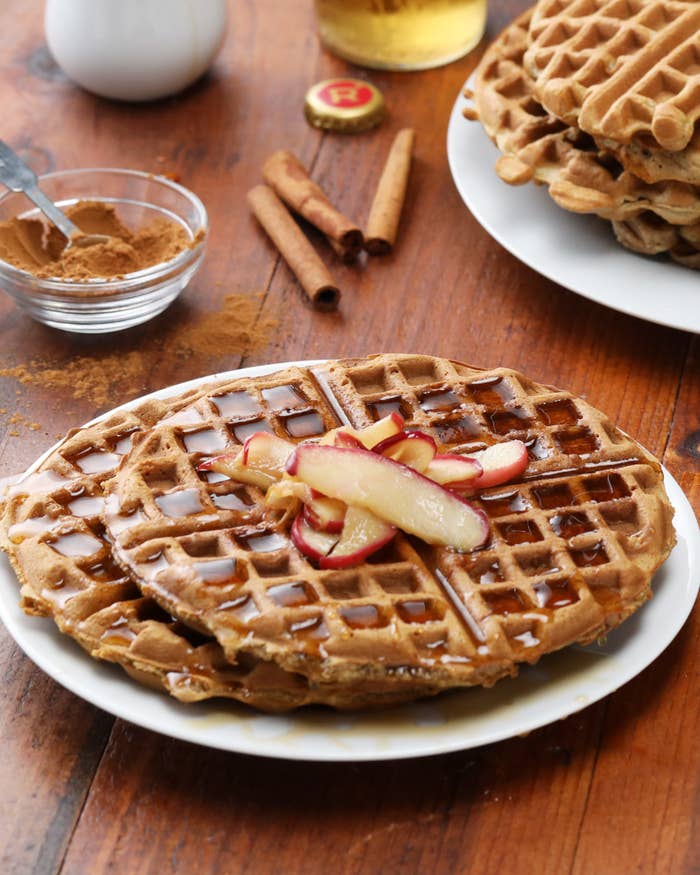 INGREDIENTS
Redd's Apple Ale Maple Syrup
1 bottle Redd's Apple Ale
1⁄2 cup maple syrup
Apple Topping
1 apple chopped
1 tablespoon butter
1 tablespoon of brown sugar
Waffles
21⁄4 cups flour
1 teaspoon salt
4 teaspoons baking powder 11⁄4 teaspoons baking soda 2 tablespoons sugar
1 tablespoon cinnamon
5 tablespoons butter, melted 11⁄2 teaspoons vanilla extract 1 bottle Redd's Apple Ale
2 eggs
PREPARATION
1. In a small saucepan, combine 1 bottle of Redd's Apple Ale and maple syrup and cook over medium heat until reduced to about 1⁄2 cup and is a syrupy texture. Pour into a bowl or jar and cool.
2. In the same pan, melt 1 tablespoon of butter. Then add chopped apples and brown sugar. Cook until apples are soft, remove from heat and set aside.
3. In a large bowl, combine the dry ingredients for the waffles and whisk to combine. Add in wet ingredients and whisk until only a few lumps are remaining.
4. Turn waffle iron on to medium and grease.
5. When iron is heated, pour 3⁄4 to 1 cup of batter onto the iron and close the lid. Cook for 4
1⁄2 to 5 minutes, or until golden brown and cooked.
6. Serve with Redd's Apple Maple Syrup and apple topping.
7. Enjoy!