Apple BBQ Wings
Take your wings to the next level.
Apple BBQ Wings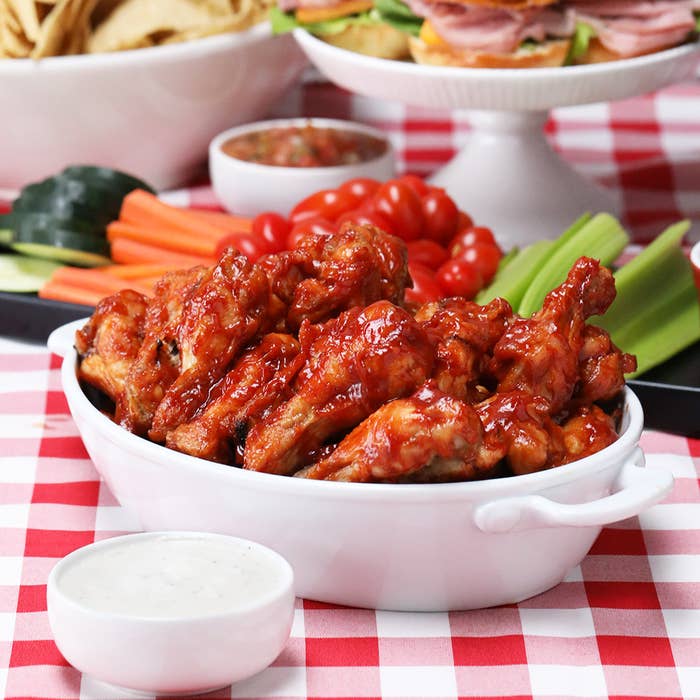 INGREDIENTS
Servings: 10–12
3 pounds chicken wings (wing tips removed)
1 tablespoon baking powder
1 teaspoon onion powder
1 teaspoon garlic powder
1 teaspoon salt
1 cup ketchup
2 tablespoons brown sugar
¼ teaspoon nutmeg
¼ teaspoon cinnamon
⅛ teaspoon cloves (TIP: If you don't have these spices on hand, you can use pumpkin pie spice instead.)
½ teaspoon paprika
½ bottle of Redd's Apple Ale
PREPARATION
1. Preheat oven to 250˚F/130˚C.

2. Place wings in a large bowl and pat dry with a paper towel. 

3. Add the baking powder, salt, onion powder, and garlic powder to the wings. Stir to coat. 

4. Spray a baking rack with nonstick cooking spray and place on top of a foiled sheet pan. Distribute wings evenly on top, making sure none of them touch.

5. Bake for 35 minutes, then increase the temperature to 425˚F/220˚C and bake for an additional 45 minutes, or until wings are crisp and golden. (Do not remove the wings from the oven when increasing temperature.) 

6. In a pot, combine the ketchup, brown sugar, Redd's Apple Ale, and spices. Bring to a simmer then add the wings and stir. 

7. Serve with Redd's Apple Ale and enjoy!