A new "Explore the menu" option is the only difference you'll see on a restaurant's page.

It may look like a significant change, but for the most part, Yelp is just shuffling around data it already has and adding prices to it.
As an example on its blog, Yelp is showcasing the listing for Tartine Bakery in San Francisco. That page is confusing and doesn't really look like a "menu" in the traditional sense. But Yelp's thinking is this: If 323 out of 3,075 total reviewers have mentioned their feelings about the banana cream tart here, and 59 of them have uploaded photos of it, why not use data like that to generate a listing broken down by individual item, otherwise known as...a menu? And now Tartine Bakery's banana cream tart has its own dedicated page on Yelp.
They basically took this keyword tracker on the listing's main page...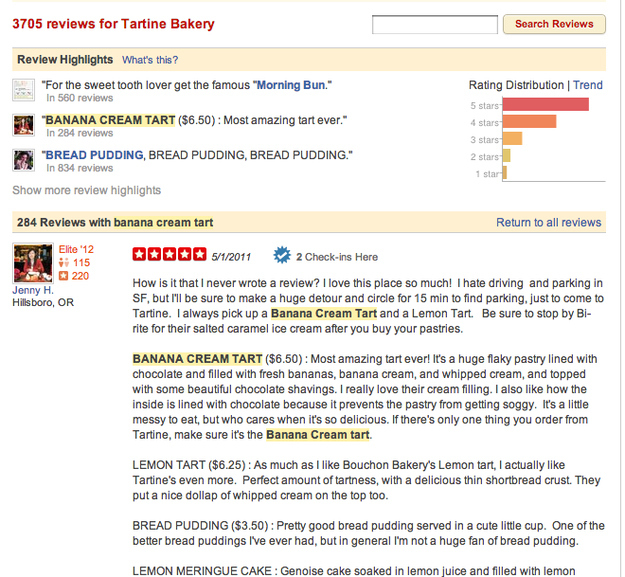 And turned it into this: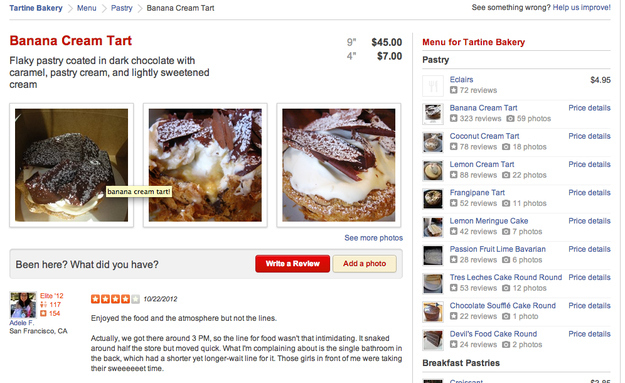 This is no doubt a move to compete with online food ordering service Seamless, which bought the site MenuPages a little over a year ago. Both of these sites offer accurate, up-to-date menu listings; MenuPages is the most comprehensive online menu database in the country. But both use staffers to collect their menus. Yelp seems to be relying almost solely on crowdsourcing.
Yelp does have something that neither of these other sites have: photos. Other than that, Yelp seems unclear on what it aims to offer with its menu data — and how much of the data-gathering burden it plans to put on Yelp users, as opposed to investing in other ways to keep its information up-to-date.
To get a sense of the way they're framing this, check out the official announcement on Yelp's blog and the way it describes the goal of the new menu feature: "connecting people with great local food porn."
That doesn't compute. First, let's please stop comparing every single food photograph ever taken to pornography. Second, Yelp photos are to actual food porn as OKCupid photos are to Internet porn: amateurish and usually not that alluring.
The biggest issue here, however, is accuracy. Let's stick with the Internet dating analogy: Who's to say that Joe C. actually uploaded a photo of the real burrito he ate, instead of swapping in a sexier burrito to up the restaurant's street cred and make himself seem like a more legitimately hepful Yelper?
Yelp does have a disclaimer at the bottom of each menu that basically says it's not their fault if the information is wrong, and they link to a pop-up feedback widget where users can offer corrections.
"Sorry if everything here is a lie, maybe you should fix it for us!"
Hopefully Yelp has concrete plans to make this menus feature more useful and reliable in the future — but it's also possible that it hasn't figure out how to do that yet.