Here's What You Should Eat For Dinner
Desperate times (peak zucchini season) call for delicious measures (a super-simple salad that requires no cooking).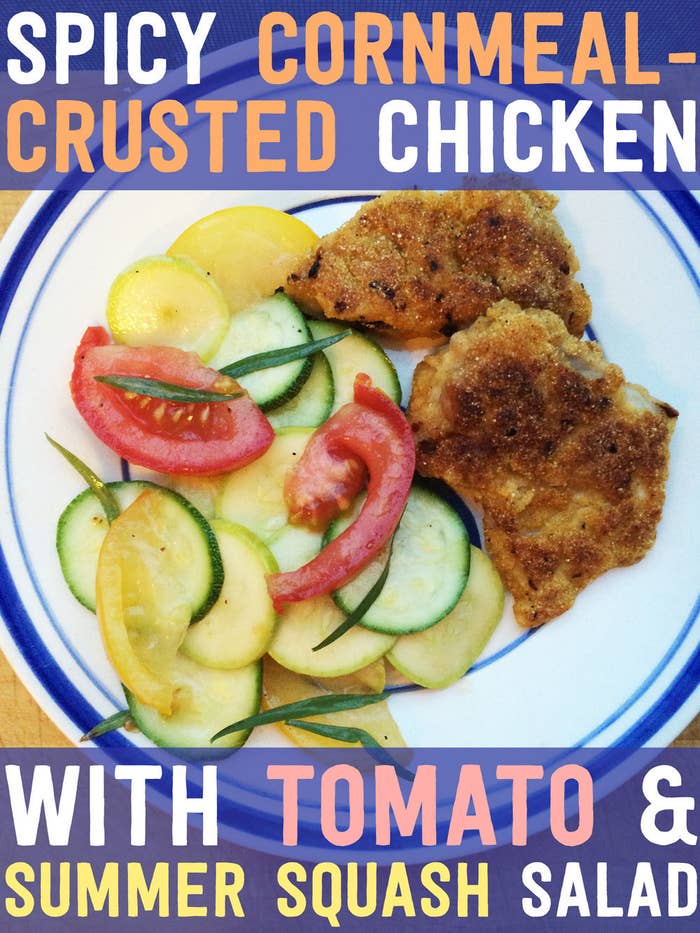 Spicy Cornmeal-Crusted Chicken with Tomato & Summer Squash Salad
Recipe by Rachel Sanders
Serves 4
INGREDIENTS
For the chicken:
3/4 cup buttermilk*
1/4 cup + 1/2 cup all-purpose flour
1/2 cup cornmeal
1 teaspoon Kosher salt
1/2 teaspoon paprika
1/2 teaspoon red pepper flakes (double if you like things really spicy)
1/4 teaspoon or several grinds black pepper
4 boneless chicken thighs, cut into 1" to 2"-wide strips, or 1 lb. chicken tenders
2 tablespoons vegetable oil
*if you don't have buttermilk, you can use 2 or 3 beaten eggs plus a splash of milk
For the salad:
2 small zucchini and/or yellow summer squash, sliced very thinly across
2 medium heirloom or beefsteak tomatoes, sliced into 1/2" wedges
1 sprig fresh tarragon (about 1 tablespoon leaves)
1 tablespoon sherry or balsamic vinegar
1 tablespoon extra-virgin olive oil
1 teaspoon Kosher salt + more to taste
freshly ground black pepper
Parmesan cheese, for shaving (optional)
PREPARATION
1. Toss the sliced zucchini with 1 teaspoon of salt and let sit in a strainer or colander over a bowl to drain excess water, for about 15 minutes or as long as it takes you to prep everything else. (You can skip this step if you're short on time, but it will keep the salad from being too soupy).
2. In a smallish bowl, mix the cornmeal with 1/4 cup flour, 1 teaspoon salt, black pepper, paprika, and red pepper flakes. In two more separate bowls, set out the remaining 1/2 cup flour and the buttermilk.
3. Pat the chicken pieces dry with a paper towel and then bread each piece by dunking consecutively in the three bowls (first flour, then buttermilk, then cornmeal mixture). Make sure the chicken is thoroughly coated in each step. Put the coated chicken pieces on a plate as you go.
4. Heat a large skillet over medium heat and add 1 tablespoon vegetable oil. When oil begins to shimmer, add half the chicken pieces to the pan, leaving space in between. Let them cook undisturbed for about 3 minutes or until the crust is golden-brown, then flip.
Cook on the second side 3-6 minutes longer or until browned and cooked through (you can cut one open with a knife to make sure it's not pink inside). White meat chicken tenders will cook more quickly than thighs, so keep an eye on them. If the crust is browning too quickly, turn down the heat.
Remove the cooked chicken to a plate lined with paper towels, add a second tablespoon of oil to the pan, and repeat with the remaining chicken pieces.
5. While chicken is cooking, rinse the salted squash slices to remove extra salt, then drain again and pat dry with a paper towel or clean dish towel. You can spread the slices out on a towel and fold it over or roll it up, or just sort of pat as best you can in a bowl; doesn't have to be perfect.
6. In a medium bowl, mix squash with tomato slices, tarragon, vinegar and olive oil. Add salt and pepper to taste. Serve alongside chicken and use a vegetable peeler to top with shavings of Parmesan, if you like.