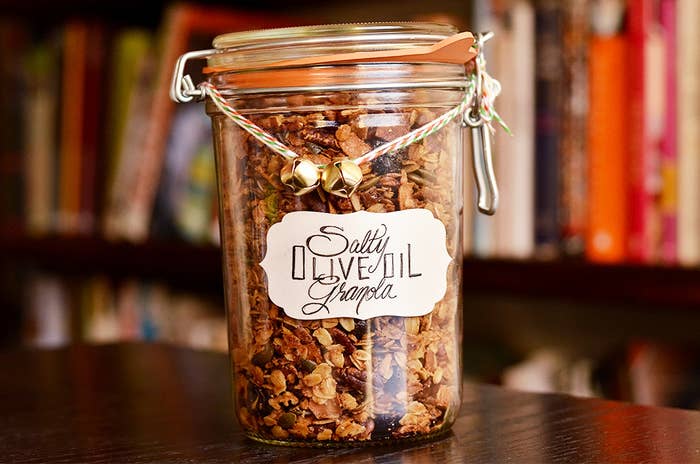 Salty Olive Oil Granola
Adapted from the New York Times. Feel free to substitute any nuts, fruits, seeds, and spices you like. All you need to keep is the basic ratio.
Makes about 8 cups, enough to fill two 34-oz. jars (pictured here).
INGREDIENTS
3 cups old-fashioned rolled oats
1 ½ cups pecan halves, broken into pieces
1 cup unsweetened coconut flakes
1 cup raw pumpkin seeds (pepitas)
½ cup pure maple syrup
¼ cup packed brown sugar
½ cup extra virgin olive oil
1 teaspoon kosher salt
½ teaspoon ground cardamom
½ teaspoon ground nutmeg
½ teaspoon ground cinnamon
1 cup dried cherries, cranberries, or raisins
PREPARATION
Preheat your oven to 300°F.
Combine oats, pecans, coconut, and pumpkin seeds in a large mixing bowl. Add maple syrup, sugar, olive oil, salt, and spices and toss until everything is evenly coated.
Spread mixture out on a large baking sheet with rims on all sides. Bake for about 30 minutes, then give it a good stir. Bake another 15 minutes or until the granola is golden brown and smells amazing. It will still be slightly soft and will harden as it cools.
Let granola cool completely. Add dried fruit and transfer to gift jars. (Don't put it in jars before it's totally cooled or it will get soggy.) It will keep for a few months in an airtight container at room temperature.