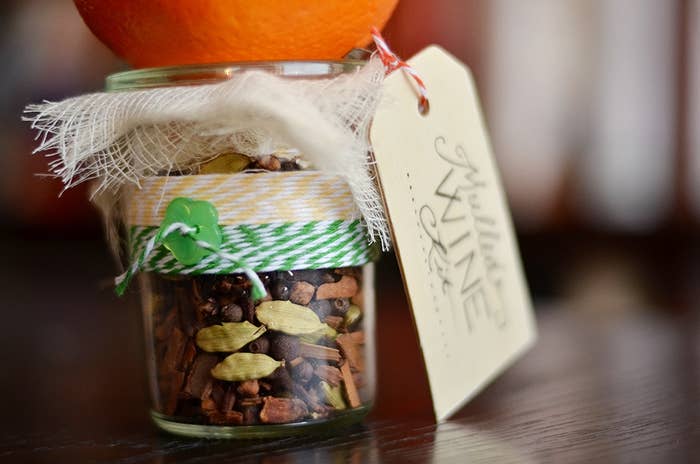 Mulled Wine Kit
Makes about 6 tablespoons, enough to fill one 5.4-oz. jar (pictured here) and mull 6 bottles of wine.
INGREDIENTS
For Spice Mix
6 3-inch cinnamon sticks
6 whole star anise
2 tablespoons whole allspice berries
2 tablespoons whole cloves
1 tablespoon green cardamom pods
1 teaspoon black peppercorns
For Gift Assembly
1 orange
1 bottle red wine
6 4"x4" squares cheesecloth
6 6" lengths twine or string
Printed or written mulling directions (see below)
HOW TO PREPARE THE GIFT
Put the cinnamon sticks and star anise in a plastic bag and use a rolling pin to crush them into small pieces. You can also use a mortar and pestle if you have one. Mix with the other spices in a bowl and transfer to a small jar. Give with squares of cheesecloth, pieces of twine to tie the cheesecloth into sachets, a bottle of wine, an orange, and mulling instructions (see below).
Directions to include with the gift.
How To Mull WIne
Makes 1 wine bottle's worth
You will need:
1 tablespoon Mulling Spice Mix from gift
1 cheesecloth square
Twine
2 tablespoons honey or sugar
Zest and juice of 1 orange
1 bottle red wine or quart of apple cider
Preparation
1. Put 1 tablespoon mulling spice mix in the center of a cheesecloth square, gather corners, and tie with twine.
2. In a large saucepan or dutch oven, combine spices in cheesecloth with honey or sugar, the zest and juice of 1 orange, and bottle of red wine (or quart of apple cider).
3. Heat mixture just until steaming, but not boiling, stirring to dissolve the sugar.
Download a PDF of directions to include with the gift.